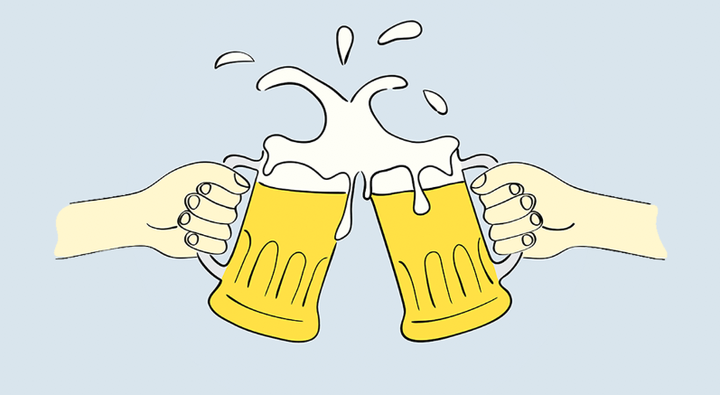 Wetherspoons can restrict parents to two alcoholic drinks each if they're with their kids – a little-known rule that's been in place at the pub chain since 2011.
The guidelines, which individual pub managers can enforce as they please, have been highlighted this week, however, after there were reports of a notice in a pub in Gravesend, Kent. The sign stated adults in charge of children were allowed one drink, plus "a further alcoholic drink with a sit-down meal".
It has since been taken down in that specific pub, but the sign sparked heavy debate among parents – myself included. "Boycott Wetherspoons," one person angrily wrote on Twitter. "[We] don't want to be dictated to by idiots."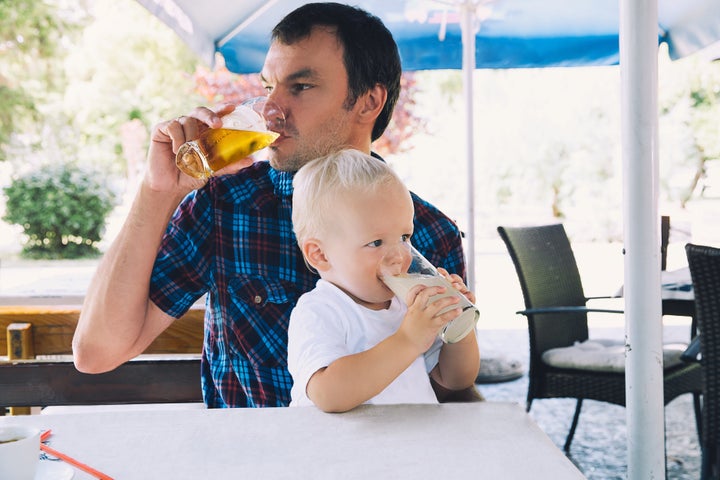 I live close to a Wetherspoons and it's somewhere I go with my parent pals for an affordable, no-frills tea with the kids. We don't go often, but on a Friday every now and then – after school pick-up – to celebrate the start of the weekend? Absolutely. And when we go, it's orange juice for the under 10s, and a glass of wine or two for the grown-ups. Hell, sometimes we'll have a couple of G&Ts, instead.
Like any parent, I'd never get drunk if I'm in charge of my children. For one, it's not safe – we have to navigate buses and busy roads on scooters, bikes and buggies to get home. And secondly, they're my responsibility. I don't see anything wrong, however, with having a small glass or two to celebrate the end of a long, arduous week of childcare. Wine can even be the secret to a successful playdate, I'll have you know.
And that's why Wetherspoons' rule feels... wrong. It's not just about the booze. The fact is, being told how much we should – or shouldn't – drink by a pub chain raises our hackles because it smacks of being "judgy". And if you're a parent, you're sensitive to being judged – because it happens so often.
I remember taking my (then) six-week-old baby to a shopping mall on my first trip out the house, which was somewhere other than the local park. It was winter. She'd vomited all over her baby-grow, then had an extreme nappy explosion on her spare set of clothes. We were on the third emergency outfit change, she was screaming, and I was attempting my first ever public breast-feed (no small source of stress, I can tell you), when two older women decided to tell me exactly what I was doing wrong.
"She's too cold," they said disapprovingly, pulling at her blanket while I struggled to get her to latch onto my new-mum nipples. "She should have a coat on."
I looked at them, dumbfounded, wondering how they could be so... unaware. Unaware that I was simply doing my best. That I wasn't exactly having a brilliant time myself, at that moment. That sometimes, parents may get it wrong. That we're all just struggling to make it through.
But mostly, that they assumed they knew what my daughter needed more than I did.
The Wetherspoons saga taps into those feelings, you see, because when you become a parent, you're told what you're doing wrong far more than what you're doing right. The caution over parental drinking may be dressed up as a well-meaning safety check, but what it really feels like is interfering.
Put simply, none of us really like being told what to do. It's obvious that if you have small kids to look after, you shouldn't be getting so pissed you can't walk straight – and many parents wouldn't have more than a few glasses, anyway.
But do we need a chain whose very livelihood is promoting affordable drinking to tell us that? And if there are parents to whom this applies to more seriously, is a notice in the pub the best way to tackle that issue? Shouldn't intervention come from their friends, or loved ones?
Plus, there are plenty of people in Wetherspoons who should probably stop at two – or stick to soft drinks altogether. So why are parents, specifically, being targeted in this way, rather than judging it on individual behaviour?
"Strangers commenting on your parenting can be very intrusive as well as upsetting," Siobhan Freegard, a mum, parenting expert, and founder of ChannelMum.com, previously told HuffPost UK.
As she puts it: "Being a parent is tough at the best of times, and when you're doing your level best to protect and care for your child, of course it's going to hurt when a stranger still finds reason to criticise you. Remember, you're the parent, you set the rules."
HuffPost UK contacted Wetherspoons regarding the "rule", who said it has been in place since 2011 and is enforced at the pub managers' discretion.