What colour are dark-skinned people's palms? If you don't know the answer, you might be in the same boat as the staff over at BECCA, the most recent brand to be accused of racial insensitivity in its advertising.
Over the weekend, the Australian cosmetics company came under fire on social media for a bemusing cover-up. It appears the team working on its most recent campaign has either photoshopped, or painted, a white person's hand darker.
How do we know? Because the internet has been crying out the answer in unison: black people do not have black palms.
BECCA issued an apology, by reshooting the ad image and telling Twitter followers: "We hear you and want you to know that we remain committed to continually representing our inclusive BECCA Beauties."
But Farah Aly, the part-time freelance makeup artist who posted the tweet that went viral, told HuffPost UK she is dismissive of their response: "I think it was a quick brush off of the situation and wasn't even a proper apology. They said 'we missed the mark' as if it was a small issue. I think it was a really tone deaf response."
Lots of people of colour flocked to Twitter over the weekend to express collective outrage — and the results reflected a combination of humour and exhaustion.
As a black woman who's been buying beauty products for over a decade, I'm getting déjà vu – that's right, the most baffling part of the debacle is the fact that this has happened before.
Last month, South Korean beauty brand Stylenanda were found engaging in the same practice — and were caught red, or perhaps black-handed – by consumers.
The response? "We are sincerely sorry for the upset caused. We have since removed the picture and will no longer be using it to illustrate our products."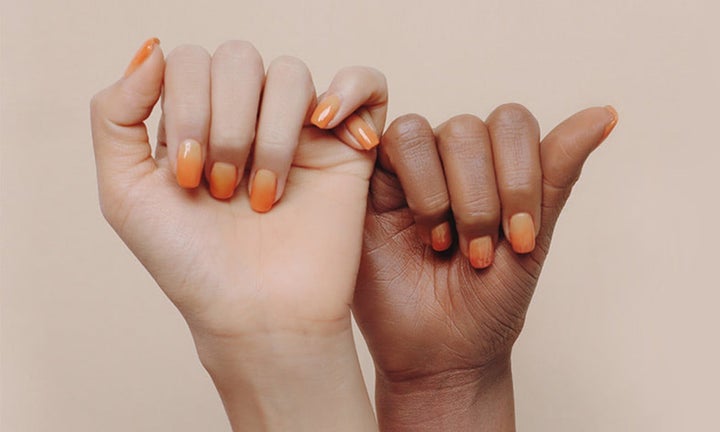 Skip back to 2017, and Colourpop were called out for the same thing. Back then, Cocoaswatches, a platform that showcases makeup for underrepresented complexions, said in a caption: "This is deception. With all the $$ they are making, they couldn't find someone to hire with a dark arm."
As black people, and most people who have taken more than a glance at their black friends' hands will know, our palms aren't the same colour as the rest of our skin. But it seems that those working in the industry seem to repeatedly fail to put two and two together –– and this might be something to do with the fact that people from BAME backgrounds make up 12.9% of the total employed base of advertising agencies in the UK, according the a recent census by the Institute of Practitioners in Advertising (IPA).
We can't know whether the palm photoshop was done on a white person or a person of colour, but Rosie Keysell, from Models of Diversity, a campaign for representation in the industry, says that models of colour do struggle to get hired across the board in fashion and beauty.
"We hear it all the time... there are many models of colour that want work, are going for jobs, don't get them, and then see images being altered, which is kind of a kick in the teeth," she says. "The models are there, the brands just don't use them."
Keysell says she thinks organisations often want to look inclusive without the structures or processes to back it up. "Altering an image to represent a model of colour is not the same as using a model of colour."
Aly told HuffPost UK that she thinks representation in the beauty industry is definitely a problem. "From foundations to promotion and PR lists those are all dominated by those on the lighter [end of the] spectrum, leaving black and brown people out most of the time."
Emma Lubega, a mixed race model and student, also shed some light on how racial dynamics can play out in the industry. She remembers a shoot she once did in Hong Kong. "They gave me super white makeup and tried to straighten my hair...the result was comical."
Lubega says she thinks brands dominated by white people don't know how to cater to black models, and potentially try to save time, energy, and cash by avoiding working with them at all. "[They have] no idea how to even deal with people of colour (PoC) when they get there... I actually had to fight the hair stylist to get her to stop straightening my hair because she was using no heat protector and clearly had no idea what she was doing," she says.
Esther Barker, a 24-year-old youth worker, believes some companies are deceiving their fanbases by seemingly photoshopping models. "Companies clearly realise where the money lies – with black, indigenous, PoC – but are reluctant to truly commit to diversity by hiring these same people within their creative teams." Barker also expects that consumers will see lack of commitment from brands and go elsewhere: "I hope makeup lovers will continue to seek out and support PoC-owned, cruelty-free brands such as MDMFlow and Juvia's Place instead."
Perhaps the success of cosmetic brands that centre people of colour in their ethos, such as Fenty Beauty, are pointing white-dominated companies towards the financial benefits of inclusivity. But it isn't enough to make billboards diverse, it's time to change boardrooms too.
BECCA cosmetics may not be the first company to edit black palms, but I'm hoping they'll be the last.
HuffPost UK contacted BECCA for comment on this, but is yet to receive a response.