Instagram and Facebook are to ban graphic self-harm images, it's been confirmed, while search functions will be adapted to make it harder to find more generalised images – for example, of self-harm scars.
This follows the inquest into the death of teenager Molly Russell, who was found dead in her bedroom in November 2017. Her family discovered she had been viewing material on social media linked to anxiety, depression, self-harm and suicide, and her father said he had "no doubt that Instagram helped kill her".
Self-harm can affect anyone, however the majority of people who report self-harm are aged between 11 and 25 years old. One in five teenage girls think about self-harming some or all of the time, according to the charity Addaction.
But what drives a young person to post or deliberately search for graphic imagery of self-harm? Mental health experts tell HuffPost UK that many of these teenagers are motivated by the need for connection, even if their actions end up leaving them further isolated – and with damaging consequences.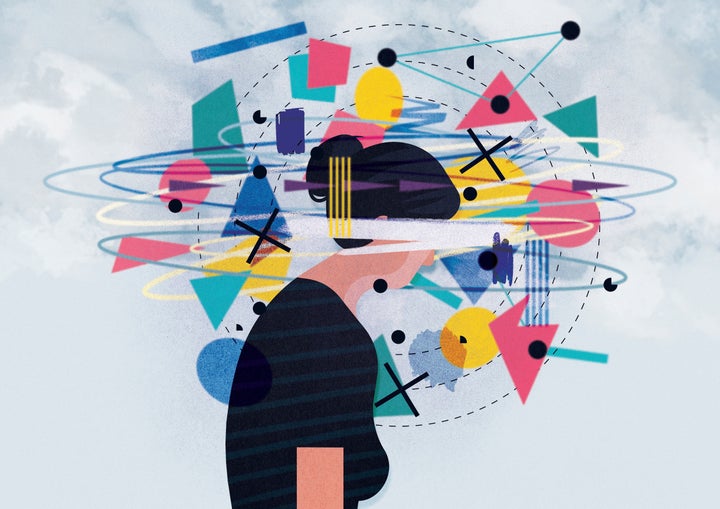 Peter Klein, a therapist and Counselling Directory member accredited by the BABCP (British Association for Behavioural and Cognitive Psychotherapies), explains that seeking out and sharing this material on social media can be a way for people who self harm to connect with others.
"As a sense of belonging is often absent with self-harmers, posting pictures on the internet can help them feel a sense of connection and in some cases help sufferers get attention, which is something that may have been lacking in their everyday lives," says Klein. "Others post pictures because experiencing the potential drama such an act can evoke is a form of relating that they may be most comfortable with and used to."
Self-harm – where someone intentionally injures their body – often results from severe emotional distress. Hurting oneself can provide a "potent distraction" from those emotions, says Klein, and some even experience a short-term feeling of "release". However, this doesn't make the cause of distress go away.
When young people find images of others self-harming, there can be an element of reassurance, according to Dr Sarah Parry, a clinical psychologist and lecturer at Manchester Metropolitan University, as they no longer feel so alone in their struggles. But what happens if they take information or direction from these posts?
There has been plenty of public debate on the issue: Health Secretary Matt Hancock has put increasing pressure on Instagram and other social media sites to remove suicide and self-harm images, while Nick Clegg, former deputy PM and now senior executive at Facebook which owns Instagram, said it is "sometimes better" to keep these images on social media. "I know this sounds counter-intuitive but they do say that, in some instances, it's better to keep some of the distressing images up if that helps people make a cry for help and get the support they need," he said.
Published details of suicide methods have been shown to prompt vulnerable people to imitate suicidal behaviour, which is why the media is advised to avoid reporting details of how a person died by suicide. The concern is that the same effect could occur with self-harm. The two can be interlinked – more than half of people who die by suicide have a history of self-harm, according to the NHS.
The ongoing challenge, says Parry, is that if graphic images are banned from sites like Instagram, young people are likely to go looking for this information elsewhere. This has already come into play on Instagram to some degree – while the #selfharm hashtag has been disabled, there are various hashtags using alternative spellings of the word, some with tens of thousands of posts.
"Young people will research how to do these things," says Parry. "The intent is not to cause [themselves] long-term harm, it's to help them cope."
Imitating self-harming behaviour and seeking out this material is most common among young people, Klein believes, particularly teenage girls. "If people already have difficulties with their emotions and relating to others, then the emotional stress and difficulties of puberty will be an additional source of pressure.
"Seeking other people that are expressing their emotions and suffering online can help self-harmers feel like they are not alone, whilst providing a vehicle to express their own feelings," he adds.
The worry is that existing in an online community of self-harmers not only promotes such behaviour but also make those who are self-harming more resistant towards implementing positive change, Klein adds.
While banning graphic images on sites like Instagram is "arguably a wise move", according to Parry, it's hard to know "where to draw the line" with this type of content. For example, she says, showing photos of scars can convey a message that recovery is possible. And should images and videos that show how to safely clean a wound be banned? One of the additional risks of self-harm is infection, which can be equally dangerous.
"The consensus is that actually we're not sure what's helpful," says Parry, who believes much more needs to be done in engaging young people and asking them what would help.
She says tech companies could do a better job of signposting support information such as helplines, email addresses and websites when people search for sensitive hashtags on social media – something which Facebook has promised to provide and explore additional steps or products for. Early intervention is also crucial, both to reach those who are going online to feel less alone and to address the creeping normalisation of any images they are exposed to. Finally, there needs to be more discussion, Parry argues, about how teenagers handle really difficult, powerful emotions, so they don't get to the point where they are searching how to harm themselves to cope.
If you're worried a loved one is self-harming, it can be helpful to talk about why they are distressed before talking about the self-harm itself, suggests Dr Lucy Webb, senior lecturer in nursing at Manchester Metropolitan University. Talking to parents can be difficult in these circumstances so often it is better that they can talk to "an independent person who is not wrapped up in the family emotions that may be part of the problem", she adds.
Resources such as Childline or Samaritans can be valuable. "Parents can get very distressed too and also may need support when a child is self-harming."
Useful websites and helplines:
Mind, open Monday to Friday, 9am-6pm on 0300 123 3393
Samaritans offers a listening service which is open 24 hours a day, on 116 123 (UK and ROI - this number is FREE to call and will not appear on your phone bill.)
The Mix is a free support service for people under 25. Call 0808 808 4994 or email: help@themix.org.uk
Rethink Mental Illness offers practical help through its advice line which can be reached on 0300 5000 927 (open Monday to Friday 10am-4pm). More info can be found on www.rethink.org.