Jade, or Carly Rae Summers, is 22 years old with a fashion degree. She's also one of a new generation of porn stars rising to fame in the UK adult film industry.
When she graduated, Jade chose not to travel down the path that led to unpaid internships and uncertainty around whether she could pay her rent.
Instead, she chose to become a porn star.
With her nose pierced and a pink tint in her dip-dyed hair, Jade isn't adhering to anyone else's beauty rules or the norms of the industry.
"When you think of porn you think of these bright orange girls with masses of makeup on and stuff like that," she says in a new BBC 3 documentary.
"I don't want to be like every other porn star out there. I want to be me."
The documentary, 'Jade: Why I Chose Porn', follows the 22-year-old on many shoots which see her performing sexual acts with complete strangers.
While it can be quite uncomfortable to watch at times, it's oddly empowering to see a woman doing what she wants without caring about what everyone else thinks.
Much of the time, Jade doesn't know what a porn shoot is going to involve until she arrives on set. But she takes it all with a pinch of salt.
In one instance, she flies to Barcelona only to find out she'll be filming a virtual reality sex scene which involves giving a "foot job", something which she's never done before.
At the end of the shoot, she is filmed spitting into a sink while laughing about the unpleasantness of having a stranger's semen in her mouth.
It's not everyone's cup of tea, but Jade insists she loves it. She says porn provides a good income stream for her - she can earn anything from £500 for 14 hours work to £1,200 for a two-day shoot - and it also enables her to interact with men who treat her with respect.
"Guys in real life, they don't treat you with the same respect," she explains.
Jade was sexually assaulted as a 16-year-old in the locker room at school.
"What he did to me was something I thought about every single day for about six years," she says.
As such, she struggles to trust men in real life. She says her longest relationship was when she was in her late teens - it lasted a year.
She adds that since then she's struggled to hold down boyfriends because of the industry she works in and admits that the "simple life" - one where she falls in love and settles down - is something she desires.
Despite the fact her roles often involve being submissive and pleasuring men, the 22-year-old insists she is a feminist,
"I'm completely in control of the situation," she says. "I'm a feminist because everything I do is all about me. When I do these things, I do it because I want to."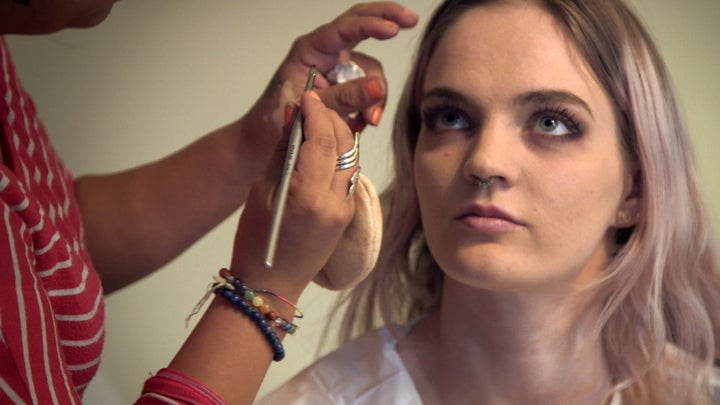 She adds that filming porn has "changed her life" because it brought her out of her shell, helped her overcome depression and gave her more confidence.
Despite experiencing some unpleasantness during her time in the industry, including alarmingly being torn by a large 14" penis which left her bleeding, she takes it all in her stride.
She says that as with any job, "you give it your all no matter what the circumstance".
"Usually in the media we only see the negative impact it can have on a person's life or people who got into it for the wrong reasons," she writes. "We see a view of the industry that's one-sided. For me, it's not like that.
"I love my job and the opportunities it has given me."
She continues: "My ambition is to live life to the full and to keep on living by this mantra. I don't regret any of the decisions I've made up until this point.
"Unlike many career focused people, I don't have a five or ten year goal. As long as I'm successful and happy, then I'm hitting my target."