Pubs and restaurants are likely to be among the last to reopen their doors as part of the UK's roadmap to recovery, according to reports.
Prime minister Boris Johnson said the easing of restrictions – which will be announced on February 22 – will be "cautious and prudent".
He hinted the hospitality industry won't be opening up any time soon, saying: "We need to go in stages, we need to go cautiously. You perhaps remember from last year that we opened up hospitality fully as one of the last things that that we did, because there is obviously an extra risk of transmission from hospitality."
This comes just days after a study suggested that even with measures in place in pubs to lower the risk of spreading Covid-19, concerning incidents – often involving alcohol – still occur.
Published in the Journal of Studies on Alcohol and Drugs, the study is thought to be the first in the world to examine the operation of Covid-19 measures in pubs and bars. Researchers said its findings will inform governments, public health experts, and policymakers in the UK and other countries as they consider the impact of the pandemic on hospitality and the risks of lifting restrictions.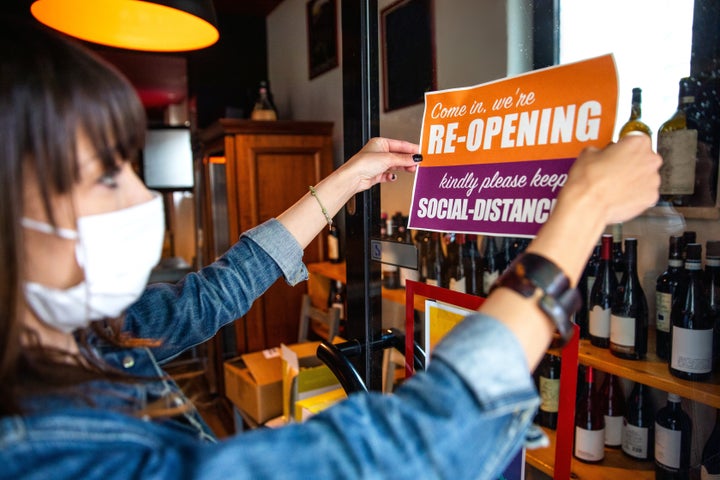 What was the aim of the study?
Professor Niamh Fitzgerald, director of the University of Stirling's Institute for Social Marketing and Health, said the study's aim was to see if Covid-19 transmission risks could be managed where alcohol is served.
Her research, carried out between May and August 2020, looked at a range of licensed premises that reopened after the first lockdown. Researchers interviewed business owners and staff before pubs reopened to understand the challenges faced.
What did researchers find?
Venues had made physical modifications and changed practices to be safe, but researchers found these methods were variable and "a number of incidents of greater concern were observed". These included close physical interaction between customers and staff that "frequently involved alcohol intoxication".
"Businesses expressed an intention to work within the guidance, but there were commercial and practical challenges to making this a reality," said Prof Fitzgerald, who led the research. While researchers noted substantial efforts had been made to change the layout of pubs and bars to enable social distancing, problems still occurred that could result in the virus spreading.
There were issues with staff not wearing personal protective equipment (PPE) or wearing masks inappropriately (for example, on their chins or under noses), as well as with the management of toilets, queues and other 'pinch points'.
People would congregate, or there would be bottlenecks around entrances, corridors, doorways or bar counter areas, which often went unchallenged.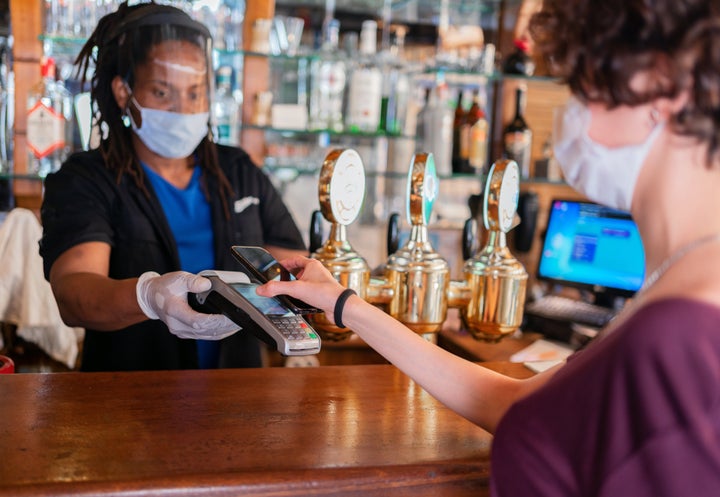 "We also observed several incidents of greater concern – including customers shouting, embracing or repeatedly interacting closely with several households and staff – which were rarely addressed by staff," said Prof Fitzgerald.
"Despite the efforts of bar operators and guidance from government, potentially significant risks of Covid-19 transmission persisted in at least a substantial minority of observed bars, especially when customers were intoxicated."
What does this mean for pubs and bars?
Professor Fitzgerald said the findings "suggest grounds for uncertainty" about the extent to which new rules can be effectively implemented by the pub sector.
"Blanket closures, curfews or alcohol sales bans are more likely to be deemed necessary to control virus spread, if such risks cannot be acceptably, quickly and cost-effectively reduced through support for premises operators," she added. These blanket actions could also protect staff from exposure and reduce pressure on emergency services from alcohol-related injuries, she said.
Attention also needed to be paid to the impact of closures on businesses, economic activity, and employee hardship, Prof Fitzgerald added.
Responding to the University of Stirling study, Professor Paul Hunter, from Norwich School of Medicine at the University of East Anglia, said: "There is now quite a lot of evidence that crowded indoor venues like pubs and bars are places where transmission of Covid does occur.
"What this paper highlights are the difficulties that will be faced as we open hospitality venues in coming months. How to open hospitality venues over coming months so that all provide safe environments will be a key challenge for the UK."
In a letter to the prime minister, the CEO, Patrick Dardis, said the pub industry is "part of the solution", and said a successful vaccination programme is "meaningless if it does nothing to aid our economic recovery".
The chairman of JD Wetherspoon has called for pubs to reopen at the same time as non-essential shops to save the industry, which is "on its knees".
There are rumours pubs may be able to reopen in April with outdoor service only – but Kate Nicholls, chief executive for UKHospitality, said this is "not economically feasible". Delaying opening until May "without significant additional compensation will see large numbers of business failures and job losses", she said.
In response to reports on reopening outdoors, Chris Welsh, bar manager of Craft Taproom in Liverpool, told The Telegraph: "What our industry needs is clear statements, clear science and reasoning, and easily accessible support. We don't want endless handouts, but we do want to survive."
Stephen Montgomery, spokesperson for the Scottish Hospitality Group (SHG), said of the University of Stirling study: "It's a farce that this report is even on the table for discussion. It is an out-of-date witch-hunt, that is wholly unreflective of our industry."
The study was conducted with "just a handful of premises and then applied to the wider sector", he said, adding: "You don't need to be a mathematician to work out that basing the closure of a £10.5bn industry on this sham of a report would be ludicrous."
Targeting bars and pubs breaking the rules is the "proper and proportionate way to proceed", he concluded.
"Our sector has... bent over backwards to ensure staff and customers are protected, with huge efforts being made by the vast majority of responsible operators in social distancing, PPE, track and trace and other hygiene measures, and all without any financial help from the Scottish government."