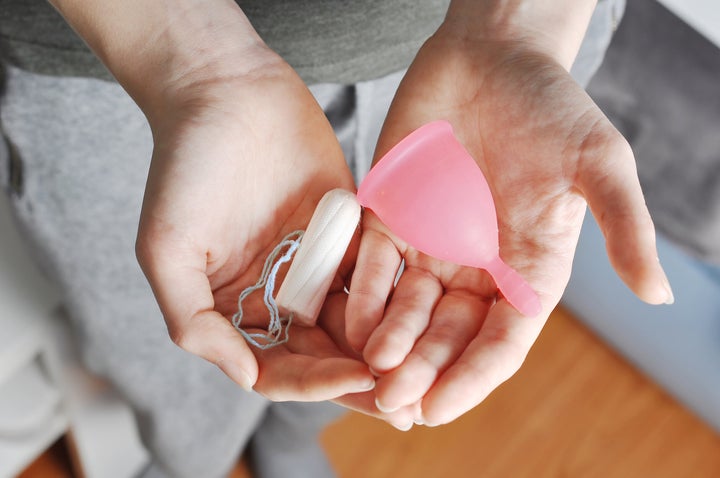 Walk into your average supermarket or chemist and you'll find an aisle labelled "feminine hygiene" or "sanitary products". Scan the packaging of your tampons or towels, and the word "period" is nowhere to be seen.
Euphemisms for menstrual bleeding have become normalised around the world, but a supermarket chain in New Zealand is taking a stand.
The chain, Countdown, is the first in the country to use the word "period" to describe its products. The fact it's made headlines globally is, quite frankly, bonkers – and goes to show how ingrained the "period" taboo is.
Isn't it about time we followed suit in the UK and learned to call a spade a spade? Not just in period marketing – but in everyday conversation, too?
"Women and people who menstruate have long been made to feel ashamed for bleeding, and that's in no small part due to the language used around periods," says Rachel Grocott, communications manager at period poverty charity Bloody Good Period.
"Terms like 'sanitary' and 'feminine hygiene' imply that periods are dirty, and over the years and generations, that has contributed to a powerful sense that periods are something to be hidden away, something shameful and not discussed."
Chella Quint, a former PSHE teacher and founder of the menstrual literacy campaign Period Positive, called for UK shops to make the change back in 2017, but it's been an uphill struggle towards progress.
"I contacted high street shops, but they've been 'in consultation' about it ever since, with no updates," she tells HuffPost UK. "Smaller start-ups, period poverty charities and reusable menstrual product companies have made the language shift as a result of the campaign – but I want mainstream businesses to drop the euphemisms because they have so much influence."
Seeing the words "hygiene" and "sanitary" on shelves reinforces negative narratives around periods, Quint adds. And this sense of shame can stop people reaching out for the information or support they need if something is wrong, says Grocott.
"It can also make people feel 'less' because they bleed."
"It can also make them feel 'less' because they bleed – marginalised, as if their needs don't matter," Grocott says. "Yet periods are a normal, healthy biological function, which are essential for life on the planet – so it really is time we changed the language around menstruation."
Alongside her MP, Quint submitted an early day motion last summer to raise awareness of the issue. She called on the government to ensure "all menstrual products and issues are correctly named in official documents and euphemisms such as sanitary and feminine hygiene are removed".
Meanwhile, Bloody Good Period ran a campaign called 'Mind Your Bloody Language', which raised awareness of the impact language has in this area.
"We use the terms 'period products' or 'menstrual supplies' to describe what we provide to people who can't afford them," says Grocott. "These items are essential for anyone with a period, but what we call them really does matter."