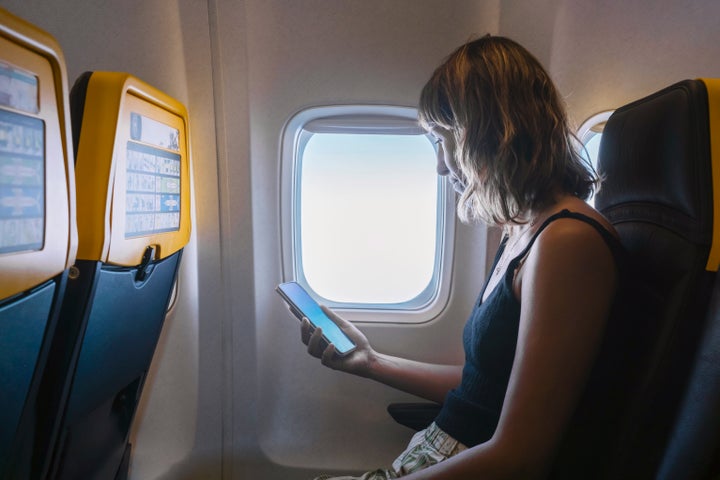 When it comes to travelling abroad, we often pack a good read or two, plenty of snacks and make sure we have our playlists, TV shows and films downloaded on tablets and phones.
Maybe we should be, as skin experts and TikTok creators are sharing how wearing SPF isn't just crucial while we're on holiday, but when we're travelling to our destination, too.
This is due to UV radiation increasing with altitude and some commercial aircraft windshields letting through some UV light.
The study also found these levels could be higher when flying over thick clouds and snow fields, as they can reflect UV radiation.
What's more, a 2015 study found that, compared with the general population, pilots and cabin crew have around twice the rate of melanoma, though it wasn't clear if this was caused by exposure to UV radiation during flights or on the ground during work or leisure.
Other factors such as repeated exposure to cosmic radiation and disruption of circadian rhythms could also contribute to the elevated rate of cancer among airline crew.
Victoria Evans, education manager at Dermalogica, agrees we should be protecting our skin while flying. "Travellers need to be wary of their travel arrangements to ensure they're fully protected before they head away," she tells HuffPost UK.
"As plane windows are made of plastic and glass, harmful UVA rays can penetrate the material, and at 30,000ft above the earth, these dangerous rays are even stronger."
The solution? "SPF protection should start as soon as you board the plane to ensure total skin protection from the start of your holiday," she advises.
TikTok creator Dr Zion Ko Lamm (@dr.zionko) agrees in her video, suggesting vitamin C serums and creams, as well as SPFs, can be great to protect against UV free radicals, plus hydrating hyaluronic acid for moisture as those cabins can seriously dry skin out.
All of this said, experts at Cancer Council suggest that modern plane windows actually do a good job of filtering out UV light: "Windows in the passenger cabin are generally constructed of three layers of plastic. These materials are highly effective at blocking both UVA and UVB, ensuring passengers are not at risk."
Instead, the risks come from when we're on the ground, walking around in the sun. "The majority of melanomas are the result of repeated exposure outdoors to UV radiation without the use of sun protection," they said.
Cancer Council recommends that when UV levels are medium or high you seek shade; wear a hat that covers the head, neck and ears; wear sun protective clothing and close-fitting sunglasses; and wear an SPF30 or higher sunscreen.
But there's no harm in wearing SPF on the plane, too, to increase your protection on-flight and when you land. There are loads in cabin bag-handy 50ml bottles, like this one by La Roche-Posay that offers 50+ protection with anti-shine technology so you don't look super oily, and this by Ultrasun.