Wikipedia is one of the most popular websites in the world, ranked seventh globally. It is widely described as the largest repository of human knowledge, but it has a major problem: women, or lack there of.
In case you are blissfully unaware (if so, snap out of it), women are grossly unrepresented on Wikipedia.
Studies estimate that between 13-23% of Wikipedia's contributors identify as female - that's two in 10 editors, at best - and this has a profound effect on the site's content.
Not only is there a lack of articles on women - a 2015 study estimated that just 15% of biographies on English Wikipedia are about women - but the few articles on women are written in a gendered way - a biography of woman is more likely to mention her husband, than man's will his wife.
Of course, it isn't that women are of no interest whatsoever to Wikipedia's mostly male editors, it simply depends who the women are.
Writing for the New Statesman last year, Jenny Kleeman compared the list of female porn stars to female poets. The former was "meticulously referenced" and ordered by decade, while the other was described as "a sprawling dumping ground" ordered alphabetically with limited referencing. Go figure.
When it comes to the arts, another underrepresented topic on Wikipedia (more on that later), the gender divide appears to widen even further.
That's why throughout March, there has been a global concerted effort, led by influencers and thinkers in the art world, to redress the gender imbalance and give female artists the recognition they deserve.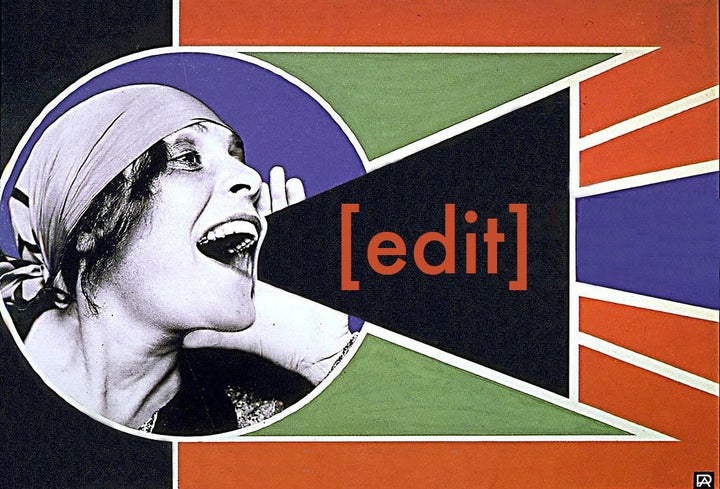 Over the past month there have been more than 160 Wikipedia Edit-A-Thon events, where participants (mostly, but not exclusively, women) gather together to create and update entries on female artists.
The events, started three years ago by the Art + Feminism collective in New York, have now reached a global scale, thanks in part to support from the Wikimedia Foundation, the nonprofit that supports Wikipedia and its sister projects.
"We do concrete work - adding citations to pages, expanding coverage of women in the arts - but, we also understand these events as platforms for consciousness raising and hopefully strategies for change emerge from that," Sian Evans a spokesperson from Art + Feminism told The Huffington Post UK.
"Just by the act of gathering together, we are creating communities of people interested in ameliorating the gender gap on Wikipedia, in the art world, in technology, and so on."
A spokesperson for the Wikimedia Foundation said that lack of diversity of voices, and the subsequent effect on content, is something it takes "very seriously".
"Over the years, the Foundation has supported and introduced several initiatives to address gender diversity. We recently ran the Inspire Campaign, which encouraged and funded community projects to improve gender diversity on the Wikimedia sites. More than 250 ideas were submitted, almost three times the initial target. The campaign culminated in 16 grant-funded projects, most led by women who were new grantees for the Wikimedia Foundation."
Wikimedia staff frequently attend Edit-A-Thons in a volunteer capacity to edit the site themselves, provide support or simply to meet with other Wikipedians. Each Edit-A-Thon group has access to comprehensive Wikipedia style guidelines, to make sure that entries are consistent in style.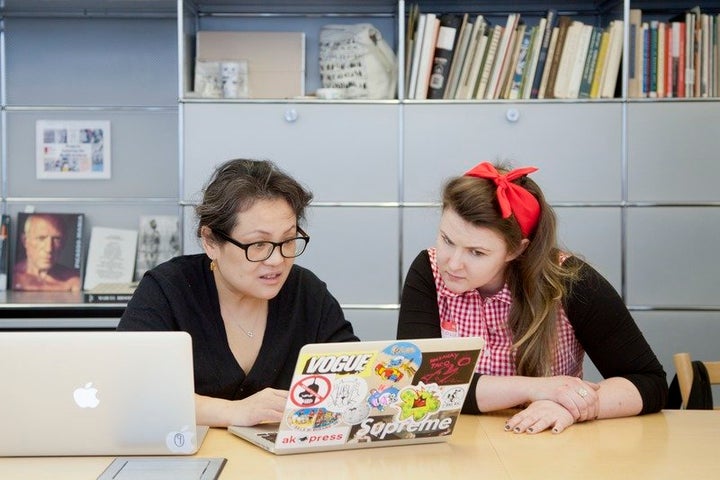 An Art + Feminism event at Museum Of Modern Art (MoMA), New York
This year's Art + Feminism focus is expansion, sustainability and inclusivity. While individual event leaders are given freedom to focus on artists of their choice, the underlying theme is intersectionality.
Dr. Basia Sliwinska, member of CREATE/Feminisms, a research cluster focussing on Visual Culture at Middlesex University (where she is also a lecturer), organised an Edit-A-Thon at London's Institute of Contemporary Arts (ICA).
Dr. Sliwinska said that CREATE/Feminisms chose to focus efforts on representing black female British artists who are "severely underrepresented on Wikipedia".
The event took place in the afternoon on Saturday 5th March and participants (around 30 women) worked in small groups to create five new articles and expand 16), including: Lubaina Himid and Janette Parris.
"I hope that this was a stepping point towards inequality of black women artists," she said.
Dr. Sliwinska hopes the events will inspire more women to start editing Wikipedia.
"As women are forced to think that as women we don't have the knowledge or technical skills to do something like this. On Saturday we realised that it's not as complicated as it first seems.
"When I started, I had no idea about how to edit. If you have an hour in the evening you can add to wikipedia."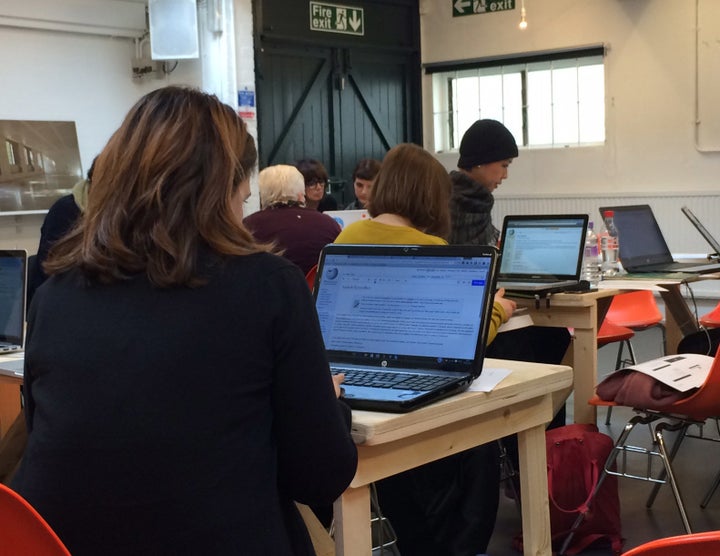 An Art + Feminism event at ICA, London
On the same day another event in London took place at Tate Britain.
The Tate Edit-A-Thon focussed on improving the entries of female artists from the Tate's collection, such as Ingrid Pollard.
Hilary Perkins, head of digital content, Tate Digital, told HuffPost UK: "We wanted to improve the profile of under-recognised women artists and wanted to share Tate knowledge with the wider world.
"Staff from across Tate (women and men) came together for a day of writing and editing to improve the profiles of female artists from Tate's collection who had little-to-no presence on Wikipedia."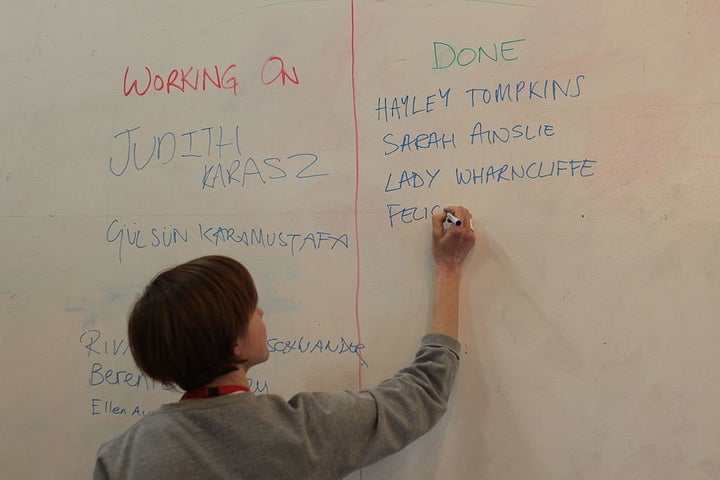 An Art + Feminism event at Tate Britain
Eliza Apperly, freelance writer and researcher, and online editor at TASCHEN, hosted an event in Berlin on Sunday 20th March in the gallery space at Haus am Lutzowplatz.
"We embraced 'art' in the widest sense, incorporating performing and virtual projects, and we were quite an international group, which allowed us to work in different language versions and areas of geographical interest."
Some examples of what people worked on in Berlin (many still in progress) include: a list of female artists working in Bosnia and Herzegovina; a English translation for Leben, oder Theater?, the opus magnus of German Jewish artist Charlotte Salomon, who died at Auschwitz in 1942; and a new page for Titwrench music Festival in Denver, Colorado and Stockholm, Sweden.
But as Apperly highlights, Wikipedia is just the tip of the iceberg: "The disparity is just one part of a pervasive, systemic issue, that plays out across the market and media, as well as in institutional and educational environments: from top auction prices for male versus female artists to who gets the director jobs in the biggest art museums.
"Like all systemic issues, the pervasive and entangled problem means it's possible for everyone, and therefore no-one, to assume responsibility or the initiative for positive change."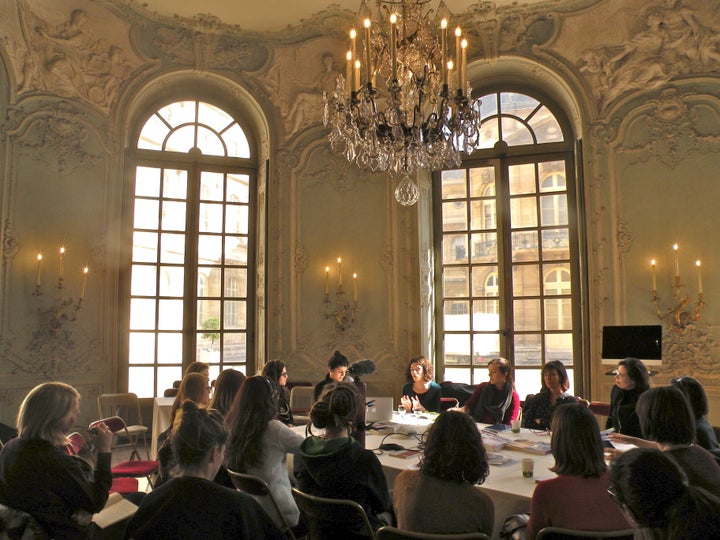 An Art + Feminism event at the Hôtel de Soubise, Paris
Thankfully groups of people are starting to make positive change, starting with the one tool we can all access: Wikipedia.
The site is not just used to cheat in pub quizzes or help pupils with homework, but often as a first port of call for research (although many may loathe to admit it).
Sian Evans, Art + Feminism spokesperson, said: "More people are using Wikipedia as a platform for teaching research and composition, more librarians are describing it as a research tool. For example, Google search pulls its biographical sidebar information from Wikipedia, and MoMA's website now pulls from Wikipedia content.
"This is the marker of a cultural shift with regards to how Wikipedia articles are viewed in the art world and in research in general, making our work more pressing."
For Evans, we must not underestimate the effect of the lack of female presence on Wikipedia: "It is important to improve Wikipedia's gender bias both because it is one of the keystones of our digital commons and because it's becoming one of the content backbones of the Internet: many other popular sites pull in content from Wikipedia.
"This proves that absences on Wikipedia ripple across the internet."
There are many other projects and initiatives that are led by Wikimedia community members and/or supported by the Foundation, these include:
Tate will be hosting a public Edit-A-Thon on 22 May; Taschen will be holding monthly meetings.
HuffPost UK is running a month-long project in March called All Women Everywhere, providing a platform to reflect the diverse mix of female experience and voices in Britain today. Through features, video and blogs, we'll be exploring the issues facing women specific to their age, ethnicity, social status, sexuality and gender identity. If you'd like to blog on our platform around these topics, email ukblogteam@huffingtonpost.com with a summary of who you are and what you'd like to blog about