While it's business as usual for many people working in schools, retail, construction, healthcare and manufacturing (to name a few sectors), there are still tens of thousands of people – mainly office workers – who are working from home. Some haven't even been back to their desk since March.
It's been a long slog for workers getting up to speed with their new nine to five – now spent mostly glued to a laptop screen, wearing elasticated-waist trousers, and attending dozens of virtual meetings where someone's wifi is always going into a frenzy every 10 minutes. The Zoom fatigue is alive and well.
Various secondary lockdowns in the UK have now lifted, but people are still being encouraged to work from home in areas where coronavirus infection rates are considered high – and it's likely things will stay this way for some time yet.
A survey by Simply Communicate – a community for in-house communications, HR and digital workplace professionals – revealed that of those who are still working remotely, around 62% believe they'll be back in the office by the end of March 2021 at the earliest. That's a year after the pandemic first struck hard.
Gemma Dale, a lecturer, senior HR professional and author of Flexible Working, says most employers seem to be working to a rough timeline of spring 2021 in terms of the big return to work, however she notes that lots of companies prepared for a return this autumn that never then happened.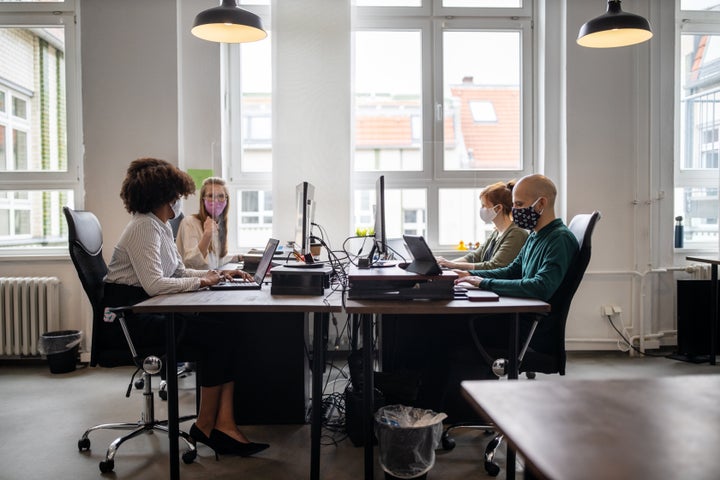 "Ultimately the 'return to the office' – if indeed it happens at all fully – will depend on the virus and the availability of the forthcoming vaccines," she said, a day before news broke that the Pfizer/BioNTech vaccine had been approved by the Medicines and Healthcare products Regulatory Agency (MHRA).
"Many organisations however are thinking about what that return really looks like. I have come across very few organisations that expect the future to look like the past," says Dale. "Most are planning for some sort of hybrid / flexible approach and all that entails – although most seem to be in the early stages still of thinking through what this will look like in practice."
Just over a third of respondents said they haven't been back to the office since lockdown began, 75% of which are from organisations with more than a thousand employees.
Many companies will be waiting for a steer from the UK government before making any big changes – but with a vaccine on the cards and imminent deployment to vulnerable groups, changes could come sooner than later.
What will the new working day look like?
Businesses will still need to adopt 'Covid secure' procedures in the early days of the vaccine, as the nation's immunity won't just change overnight. For Rosie Hyam, people associate at City Pantry, employee confidence in those measures is key to a successful return to work. "One thing's for certain, employers will have to provide a safe place of work for all of their employees," she says.
Initially, it's likely that larger companies will adopt a phased approach, implementing rota systems where certain members of staff, or specific teams, can head into the office on designated days and scheduled times.
For some, the pre-pandemic 'normal' working day might become a thing of the past altogether. Half of respondents to Simply Communicate's survey feel their future organisation will be a balance of home and office-based working – and only 2% want everyone back in the office all the time.
Some businesses might shift to home working indefinitely cutting out the huge costs of renting office spaces, while others will want staff back and office-based full-time – but most are likely to adapt to a more flexible approach.
Jo Caine, who has over two decades of specialist HR recruitment experience at Cathedral Appointments, regularly speaks with senior HR leaders and says the vast majority are looking to implement a blended work pattern: a mix of working from home a few days a week and from the office for the rest.
Flexible could be the new normal
With the digital tools available and the experience gained over the past 10 months, the idea of everyone being in the office everyday "seems antiquated and unnecessary," says Nelson Phillips, professor of Innovation and Strategy at Imperial College Business School. "We know flexible working and working from home, at least some of the time, is highly valued by many employees and it will be difficult for firms to simply say that being in the office five days a week is necessary when it obviously isn't," he says.
""Firms who do not trust their employees will be at a significant disadvantage in hiring the best people."
Historically, employers have not actively supported working from home. Jenny Perkins, head of engagement at leadership, talent and engagement consultancy Cirrus, explains why: "Many felt that for employees to be really productive, they needed to be in the office. All too often, this stemmed from a lack of trust. Many managers like to see where their teams are and what they're doing."
But lockdown has forced a "sudden and seismic change" as managers had to "let go" and "become more flexible", she says. "Trust and flexibility are key as we take tentative steps back towards the office." If a company doesn't adopt this approach, it may struggle to retain its staff.
"Firms who do not trust their employees and whose cultures and management style do not lend themselves to this new form of working will be at a significant disadvantage in hiring the best people," says Prof Phillips.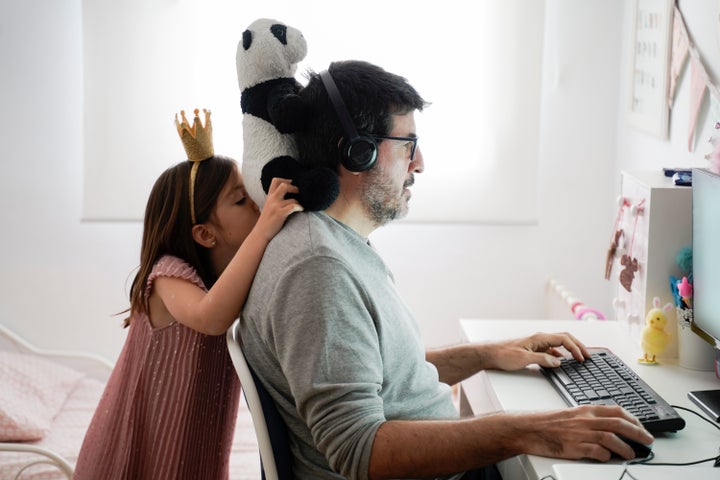 Working from home isn't over
Given the level of savings that companies will be making – and needing to make – Joanna Taylor, managing directory of Let's Talk Talent, doesn't foresee home working going away. She believes workplaces will become much more about collaboration, innovation and strengthening team relationships, and less about desk-based work or task-based work.
"I suspect people won't want to travel into an office to then just be sat at their desk for eight hours but will want to if it gives them an opportunity to connect with colleagues, to learn, to be inspired and to share with others," she adds.
Prof Phillips predicts many companies will shed space as their leases come up and office spaces will be redesigned for more flexible work arrangements, which will drive an expansion of the use of co-working spaces. "All of this will mean really fundamental changes in how companies design, allocate, and use space," he adds. "The idea of one office or one desk per employee which is just theirs and where they spend all their days is gone forever."
Ultimately, he says, workplaces will be figuring out how to make their new working day function. "Finding out what works for each company will require experimentation and creativity to make the most of this opportunity to make work better for employees and to save money for companies while creating a more committed and motivated workforce."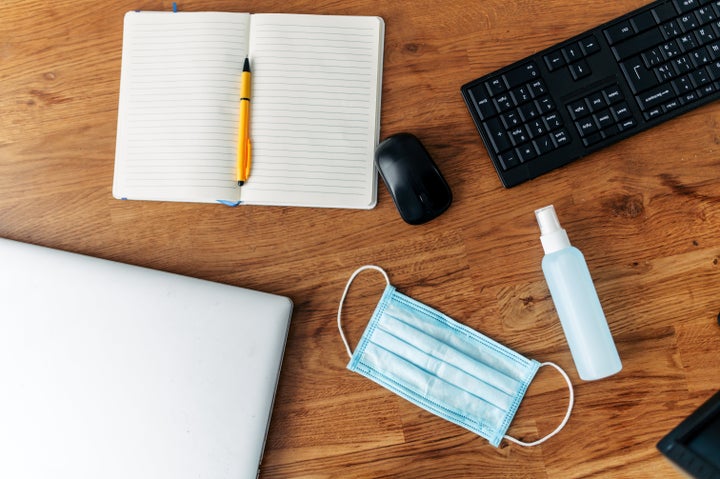 It won't be easy
There are plenty of challenges relating to the return to work in 2021 – or whenever it happens. HR professionals believe businesses should now be asking employees what changes they want to see – and employers should be flexible to meet the needs of individuals. Supporting mental wellbeing and making staff feel safe will make or break the return to the office.
"There is much more to think about here than simply making sure the workplace is Covid secure – if indeed there is any such thing," says Dale. "The global pandemic has been a source of reduced mental health for many employees, and a return to some sort of normal does not necessarily mean these issues will quickly resolve themselves.′
"For many employees, their work is central to their sense of self, their meaning and purpose. This may have been significantly impacted by a long period of being at home."
In October, mental health charity Mind warned of a 'second, mental health pandemic' if nothing is urgently done to support people mentally during the coronavirus pandemic. The call to action came after data on new urgent referrals to crisis care teams. Multiple studies and surveys have also shown a rise in anxiety and depression during the pandemic.
Managers need to be trained in identifying the signs of poor mental health and supporting staff, says Dale, and organisations need to put in systems, too. "There will be fears associated with returning, especially while the virus is still present in our lives," she says. "Some people will naturally be reluctant to return and this may be especially so for groups who remain vulnerable."
For those who've been furloughed, there may also be further issues that arise. There is no precedent, Dale adds, but we do know unemployment impacts mental and physical health."For many employees, their work is central to their sense of self, their meaning and purpose. This may have been significantly impacted by a long period of being at home and [prompt] issues around returning, from fears about future job security to the impact on self-confidence."
But there are positives
The shift to home working has given many employees more flexibility in their working day which Caine says not only leads to happier, healthier workforces but has also meant reduced costs for employers. A win-win.
The pandemic has also created "a sense of unity" that arguably wasn't there before, she adds. "The leaders I have spoken to state that across the past nine months, there's been a real increase in collaborative working and a real positive feeling of community."
And perhaps one of the biggest shifts we've seen is that employers are more open to the idea of employing people from further afield, says Jo Caine, which could open doors to jobs in some of the UK's major cities – without people needing to live there. "Encouragingly, there is now much greater employer flexibility in areas where there are talent shortages," she adds, "a huge positive for the jobs market and, in the long-term, the economy."
Clear guidance is crucial – even on the simplest of things, such as getting in and out of the building, the process for what happens if you start to feel ill, rules for navigating the office and even where you are and aren't allowed to sit. Having empathetic and people-centric leaders will also be key, HR leaders agree.
"My own research suggests that employees have found this time a reflective one and many have thought deeply about how they want things, and their lives, to be different in the future," says Dale. "I personally know of people who have left their employers in recent months – even in the midst of all this economic turmoil. They have decided to do something different, become self employed, followed different career paths.
"There is the very real possibility that some employees will simply choose not to return to the old normal if that is all there is on offer."