A spectacularly intricate crop circle has appeared in a wheat field on the Wiltshire and Dorset borders.
The 100m wide circular design covers two acres and has 20 different symbols that resemble astrological signs around a central mandala.
It has been described as the best for many years, in what has become something of a crop circle hotspot.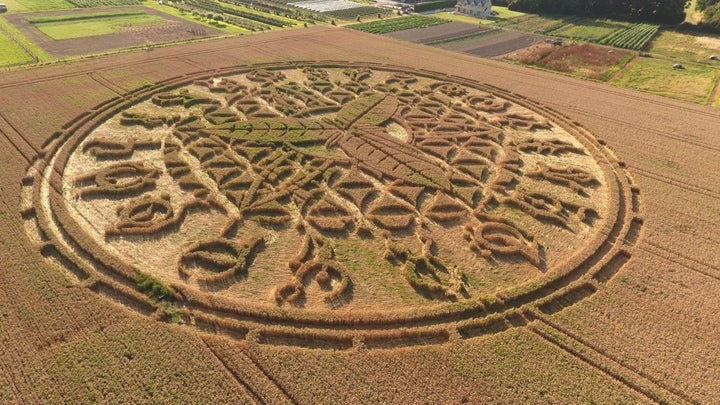 The circle appeared overnight and no footprints or evidence of human involvement have been found.
But some eagle-eyed observers have drawn a comparison to the logo of the American company Mothership Glass, which creates intricate bongs often used for smoking cannabis.
The symbols featured around the edge recently featured in a design posted on the Washington-based company's website.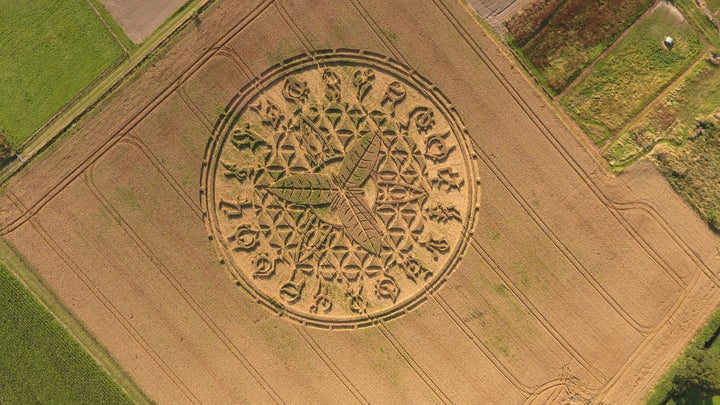 But Karren Price, owner of the field and the Ansty Farm Shop on the A30, six miles east of Shaftesbury, insists she has no knowledge of how it was created.
It appeared overnight last Friday while she was on a five-day break in Devon with her family.
Price told South West News: "I have designed mazes myself but this surpasses anything I've ever seen.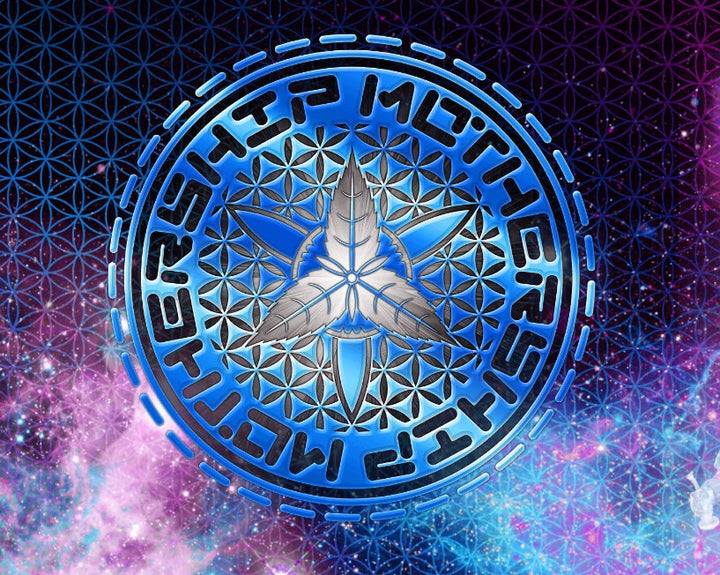 "The first maize maze I did took six weeks to create so for this amazingly intricate pattern to be created so quickly is astonishing.
"We are a busy farm shop and so there are people out in the fields around here all the time, working, harvesting and picking, so nobody would have particularly noticed anyone working in the field.
"We don't have any neighbours so nobody reported anyone - or anything - in the vicinity to us, no torchlights or anything like that."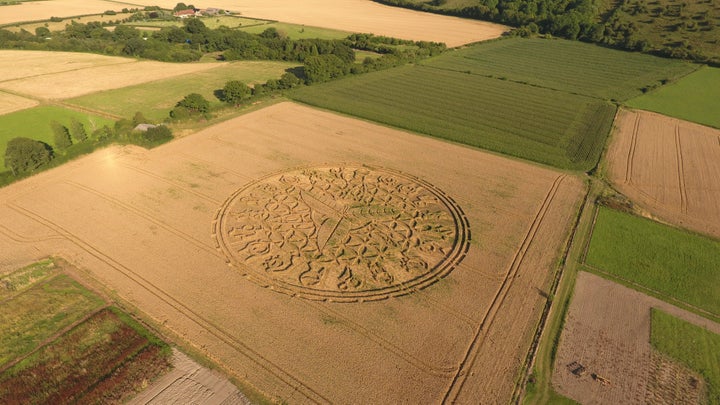 The site is 19 miles from the ancient mecca of Stonehenge and close to a number of mystical sites in the Wiltshire area.
However, crop circle experts - or 'croppies' as they are known - have been quick to dismiss any possibility of alien or supernatural involvement.
Marc Smulders wrote on a forum: "There is no doubt that the formation was inspired by the company Mothership Glass. This does not mean that the formation is a hoax."
Hugh Newman, 43, an ancient histories researcher and author, documented the circle with aerial drone footage.
He said: "There are similarities in the design but whoever created it has done something incredible.
"It is by far the best design we have seen so far this year. The geometry and detail are quite spectacular. It is a work or art."
Price has now opened the site to the public to recoup the cost of losing two acres of wheat. Any surplus will be donated to the STARS Appeal and the Dorset and Somerset Air Ambulance.
Entry is £5 which includes a beverage. Opening times are Tuesday to Saturday 9.30am - 5.30pm, Sundays and Mondays 10am - 4pm. Postcode SP3 5PX.
Related