A woman was flattered to receive a huge cosmetics haul from a mystery sender – only to discover the present was sent by herself when drunk.
Pauline O'Neill, 34, is only 4ft10" and rarely drinks but last Friday enjoyed a rare bottle of red wine to herself.
While inebriated in the early hours of the morning, she splashed out £30 on Lush pamper products and a further £20 on goodies on eBay – but forgot the lot.
It arrived at her door along with a note reading: "You need a treat – this should help you unwind."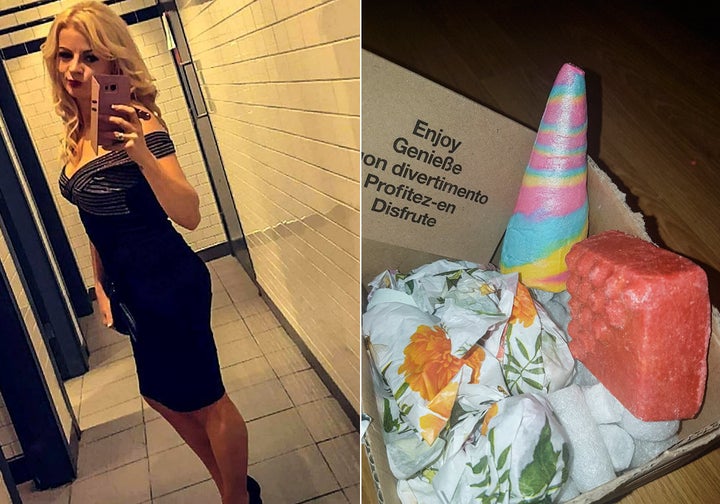 When a package arrived the Monday after her night out, O'Neill thought a kind-hearted friend might have bought her the three bath oils, a body scrub, a lip scrub, a pumice and a 'unicorn horn' bubble bar.
However, it was only when she discovered a self-penned note that she realised the gift was actually sent by herself while drunk.
O'Neill, from Southend, Essex, said: "I was stunned, I didn't think it was right and logged onto my online banking – and there's an invoice for £30 for things bought at Lush.
"I just started laughing and the friends I've shown think it's hilarious but why the hell would anyone do something like that?
"Who drinks red wine, buys themselves a present and writes themselves a note? Oh the shame.
"I don't usually drink as I'm only 4ft 10 I can't really hold my drink, but in the last couple of months I've had the odd drink here and there.
"I got a lovely, and quite expensive, bottle of rioja for Christmas – I planned to have one glass and ended up drinking the bottle."
O'Neill logged onto the Lush website on her phone in the early hours or Friday morning and ordered the brightly-coloured cosmetic cache and tipsily wrote herself a note.
The note read: "Hey u. U need a treat, some down time. So this should hopefully help you unwind. So unwind and enjoy… Lots of love from urgent 3am self #redwinemademedoit [sic]."
O'Neill said that although a lip scrub was something she was interesting in buying she had no need for any of the other items.
"I think the colours attracted me – my kids love the colours the Lush products turn the bath water and the unicorn stuff is all big at the moment," the mum-of-two commented.
"I also like bath oils and salts, but I've no idea why I got a pumice stone – I don't need one."
In a separate transaction on the same night she also logged onto eBay and tried to buy a Harry Potter diary and two Harry Potter watches costing a further £20 – but the transaction failed to go through as she had insufficient PayPal funds.
O'Neill said: "I'm a huge Harry Potter fan and I assume I wanted to give the items to my sister as a present.
"They were due to come from China but because of my PayPal account it didn't go through."
Despite being pleased with the goodies, O'Neill said that next time she has a drink she will keep her phone out of sight to avoid a repeat performance.
"I'd probably end up broke if I carried on doing that. I need to turn my phone off to make sure I stop looking on the internet at that time in the morning," she said.
"You shouldn't be doing that at 3am – you should be sleeping."