A Washington DC restaurant has become locked in a war of words after a woman allegedly defecated in their dining room then left a bad review online.
The woman, named only as Emma C, used review website Yelp to leave a one star rating for Nick's Riverside Grill accusing the bartender of overcharging her for a drink.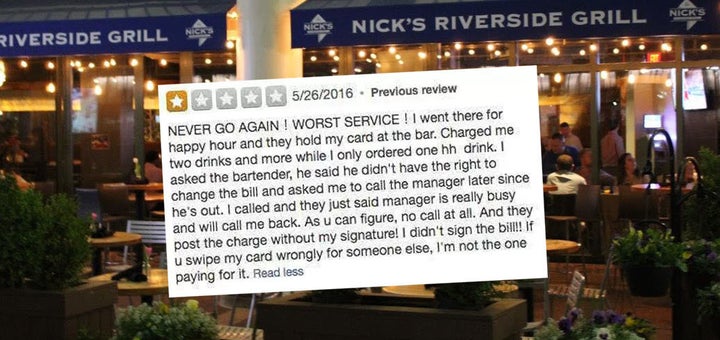 Seems perfectly normal, until you see the response sent by the restaurant.
Manager Liz S replied accusing Emma C of voiding her bowels on the restaurant's chairs and sitting in it for the rest of the evening.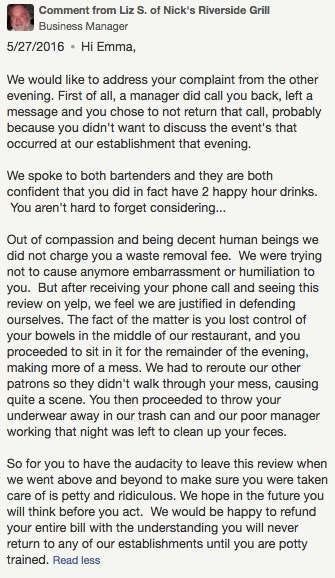 "It was merely a coincidence that I was at the bar the same night as this other girl, who I feel bad for since she is also being publicly dragged through the media," Emma C told the Washington City Paper. "I just wanted to clarify that I'm just a dissatisfied customer who is now being accused by this establishment of being someone that I'm not, saying some very nasty things about me and also insulting this other girl who could potentially have serious health issues... It's ridiculous, irresponsible and extremely upsetting.
"We were wearing different outfits (I was wearing striped pants and the girl who had the accident was wearing a dress) and we have different hair colours and lengths. I'm wondering how they could identify the other girl as me. It's ridiculous, irresponsible and extremely upsetting. We need to let people know the truth and Nick's should apologize."
Casten also commented, saying he intends to research further into the events.
"My employees remain confident. All that said - mistakes can happen - so will let you know," he said.
"We have the woman on film, we have two bartenders who recognize her (and her picture on the yelp review) and identified the exact number of drinks she consumed - two beers, she did not appear intoxicated to the bartenders although the manager saw her walking in a very awkward manner just prior to the incident."
This story is still developing. More updates as we get them.
Related