Half of mothers between the ages of 18 and 40 say they felt like they let their baby down when they struggled to breastfeed, a poll has revealed.
Two thirds of women who breastfed their baby say it was one of the best parts of being a mother (66%), yet nearly half say it was one of the toughest parts (49%), according to a poll by BBC Radio 4's 'Woman's Hour' and BBC Radio Sheffield.
The online survey of 1,162 UK women aged between 18-40 showed a third (33%) of women who breastfed their baby felt pressure from society to do so. And one in seven women surveyed (15%) say the issue of how they fed their baby had a negative effect on their mental health – many who struggled with breastfeeding mentioned feeling like a failure as a result.
"Often women are told what they should be doing without a full understanding of the factors that affect a woman's decision to feed by breast, bottle or both," said Karen Dalziel, editor of 'Woman's Hour'. "This poll gives clarity on those reasons and shows that feeding babies is a complicated and emotional experience – it exposes the impact healthcare professionals, family and friends can have on the whole experience."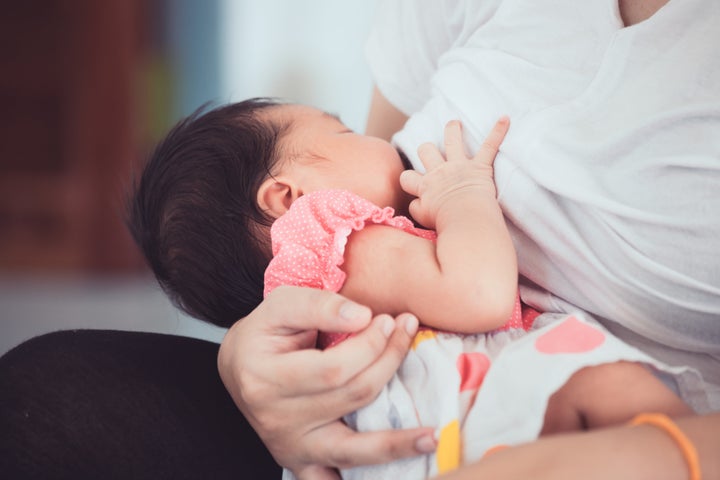 Also in the study, three in ten women who formula-fed their baby say they would have liked to have breastfed but felt embarrassed to do so in public (30%).
However, three quarters (76%) of women who formula-fed their baby (either exclusively or in addition to breastfeeding) say they enjoyed involving their partner or others in feeding their baby, and 75% of this group also say that they agreed that using formula allowed them greater freedom in feeding their baby.
"The results of the poll provide some really interesting insights into how different the experience of feeding your baby can be," said BBC Radio Sheffield editor, Katrina Bunker. "For some it is obviously a magical part of motherhood, for others it can be traumatic and associated with pressure and a lack of support. There is clearly a bigger conversation to be had on the subject."
Mums-to-be who intend to breastfeed can find out about breastfeeding before they have their baby. Antenatal classes cover important aspects of breastfeeding, such as positioning and attachment, expressing, common breastfeeding problems and how to tackle them.
New mums can ask their midwife or health visitor for help if they're struggling – and they can also tell you about other breastfeeding support available near you. To find out where your local breastfeeding support stations are, head to this website and put in your postcode in.
There's also a National Breastfeeding Helpline (0300 100 0212) available for people to call every day of the year, from 9.30am-9.30pm. If you're worried about talking on the phone, you can use the online web chat service.
The findings of the poll will be discussed live on 'Woman's Hour' on Tuesday 29 January with a panel of guests. On Wednesday 30 January. there'll be an opportunity for listeners to share their experiences via a phone-in which will be broadcast on both Radio 4 and BBC Radio Sheffield.