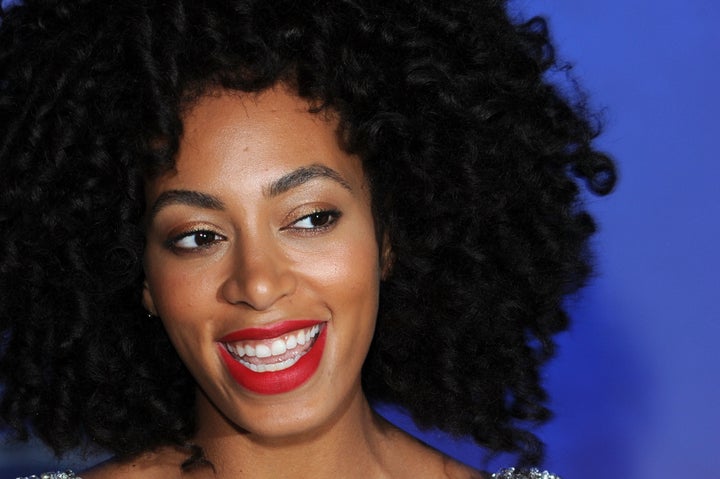 I saw BlacKkKlansman the other day. As well as being an excellent film - seriously, go and see it if you haven't already - I massively enjoyed it for another reason too. It was just so amazing to see so many people sporting natural afros on the big screen.
Of course, BlacKkKlansman is set in the 1970s when the natural hair movement was at its height, fuelled by the rise of Black Power and the civil rights movement, and having a fro was not just fashion, but a political statement to announce that you were black, and you were proud.
And the natural hair movement is currently on the rise again. As a result, this year sees the second ever World Afro Day on 15 September, which aims to celebrate afro hair, culture and identity in all areas of society as more and more black and mixed race people embrace their naturally kinky hair.
But why did the natural hair movement of the 60s and 70s die out? And as people often ask me, is the current resurgence here to stay - or is it just a trend?
In my opinion, the main reason that the 'original' natural hair movement petered out was that there was still an ongoing representation in society of blackness as negative. If you look at the majority of mainstream movies, TV and adverts of the era, there are hardly any representations of black women with natural hair as being beautiful. The standards were all of 'white' beauty. There was still the underlying message that only light skin and straight hair were beautiful.
Instead, you saw afros sported by the likes of civil rights campaigner Angela Davis on mug shot posters, when in 1970, she was in the FBI's top 10 most wanted list, for charges she was later acquitted of. The afro had become hugely political and things got so heavy, natural hair was no longer about beauty.
In the US, if you had an afro - even if you weren't politically inclined - by association, you'd still be harassed by the police. People took to covering their natural hair with scarves or wigs to avoid being targeted.
It was a burden most people didn't want to carry. With such an opposing narrative, the natural hair movement just couldn't survive.
Then of course, the Eighties arrived, with its yuppies wearing suits with shoulder pads. Beauty standards became even more white - it was all about being slim, pale-skinned with big, backcombed, sprayed straight hair - but still not afro hair. Success for women is so very much tied up with how we look, and in the Eighties, even white women with curly hair thought they could never be successful. Look how Melanie Griffiths' character Tess McGill in the iconic Eighties movie Working Girl cuts off her perm and swaps it for a sleek do to rise to the top. Even the fabulous Diana Ross had straightened hair after her wonderful Seventies 'fro.
I still had no natural afro style icons to look up to then as a teen growing up in the Eighties - instead, my idol was Madonna. There was no one with natural hair in the magazines I used to buy, like Ebony and Essence. Even supermodel Naomi Campbell, the most celebrated example of black beauty in the Eighties, always straightened her hair and wore extensions, weaves and braids, which have now left her with a damaged and receding hairline.
Even now, it's still rare to see women proudly sporting their afro textured hair in films, TV or advertising that our young black and mixed race girls to look up to and be inspired by.
Of course, black women have a choice - they can do what they want with their hair. But we still need more role models in the public eye and broader, more diverse view of beauty in society to show that natural black hair is beautiful - that even if they don't get out the straightening tongs, slather on some blistering chemicals or head to the local weave shop, you are enough. Young black girls shouldn't feel pressure from society to hide their natural hair or risk going bald because the overriding narrative is that only straight hair is beautiful.
Even though natural afro hair is still not mainstream yet, we're an increasingly visual society and social media is powering the resurgence of the natural hair movement. Young girls live online and there are more and more images of strong, powerful, beautiful women with naturally kinky hair like Viola Davies, Lupita Nyong'o, Solange Knowles and India Irie they can see and share to keep the movement going - even big brands like Pantene are jumping on the bandwagon.
As a result, more and more black and mixed-race women are ditching damaging straighteners, weaves, extensions and chemical relaxers and instead embracing their natural afro-textured hair.
They're challenging mainstream perceptions of beauty - and sharing the message that naturally, they are enough.
But we still have a long way to go. My niece is 17 and she daren't go out in public with her naturally textured hair. She has braids, after braids, after braids, all with extensions. She's starting to lose her hair. She's such a lovely girl - but she feels pressure from the images she's bombarded with everyday online, in the news and in the media that she just can't go natural.
Most of the world's prominent black and mixed race people, even in the corporate world, still have straight hair. It's still a problem.
But we're in an era of increasing self-love, self-acceptance and celebration of diversity. We're changing ideas of how we see beauty, how we see disability, race, gender and sexuality.
As a result, I truly believe that unlike in the 1970s, the new natural hair movement is here to stay. Let's celebrate that this World Afro Day.