Labour's Yvette Cooper has launched a ferocious attack on the Government for throwing out plans to let 3,000 stranded child refugees enter the UK, telling David Cameron he was putting the "country to shame".
The one-time Labour leadership contender's assault drew applause from MPs during Prime Minister's Questions - a reaction seldom seen during the weekly grilling of the premier since clapping is prohibited.
The Government argues the move would encourage people traffickers and the "pull factor" to the UK.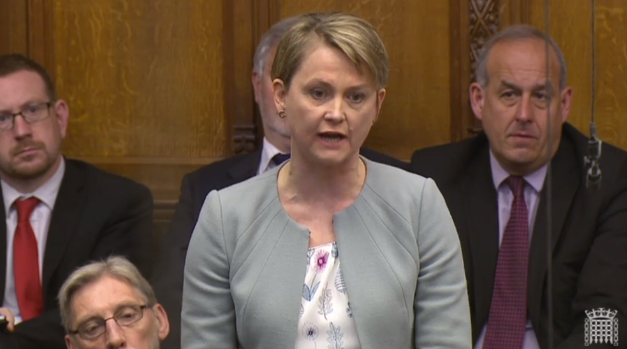 In a stunning broadside, Cooper said: "There are children's homes full in Italy and Greece and over 1,000 children will sleep rough in Greece alone tonight. How are they safe? Ten thousand children have disappeared in Europe. How are they safe?
"The agencies say children are committing 'survival sex' - they are being subjected to prostitution and rape. It is not insulting other European countries to offer to help; they want us to help.
"So will he re-consider his position on Alf Dubs' amendment before it comes back to the vote, and stop with his attitude on lone child refugees, putting this House and country to shame."
Earlier in the session, Cameron had said Britain was taking 20,000 refugees from camps in the Middle East, rather than Europe because children on the continent had found refuge in "safe" countries.
To Cooper's comments, he responded: We are helping other European countries, not least with the £10m we recently announced - how do we in Britain best help child refugees, we think we help them by taking them from the refugee camps, from Lebanon, from Jordan.
"We have a proud record and nothing to be ashamed of."
On Monday, the Government defeated a cross-party amendment to the Immigration Bill by 294 votes to 276, with Labour MPs shouting 'Shame!' as the result was confirmed.
The amendment would have forced the UK to take in unaccompanied children currently in refugee camps in EU states.
But the Home Office claimed the plan - tabled by former Second World War child refugee Lord Dubs - would create a 'pull factor' that would encourage more people traffickers to send children on the dangerous journey to Europe.
After a day of intense pressure from Government whips, a rebellion among Tory MPs was squeezed and several abstained rather than voted against their party.
Popular in the Community