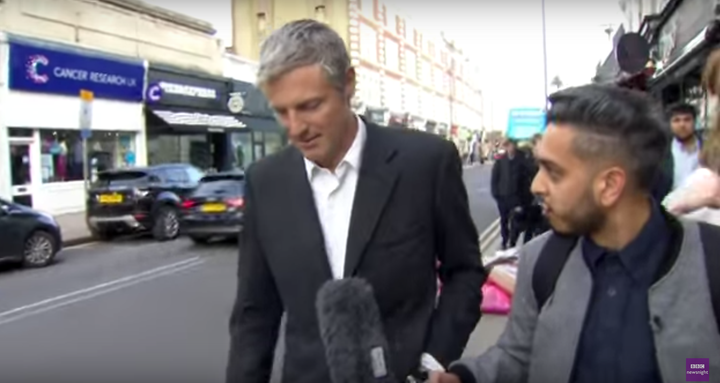 Zac Goldsmith insisted he has run a "positive" campaign for London mayor as he was followed down the street by a Newsnight reporter on Tuesday.
The Conservative candidate has been accused by Labour of targeting Sadiq Khan's Muslim faith as part of his election strategy.
BBC reporter Secunder Kermani challenged Goldsmith over the tone of his campaign. "Do you feel comfortable with the prominence of race in this election," he asked.
Goldsmith said he was not conducting interviews on the street, but replied: "I'm very comfortable with the campaign, it's a good campaign, it's a positive campaign."
Kermani added: "Everyone is saying 'this isn't you', do you reject taking on Lynton Crosby's firm to run your campaign?
"Aren't you worried about the longterm impact this might have on your reputation?"
He added: "How do you think Muslim constituents of London think about your campaign?"
Goldsmith replied he had been running a "completely positive" campaign before an aide blocked Kermani from asking further questions.
The interview was posted to Newsnight's YouTube page but was not broadcast
The Tory mayoral candidate said it was "inappropriate" of the paper to use the photo of the bus which was blown up in Tavistock Square during the attack, which led to deaths of thirteen people and the suicide bomber.
Former Tory Party chairman Baroness Warsi tweeted an image of the article saying "This is not the Zac Goldsmith I know."
Popular in the Community