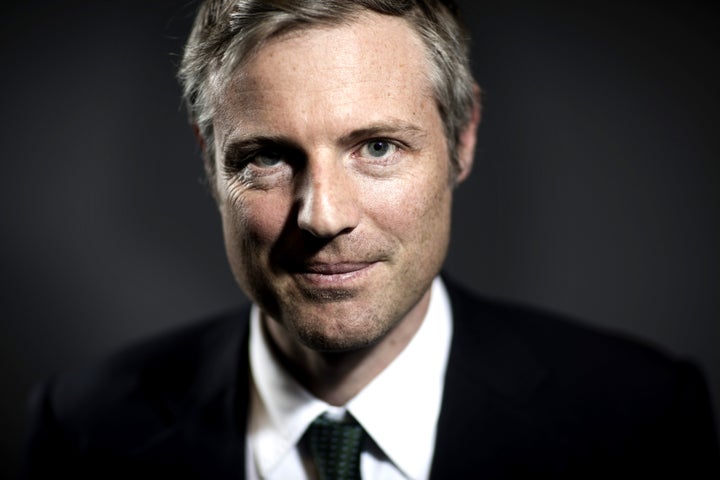 Zac Goldsmith has vowed to launch the biggest house building boom in London since the 1930s if he becomes the capital's mayor on May 5.
In an interview with HuffPost UK, the Tory Mayoral candidate said he wanted to prioritise new homes for Londoners if he succeeds Boris Johnson next month.
Goldsmith also pledged to "keep London moving" by focusing on improvements to the capital's transport infrastructure, and blasted his Labour rival's planned four-year tube fare freeze as "irresponsible".
Responding to accusations he is running an Islamophobic campaign against Sadiq Khan, the Richmond Park MP claimed Labour are "closing down" the debate by using such terms.
He also revealed that until he was in his mid-twenties, he did not know his real first name is actually Frank.
Speaking to HuffPost UK about his plans to deal with London's housing crisis, Goldsmith said: "I want to increase the number of homes being built, which is why I am committed to increasing building up to 50,000 a year - a huge step.
"That takes us back to 1930s levels."
He added that if housing developers build on "publicly-owned land, then those homes need to be for Londoners.
"There is no upside to allowing them to be bought up as investments and left empty."
When pushed on how he would define a "Londoner", Goldsmith admitted he had yet to finalise the exact definition, but said it would be "people who have lived and worked in London for at least three years."
Over the last decade, the average number of new homes built in London has been around 19,400 – well below the average 66,000 new houses constructed each year in the 1930s.
In order to meet his target, Goldsmith plans to give priority to so-called 'pocket developers' on smaller public sector sites. These are companies that are able to build low-scale developments as opposed to larger firms who focus on major housing schemes.
He will also shorten the period housing developers have from getting planning permission to starting building from three to two years in order to stop companies sitting on sites hoping for the value to rise.
Unlike his Labour rival, Goldsmith has got a specific target of how many new homes need to be built in London over the next four years.
However, Khan is making great play out of his pledge to freeze tube fares across London for four years.
While Labour say the cost of the policy is £450million, Goldsmith believes it will take £1.9billion out of Transport for London's budget.
Goldsmith said: "I would love to make that offer [but] I can't make that pledge, that isn't an honest pledge to make.
He added: "I think it's irresponsible, it's not honest. It's a promise that has to be broken immediately. I am resisting the pressure to adopt it."
Reflecting on those words, Goldsmith said: "That wasn't a promise, that was a statement. It wasn't a false statement. I had no intention of running for Mayor. I was in the middle of big campaigns on recall, Heathrow and the environment. It was only after the election people said, and not just in my party but others, why not?"
While Khan has seemed comfortable with the campaign for City Hall, Goldsmith has appeared more reserved, leading to accusations he is not passionate enough.
When asked if he is enjoying the campaign, Goldsmith replies: "I've loved most of it. Campaigning is a means to an end."
He rattled off a list of organisations he has visited and events he has attended while on the campaign trail, including Queens Park Rangers football club's Community Trust program.
Goldsmith wasn't impressed with the stunt, and said: "It's a bit annoying, I had just been with QPR days before. There are 600 high streets in London, 250 tube stations, some I know very well, some I don't. I thought it was a bit silly by the BBC."
Goldsmith may have been gently mocked for not knowing certain tube stations or homes of football teams, but he has come under greater criticism for his attacks on Khan's association with certain Islamic preachers.
At his manifesto launch earlier this month, Goldsmith accused Khan of providing "cover for extremists" and his previous career as a human rights lawyer involved "involved coaching people how to sue our police".
He told the HuffPost UK: "Not only are they wrong to say that, they are completely irresponsible.
He added: "I just think some of those people are using these terms as a way of closing down debate.
"I think it's wrong to pretend that when somebody is standing to be mayor their background can't be looked into."
Goldsmith – who believes the UK should leave the European Union – said he would not be using his first seven weeks in office to campaign for Brexit.
However, he refused to be drawn on whether he backed Boris Johnson's claim that Barack Obama's views on the UK were influenced by his "part-Kenyan" heritage.
"I don't know the context that that was said," Goldsmith claimed.
However, he did reveal why he is known as 'Zac' despite his real first name being 'Frank'. Quite simply, he didn't know that was his real name until he was 24.
He said: "There are loads of conspiracy theories about that on the internet.
"When I got my birth certificate when I wanted to become married, I didn't know I was called Frank. I discovered I was called Frank Zacharias Robin Goldsmith – I didn't even know my middle name was Robin.
"There's a tradition in my family that the first boy is named after the most recent relative to have died [Zac's grandfather], so that's what happened and that's why my son is called James [after Zac's father]."
How did you feel when you found out your real name wasn't Zac, as you thought, but Frank? asked HuffPost UK.
"I wasn't all that interested to be honest," Goldsmith replied.
With Goldsmith set to undertake the Mumsnet webchat later today, HuffPost UK decided to ask him the question he would most likely face: What is your favourite biscuit?
"I have to tell you it's a Pret cookie, I've been living off them during the campaign.
"But it's normally a digestive."
Related