Amazon made waves in the tech industry earlier this month after successfully completing its first drone delivery. It was an uneventful flight from one Cambridgeshire field to another. But more than two months earlier, a drone in Rwanda made an altogether more dramatic journey.
On 14 October, Zipline, a US startup with fewer than 50 staff, completed the world's first commercial drone delivery. Its drone cut through the Rwandan sky at speeds of up to 80 kmh, before parachuting a parcel of blood to a rural hospital. The five minute trip would have taken six times longer by road.
Over the last two months, the firm has delivered 100 parcels of life-saving blood across the country. From a single distribution centre, Zipline is aiming to deliver supplies to hospitals which serve up to five million people – two thirds of the Rwandan population. It could save tens of thousands of lives.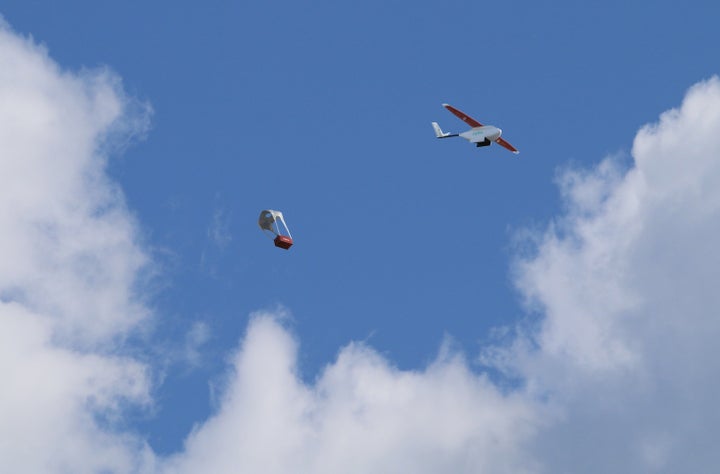 "It is really exciting seeing a country like Rwanda, which is small and has very limited resources, basically leading the world in terms of showing how this tech can save lives," says Zipline CEO Keller Rinaudo. "It takes this little country with a big vision to show you can actually use this technology to save people."
Rwanda, known as the land of a thousand hills, is the perfect place to prove how effective drone delivered medicine can be, Rinaudo says. Zipline drones can cover 150km, 10 times further than traditional quadcopters, and can make journeys that would take eight hours by road in less than 30 minutes. The government pays for each flight, which costs less than a conventional motorbike delivery.
As it brings more hospitals online, Rinaudo says the firm will expand its deliveries to vaccinations. But right now, the team is focusing on blood supplies for children with malaria and mothers suffering postpartum haemorrhaging. Malaria alone affects more than a million people in the country.
"Our goal here is to get 100 per cent access to all blood types for every citizen in Rwanda," Rinaudo says. "In terms of how many lives that will save, we'd prefer to wait and see. But we think it will have a really big impact on health for the whole country."
It takes just 10 staff on the ground to coordinate up to 150 daily deliveries from a distribution centre. After a medic texts a request, the drones are loaded up, before flying to and from their destination autonomously. Meanwhile, 40 engineers, many of whom left top firms like Elon Musk's Space X, hone the technology from Zipline's San Francisco HQ.
Inspired by the Rwandan project, 20 "cabinet-level politicians" around the world are now looking to partner with Zipline, Rinaudo reveals. "Lots of other countries are using Rwanda as a role model and following in their footsteps."
Around half of those countries are African, but Rinauo says he is also in talks with two G7 governments. "Now we're doing this at a national scale in Rwanda, we've had the US government come to us and say: 'Hey can we serve populations in the US?' Some people in the US face the same challenges."
Rinaudo says Rwanda's decision to capitalise on Zipline could mark the beginning of a new approach to technology in the developing world: "There's been this paradigm for a long time that new technology starts in the US and then trickles down to developing countries as it becomes cheaper."
"The really exciting thing about is this is that this is a total shift where small countries that can make decisions fast and implement modern regulatory practices fast can actually lead the world," Rinaudo adds.
"That's a really exciting new paradigm that is is going to have a big impact on how technology grows over the next two decades."
Popular in the Community