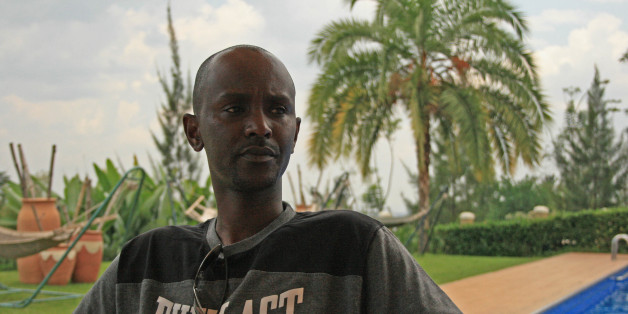 Eric Eugene Murangwa
Last year I was asked to leave a café and refused service because I had allegedly been there too long - the first time I'd had an experience like that in my 20 years in the UK. I spoke to the staff about it afterwards and firmly believe, to this day, that this happened because of my race, and that it goes to show that racism and hate are both on the rise in the country.
This is a common experience. Shocking new research released today, on Holocaust Memorial Day, by the Holocaust Memorial Day Trust reveals that over a quarter (27%) of survivors of the Holocaust and of subsequent genocides, living in the UK, have experienced discrimination or abuse linked to their religion or ethnicity.
It feels to me that discrimination and intolerance are on the rise in our society, and that is why commemorating Holocaust Memorial Day on 27th January each year is so important.
Let me tell you about my personal experience of genocide.
I was born in Rwamagana, Eastern Rwanda and grew up in Kigali, the capital city where I and my family lived when the genocide began on April 7th 1994. Though most of my immediate family members survived, I lost over 35 members of my extended family, including my youngest brother Irankunda Jean Paul who was just 7 years old at the time. Our survival is owed, in part, to the courage and humanity shown by my former teammates of the Rayon Sports Football Club.
I joined Rayon Sports, Rwanda's biggest football club, as a 10-year-old boy where I started as a ball boy at the team's training ground, advancing through the ranks to eventually become the goalkeeper and captain. Football saved my life. It transcended ethnic differences and ultimately gave me hope for the future. My long journey to safety was made possible thanks to the help and support I received from a number of people - particularly my teammates.
For about 8 weeks (7 April to end of May) I moved from one place to another - from my neighbourhood in Nyakabanda, via the International Red Cross headquarters in down-town Kigali to the Hotel Mille Collines, eventually being evacuated to the Rwandan Patriotic Front (RPF) controlled area in the suburb of Kabuga where I finally made it to safety, arriving in England in 1997.
Inspired by the humanity and courage shown by my teammates, I realised that sport has a tremendous power to unite where there are divisions. In 2010, I founded 'Football for Hope, Peace and Unity' (FHPU), which uses football to promote acceptance and unity among young Rwandans.
In 2015, following Football for Hope, Peace and Unity's success, I, along with other survivors of the genocide in Rwanda, created the 'Survivors Tribune' - a global educational initiative which draws on survivors' first-hand experiences to make a stand against discrimination and genocide denial and to promote reconciliation and forgiveness.
Holocaust Memorial Day is held on 27th January every year to remember the millions of people who were murdered, or whose lives were changed forever by the Holocaust, Nazi persecution, and subsequent genocides in Cambodia, Rwanda, Bosnia and Darfur.
The Day was first marked in the UK in January 2001 and is held on 27th January annually because that's the date the Nazis' Auschwitz-Birkenau concentration camp was liberated in 1945. Every year hundreds of thousands of people come together at events across the UK to think about what happened in the Holocaust and other genocides.
Sadly, however, discrimination, anti-Semitism, intolerance and hate are still too common in society. What I wish for is a world where people, irrespective of their background, race, religion or beliefs, are treated with respect. We must all stand together against xenophobia, prejudice and hatred and learn from each other's differences. Only by doing this can we really begin to create a better place for us and all future generations to live in.
For more information about Holocaust Memorial Day, the Holocaust Memorial Day Trust, to read survivor stories or find out about commemorative events near you, visit www.hmd.org.uk.