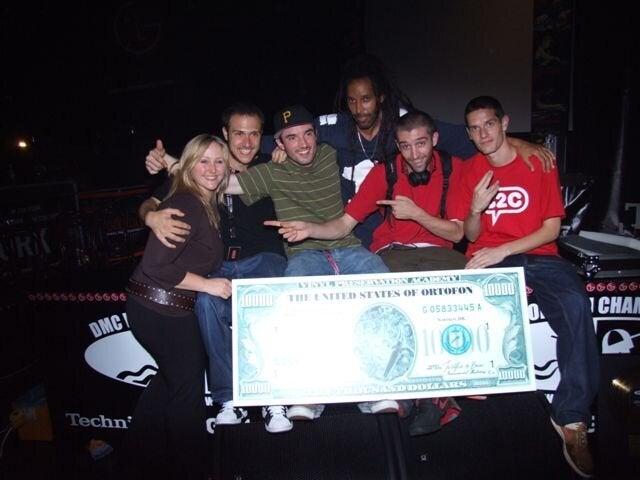 Sally poses with DJs at a past event
Eat your heart out Ben Ainslie! There's a new competition in town that's about to steal your thunder. I'm particularly excited about the DMC Championships this year where over one-hundred DJs will compete for crowning titles. While the oh-so hip Disco Mix Club - which is the original name when DMC was founded in 1983 - may not boast Justin Bieber as a member, they do offer workshops for rhythmically challenged people like me to hone their human beatbox skills. And DJ shows for dance fanatics to swing their hips and bend their knees to. This year DMC reaches its 30th anniversary too - so it's a special one, taking place on Saturday 5th October 2013 between 2-11pm at Indig02, The 02, London. Here, SALLY MCLINTOCK clears her throat and gets down the the funky beat to tell us more...
Can you tell me a little about your background and how you got involved in the DMC World Finals 2013?
I was born into DMC. When kids were playing with dolls, I was watching DJs produce. I even made a record as a 6 year old, which was released on DMC records. The founders of DMC, Tony and Christine Prince are my uncle and aunt. My mum, Christine's sister has been the Managing Director at DMC for 30 years. I decided there was nothing that I would like to do more than to get involved with the DMC World DJ Championships. I've loved the event from the very first time I got to watch one. You have to have a passion for this and I've had it all my life.
Who's taking part this year?
The world's best DJs have fought their way through their National DMC Championships for a place at the DMC World Finals where they battle it out for the ultimate DMC Champion titles. Over 100 DJs will compete in the final this year!
USP of this year's event?
The DMC World DJ Festival 2013. It's 'THE' DJ event of the year. The World's best DJs compete for the ultimate DJ accolade! The format for this years event is an all day event with all the elimination events open to the public plus all day workshops and a very special DMC World Champions showcase and freestyle jam from 10 of the best DMC World Champions.
Will we be seeing Justin Bieber at the DMC World Finals?
Only if he pays on the door.
Which artists can you tip for the top?
Joey Bada$$. I like him. I think he will and should do well. If we are talking DJs then I can't not mention our 4 x World Team Champions C2C. Already they are huge but if you have never been to one of their shows make sure you do. They are truly amazing artists.
For more information visit www.dmcworld.com
Related