Once a month, the European Parliament decamps from Brussels to hold its plenary session in Strasbourg, France.
During the December plenary, MEPs voted on several resolutions including the introduction of an employment and residence permit for foreign workers discussed prison conditions, debated the outcome of the Euro Summit, awarded the Sakharov Human Rights Prize to five Arab Spring activists and bid farewell to Jerzy Buzek, the Parliament's outgoing President, and to the Polish presidency of Council.
Single work and residence permits
Foreign workers legally working in Europe will have work and residence rights similar to those of EU nationals, thanks to a "single permit" law passed by Parliament on Tuesday. Prior to the vote, Véronique Mathieu, the French MEP who guided the directive through Parliament said, "the single permit directive will help us to deal with the shortage of European labour."
The vote means non-EU workers will enjoy a shared set of rights comparable to those of EU workers, such as basic working conditions, recognition of qualifications, the right to join trade unions, tax benefits and access to pensions, social security, employment office services and public housing. However, EU countries will be able apply some specific restrictions to these rights.
There are some exemptions to the single permit ruling. Au pairs, long-term residents, refugees and posted workers (who are already subject to other EU rules), seasonal workers or intra-company transferees (who will be covered by other EU directives), and seafarers from other EU countries will be excluded from the new directive.
For more on the new legislation click here
Protecting prisoners' rights
Prison conditions across Europe vary widely and on Wednesday, MEPs asked Council and Commission members about the differences in cell conditions, deteriorating conditions in many EU prisons, abuses in pre-trial detention, overcrowding and the detention of non-EU nationals.
Although there is no one-rule-for-all EU legislation on prison management,
sub-standard prisons breach European Human Rights laws, with which all Member States must comply.
Sakharov prize
If you had a brutal government that systematically violated basic rights that hindered your daily life, singled you out for mistreatment based on your religion, political views or race, would you be courageous enough to go out to the streets and protest against these Human Rights abuses, knowing that, if captured, you might be tortured or your family would face violent repercussions?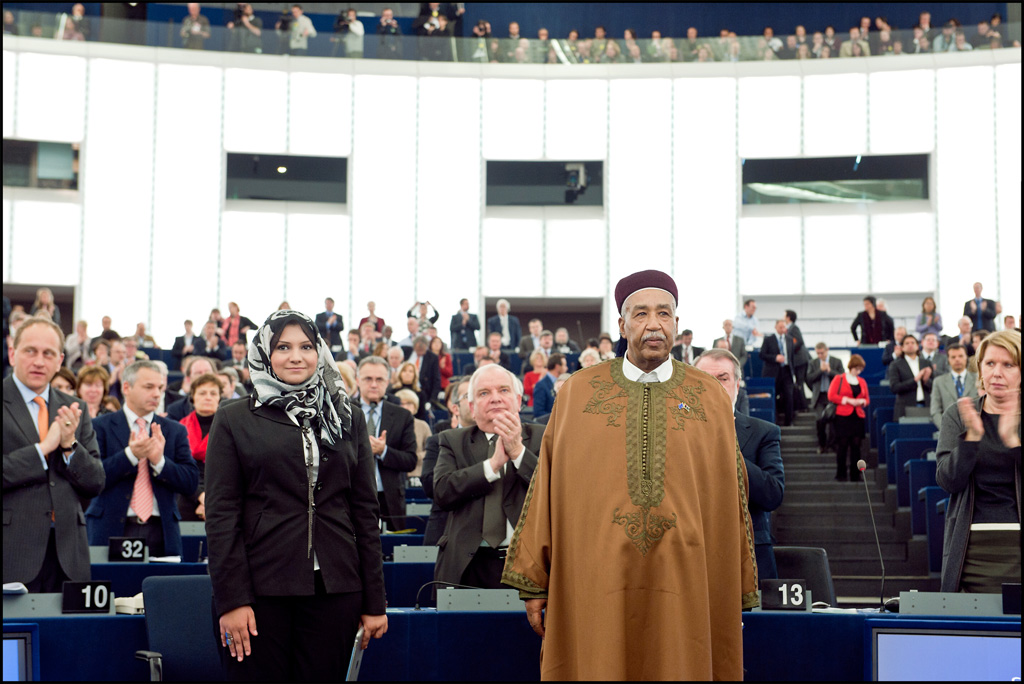 These are some of the dilemmas that activists face when they stand up against Human Rights violations.
Every year, the Parliament awards the Sakharov Prize to groups and individuals make outstanding contributions in the field of Human Rights. This year's winners were five Arab Spring activists: Asmaa Mahfouz, an Egyptian blogger; Ahmed El-Senussi, Libya's longest-serving political prisoner; Mohamed Bouazizi, a Tunisian street vendor whose self-immolation sparked the protests; Ali Ferzat, a Syrian cartoonist and Razan Zaitouneh, a Syrian Human Rights lawyer.
On Wednesday, Parliament congratulated Asmaa Mahfouz and Ahmed El-Senussi during an award ceremony.
Mahfouz also took time out to speak to Parliament's web team and answer questions from Facebook users during our Facebook chat.
The uninvited guest?
MEPs debated the outcome of the summit but it was not long before the inevitable came up, David Cameron's decision to veto a new EU treaty.
For the leader of Parliament's largest political group, the centre-right EPP, what he saw as a breach of the principle of solidarity, placed the long-standing British budgetary rebate very much back on the negotiating table. Ahead of the session, anticipating a cool reception for the Brits, one UK MEP took to Twitter to suggest British MEPs use the visitors' entrance.
Watch the lively exchanges in EuroparlTV's report, the Parliament's TV channel.
Farewell
The December plenary was also President Buzek's last as President, as his two and a half years term came to an end.
"The European Union is incredible value, one worth working for and living in, said the outgoing President in his farewell address to Parliament.
"But it is a value that can be created and used only if we are united," he added.
Buzek's term also coincided with the six-month Polish presidency. In his speech to Parliament, Donald Tusk, Poland's Prime Minister, gave a frank review of events in those months.
"Today I can say that we are at crossroads, said Tusk.
"We have to answer the question of whether we walk the community road, or the road of national selfishness. Either we fight for the future of Europe now, or cry for Europe tomorrow," he said.
Photo highlights of the plenary session can be viewed on our Flickr photostream
Follow us on Twitter and our Facebook page.