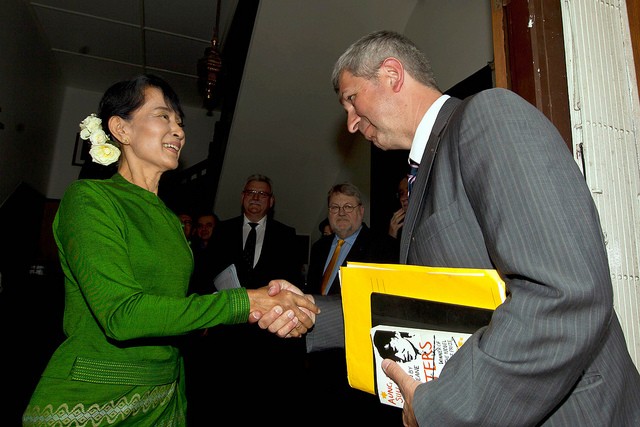 Convicts are not usually considered prime material for awards, then again the Sakharov prize for freedom of thought is no ordinary prize. The prize has often gone to people jailed because of their battle for human rights. The list of nominations for this year's Sakharov prize will be officially presented on 25 September.
The first Sakharov prize was awarded to Nelson Mandela, who was also the first of the winners to have been incarcerated. He served 27 years in prison as part of his struggle against apartheid in South Africa. In 1995 it went to Leyla Zana, who was incarcerated for 10 years for speaking Kurdish in the Turkish parliament . Another example is Hu Jia, who was held by Chinese authorities when he won the prize in 2008. It shows how the fight for human rights comes often at a cost. Many of the other winners also had to overcome serious opposition ranging from arrests to threats.
It was partly to supports these efforts that the European Parliament launched the Sakharov prize in December 1988. It was named after Soviet dissident Andrei Sakharov.
The European Parliament has a long history of promoting human rights all over the world. During every plenary session MEPs debate recent breaches of human rights and it is also in part due to EP efforts that all agreements with countries outside the EU now also include clauses on human rights. In addition, the first EU representative for human rights - former MEP and EP vice president Stavros Lambrinidis - was appointed in July, after demands from the parliament.
The Sakharov prize is not only given to individuals, it can also be presented to organisations dedicated to defending human rights and freedom of thought. Past winners have included Mothers of the Plaza de Mayo, mothers in Argentina whose children disappeared when the country was still a dictatorship; the Oslobodenje paper in Bosnia and Herzegovina, which even after its building was destroyed continued to publish; and more recently representatives from the Arab Spring.
Receiving the award means the winners get more publicity for their cause. When Burmese opposition politician Aung San Suu Kyi got the prize in 1990 while being held under house arrest, it called attention to her and her country's situation. The continuing focus on Burma encouraged the Asian country to finally make its first cautious steps towards a more open society. This year Aung San Suu Kyi, having been released from her house arrest, won a seat in the national parliament after taking part in the first free elections in Burma for a long time. Apart from the publicity, winners also receive €50,000 since 2010.
Candidates for the prize must be nominated by a political group or at least 40 MEPs. This year's nominees feature men and woman campaigning for human rights from Iran and Pakistan to Belarus and Russia. What hasn't changed is the opposition they face with eight currently in prison, highlighting that the Sakharov prize with its spotlight on human rights abuses is needed more than ever.
The photo shows a European Parliament delegation meeting Sakharov laureate Aung San Suu Kyi in February 2012