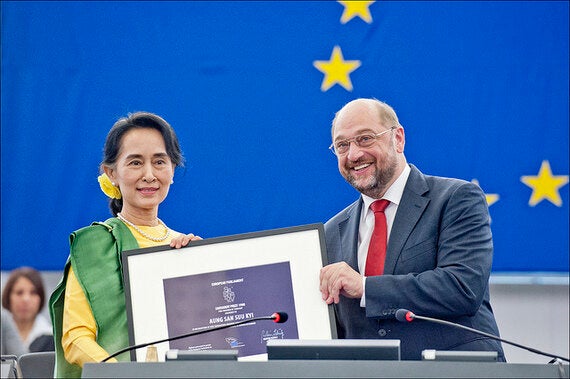 Truth be told, the world would be a better place if there had been no need for this award. Every year the European Parliament awards the Sakharov Prize for Freedom of Thought in honour of exceptional individuals who combat intolerance, fanaticism and oppression. On Wednesday 20 November MEPs will mark the 25th anniversary of this prestigious award in Strasbourg.
Over the years the award has helped to give a boost to many human rights defenders by calling attention to their cause. Nelson Mandela was one of the first laureates of the prize, setting a precedent by being prevented from picking up the award in person. Although authorities have sometimes been reluctant to let laureates travel to Strasbourg to receive the award, the publicity surrounding the prize has led them to soften their stance in some cases.
It can take a while. On 22 October Myanmar human rights hero Aung San Suu Kyi finally received her Sakharov Prize, 23 years after it was first awarded to her. At the time she was under house arrest by the Myanmar government, which would last for 15 years. Today, she is a member of the national parliament and the leader of the opposition.
The award was named after Russian physicist Andrei Dmitrievich Sakarov, who was seen in the USSR as a subversive dissident because of his campaign against nuclear arms.
That an award with so much history can still have a future will become clear on 20 November when the 2013 Sakharov Prize will be presented to the youngest-ever laureate. Marking the 25th anniversary, as well as the 2013 award, EP president Martin Schulz will hand the prize to 16-year-old Malala Yousafzai for her fight to promote education for girls in the face of Taliban violence.
That someone so young should already be so involved is a promising sign. As long as people stand up for human dignity, the Sakharov Prize will help by drawing attention to their work.
Photo copyright European Parliament: EP president Martin Schulz gives the Sakharov Prize to Aung San Suu Kyi
Popular in the Community