It's all here, your go-to guide to buying the perfect toy for your multicultural kids. From dolls to figurines to bags, it's all here. And the best part? You don't need to order from across the pond! Click on the link at the bottom for the complete list with links to shops in the UK that will send to you direct.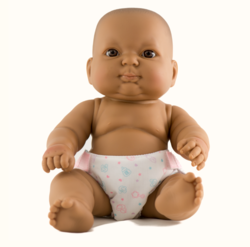 Designed by Berengeuer, these Lots To Love Babies are the perfect bath and playtime doll. Chubby and sturdy - who wouldn't love these dolls. Perfect for bath or play. Comes with removable nappy. Able to sit independently. Outfits available
Little Princess Snowflake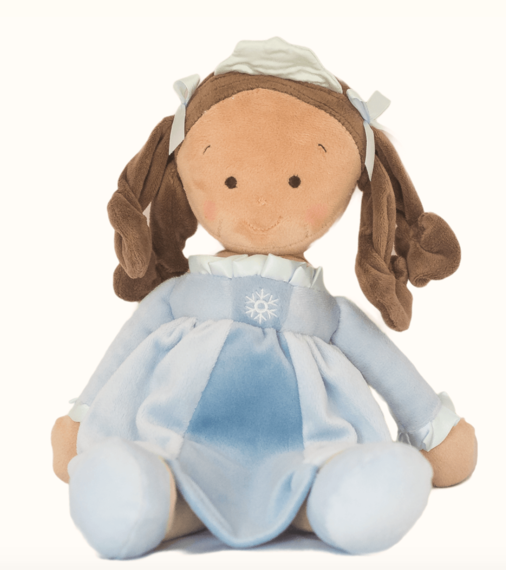 Snowflake Princess is a very soft and cuddly toy. 15 inches or approx 36cm in length. Lightweight and very flexible. Very soft material body with beautiful pale blue princess dress & crown. Light tan complexion. Suitable for all ages
Our Generation Dolls Abrianna Black Dolls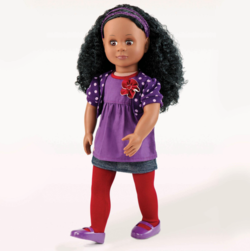 Our Generation Dolls Abrianna Black DollAbrianna is a lovely doll from the Our Generation range, a popular US brand of quality value dolls. Abrianna is a soft-bodied doll with vinyl arms and legs and has ebony dark skin, brown eyes that close and black afro hair. She comes wearing a polka dot purple shrug, purple tunic styled with a red mock leather flower, a denim look stretchy skirt, red tights and a pair of purple Mary Jane shoes.
Children around the world figures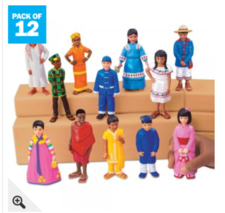 Child Figures from Around the WorldFrom a Japanese girl in a kimono to a Ghanaian boy in a dashiki, our Children Around The World Figures set features diverse children around the globe, helping children explore other cultures as they play. The authentically detailed figures are made of durable vinyl and have been designed to stand up on their own. Set of 12. Size: height 10cm.
Barbie Careers Nikki Playset- Eye Doctor African American Doll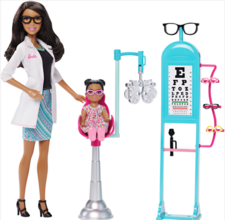 Each set in the Barbie Careers Nikki Playset Case comes with one Nikki doll and accessories.To be an eye doctor, Nikki comes with an examination chair, eye chart, a patient, and an assortment of eye glasses. Explore a variety of careers using these sets with endless possibilities for play! Which one do you want to be when you grow up? For ages 3 and up. Doll height 11.5 inches tall.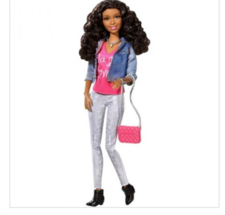 Nikki takes street style to new heights of haute. She wears fabulous fashions and comes with lots of luxe accessories. An articulated ankle means Nikki can wear fabulous high heels or adorable flats -- a pair of each is included! Rooted eyelashes are eye-catching and full articulation allows for endless modeling poses. Mix and match among the Barbie Style friends and fashions (sold separately)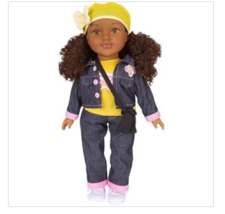 Zair has been drawing since she was old enough to hold a crayon. Her favourite colour is aquamarine and she uses it in all of her creations. Zair loves designing outfits and playing mix and match with her own clothes. Her current outfit is a stylish denim jacket with matching jeans worn over a yellow blouse. To accessorize her outfits she wears a black hobo bag and a yellow cap with a butterfly on the side. As a future fashion designer, Zair knows the yellow cap will highlight yellow undertones in her pecan brown skin and eyes. Zair's favourite subjects are design and art. But she doesn't let her other studies drop. She continues to be a straight "A" student and hopes to get a scholarship to design school. Zair radiates confidence and beauty, has a soft body with vinyl head, legs and arms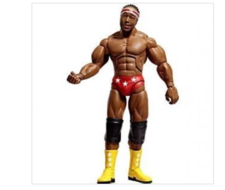 Jay Lethal WWE FigureTotal Nonstop Action (TNA) Wrestling is the newest professional wrestling league, it is fast, fun and has non stop action. Jay lethal has detailed sculpts and dynamic poses, almost like the real thing!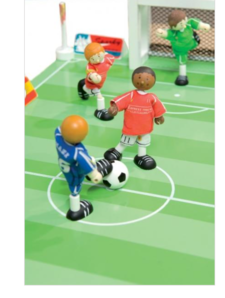 Play the beautiful game with the Football Match from Le Toy Van. This set forms part of the extensive Budkins World range and includes a fold-out pitch, goal posts, corner flags, advertising boards and a functional score board. It includes 7 Budkins characters consisting of 2 outfield players and one goalie per team, it also includes a referee complete with red/yellow card and whistle.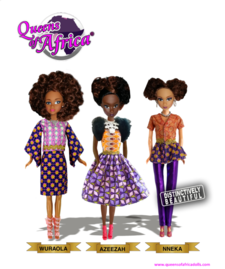 Queen's of Africa Club Trinity Pack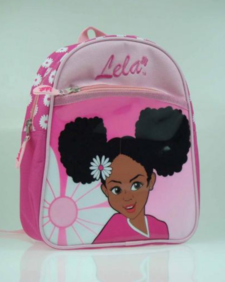 The name Lela is of Swahili origin, meaning black beauty. Lela loves to be creative and express herself in everything she does. She is confident and full of enthusiasm and loves all things pink and sparkly. Welcome to the wonderful world of Lela, a place where kids can feel good about themselves. Lela products are appropriate for many gift-giving occasions, from birthdays to Christmas's and more. This back pack is beautifully made with lovely detail making this a bag any little girl would love to take with her everywhere.
For the complete list along with links to UK retailers, click here...