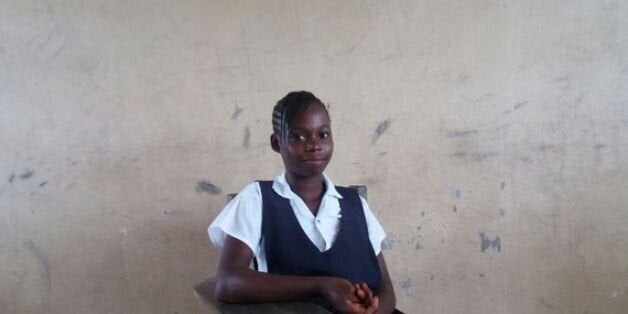 Hawa is going back to school this week. Her uniform is clean and her hair neatly braided. The excitement of the new term is felt far and wide as laughter, giggles and singing fills the school campus, when classes break for recess. "I'm so happy to be back in school and to see my friends," she says with a big grin.
Just one year ago schools re-opened after being closed during the Ebola epidemic.
Since then, as Liberia's recovery process continues, the challenge of getting students and teachers back into the classroom have been great. The increased numbers of teenage mothers, Ebola-orphans and street-connected children are just some examples of young boys and girls who are struggling to get an education as a result of the epidemic. Liberia recently topped UNICEF's ranking of the 10 worst countries in the world for access to primary school, and it remains clear that many children will not be going back to school this week.
Hawa who is 13 years old lost both of her parents to Ebola and is now living with her auntie and 4 siblings. She explains how her aunt struggles to provide for the family and that many times she and her siblings go without eating for a whole day. "It's hard to focus in class when I haven't eaten anything," she says. "My auntie often can't afford to pay for all the extra costs of me going to school such as buying notebooks and pencils."
Yet access to education is only part of the problem; quality of education also has a huge impact. According to SIH 360, just 63% of 15 -24 years old boys are literate and even more shocking, just 37% of girls. Perhaps most overwhelming is that in 2013, all 25,000 applicants for the University of Liberia failed the entrance exam demonstrating the failures of the Liberian education system.
Street Child's recent Liberian Consultation on Adolescent Girls Education (LCAGE) revealed that girls are particularly vulnerable in accessing and learning in school. Less than half of all girls interviewed in grade 4 could read and write and in fact grade 4 turned out to be the grade when most girls dropped out of school. This year Hawa is starting 4th grade and unfortunately the odds of her obtaining a quality education are not in her favor.
However, Hawa's school was recently selected as one of the 93 Partnership Schools for Liberia, which the Ministry of Education is running together with 8 partner organizations. Her school is now included in a network of 12 schools under FLAGSHIP ACADEMIES By Street Child. For Hawa, among other advantages, this means no extra fees, a provision of basic learning materials and more qualified teachers in the classroom every day.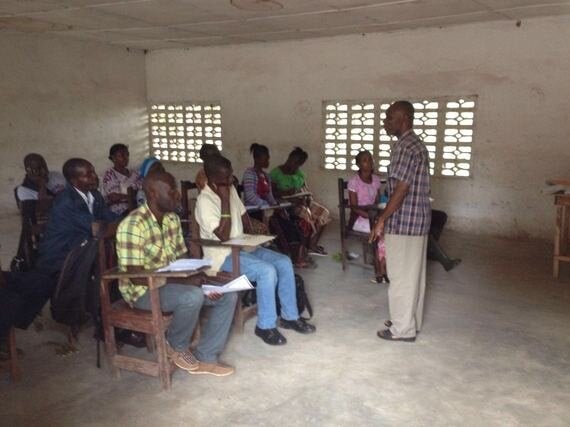 In pursuit of improved teaching and learning in Liberian schools, the partnership between the Government and Street Child of Liberia, a local NGO, is taking an innovative approach to tackling some of the challenges of the education system. More teachers per school are being recruited and trained to meet the needs of large classroom sizes, new ways of interpreting and utilizing the national curriculum are being introduced and more support and supervision for each school are some of the key changes being introduced.
Minister Werner, the Liberian Minister for Education added: "For the first time in many years we have been able to add new teachers to these schools."
During Ebola, Street Child of Liberia worked tirelessly alongside many other organizations and government branches to help educate people about the disease and to support vulnerable children who were impacted by the crisis. It also supported 2,200 people with the provision of relief packs and helped 1,500 Ebola-impacted children back to school once schools re-opened.
"There are many lessons to learn from the times of Ebola relating to the education system," says Ahmed Dukuly, Head of Academic Development at FLAGSHIP ACADEMIES By Street Child. "Partnership, innovative approaches and quick responses to immediate challenges, were central during the Ebola response and should be key in Liberia's recovery process and beyond. This applies to education as well!"
"Additionally there is more need for research and evidence, which is what Partnership Schools for Liberia is all about." says Mr. Dukuly. Not only are partners such as Street Child using research and evidence-based approaches to plan their interventions, but the entire program is part of a vigorous external evaluation. The hope is that such evidence can support the program to grow and help further innovation within the education sector.
The model of FLAGSHIP ACADEMIES By Street Child is based on a low-cost, sustainable and creative approach to tackle educational challenges in both rural and urban settings alike. "If our mission is to provide better opportunities for Liberian children through education, we need to make sure that every dollar spent benefits the Liberian children both today and tomorrow. Innovative approaches do not have to be expensive, but rather it is about searching for local solutions and making sure things change now," says Country Director John Kerkula Benda.
The challenges for education in the year to come are many for Hawa and all the other Liberian primary school children. Yet the determination of the Ministry of Education and the joint efforts of the Partnership Schools for Liberia program in the post-Ebola context, form part of a new exciting chapter in educating Liberia's children today and tomorrow.
Furthermore, Street Child's recent 'Girls Speak Out appeal will help 20,000 children like Hawa in Sierra Leone and Liberia to access a quality education, thanks to UK Aid Match funding from the Department of International Development which doubled all donations to the appeal.
Programme Manager, Street Child