"They're just so cooool. It's slightly breath-taking when you see them coming into the city with this kind of independent swagger and everyone is looking, half scandalised and half in awe." Pippa Small is a natural born storyteller. She describes the proud nomadic Kuchi women of Afghanistan - the muses for her latest jewellery collection - with such infectious enthusiasm you can practically hear the clinking of their tribal cuffs and ornate earrings.
Swathed in gold, the new range is a treasure trove of coiled bracelets, large necklaces (fulfilling Small's "yearning for drama") and delicate drop earrings raining deep blue lapis stones. Inspiration also came from talismanic pendants and Kabul's architecture but it's inevitable the conversation will always come back to people.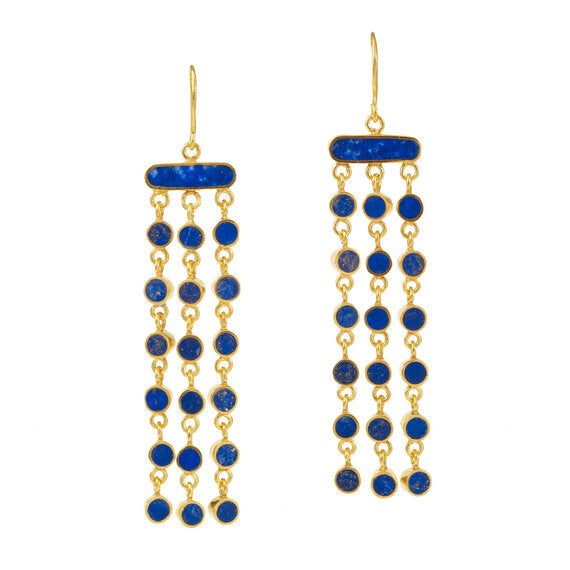 An anthropologist turned jewellery designer, Small's conversation is gilded with anecdotes about Sa Bushmen in the Kalahari and Rwanda's Batwa Pygmies. "The things that inspire you are the same things that open your world up when you're young," she says, reminiscing on an unconventional childhood spent travelling the world with her free-spirited mother and siblings.
However Small is not only fascinated by different communities, their cultures and crafts, the self-taught creative has dedicated her brand to their survival. For over twenty years, she has been working with talented yet struggling artisans around the world, applying their exquisite skills to her bohemian designs and in turn providing access to the Western market.
The brand is now stocked globally and boasts collaborations with the likes of Tom Ford for Gucci and Phoebe Philo. Still the designer's greatest success to date has been enabling craftspeople to move out of slums, see their children go to school and even start businesses of their own thanks to stable incomes.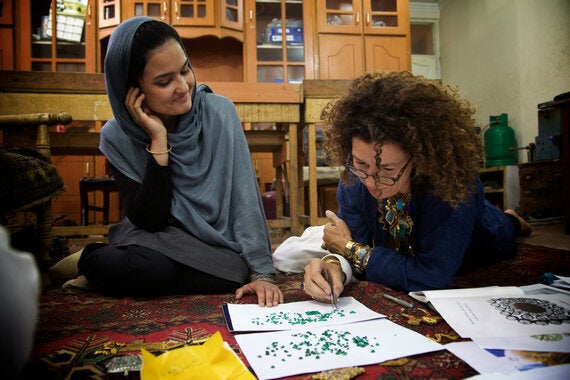 "People have to make money and what better way than through something that a) let's you stay in the community and b) is using your traditional skills and materials that you've worked with forever," she explains. For her incredible work, Small won the Walpole award for the Most Socially Responsible British Luxury Brand last year.
This latest collection continues the designer's nine-year partnership with Turquoise Mountain, a cooperative in war-torn Afghanistan training young men and women in traditional crafts. "I fell in love with the whole Afghan way of being which is so noble and dignified," she gushes, "but providing employment there is increasingly vital." With the withdrawal of an international presence in Kabul, the local economy has completely crashed and the Taliban and IS remain alternative 'career' options.
For the craftswomen such as Saeeda (pictured below), the organisation has had a life changing impact. While it's still extremely dangerous for them to go to work, the workshop has become "a little haven for them to be creative and have a voice."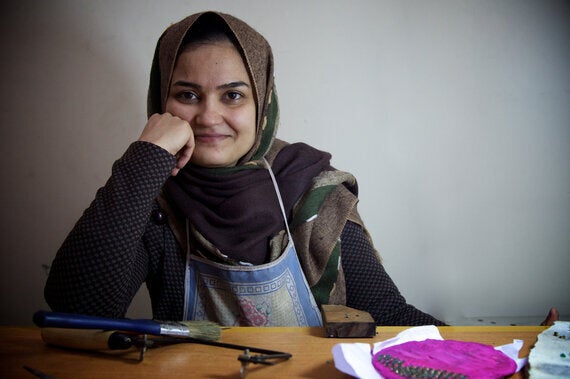 As a fellow creative, the survival of ancient crafts in areas of turbulence and poverty is an issue close to Small's heart. "It doesn't take much to lose skill sets. It can happen within one generation especially when you have things like war going on," she notes. Just take Turquoise Mountain, originally launched to revive Afghanistan's long-established jewellery industry after the craft was banned under the Taliban regime. It now also works in Burma where, despite a rich history of jewellery making dating back to 200 BC, today 98% is machine made. Small has had the privilege of working with the few goldsmiths still crafting jewellery entirely by hand, even making castings using shells.
In a world of buy today bin tomorrow clothing, she believes the ultimate luxury is now the handmade: "These craftspeople know and love and live and breathe their skill and it becomes something you feel when you see a piece of jewellery that's been lovingly made." The brand has even branched out into helping other artisanal industries. Visit The Upstairs Shop - the new lifestyle boutique at the Westbourne Grove store - and you'll find the likes of hand blown glass from Afghanistan alongside embroidered shawls made by displaced Syrian refugee women.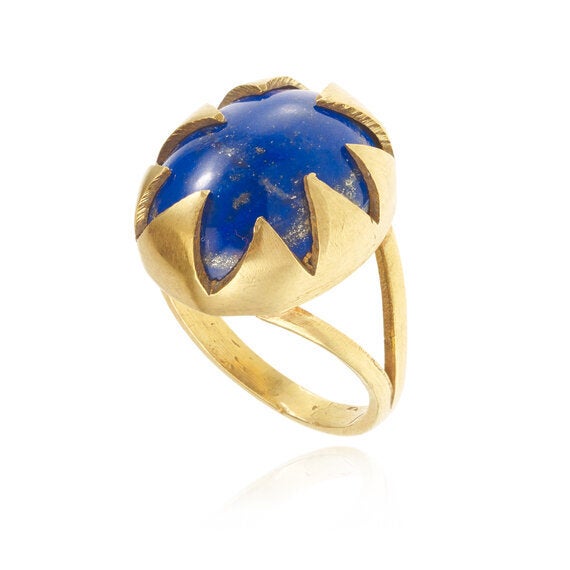 Many of Small's customers are curious to find out more about the people behind the products and of course she is happy to tell them. Her pieces are as palpable as her words and recounting stories through them is second nature. Even as a child, those first rookie designs formed from buttons, keyrings and treasured gems spoke of people, places and times: "I could read all my jewellery like a diary," she says. "It has to have a story otherwise it just doesn't even make sense to me".
In fact the cause of her career leap becomes obvious when you consider the symbolic significance jewellery can hold for us all. Whether patterned earrings telling the cultural history of Panama's Kuna Indians, a protective Hindu amulet in Delhi or an engagement ring promising love and commitment, jewellery speaks volumes about people.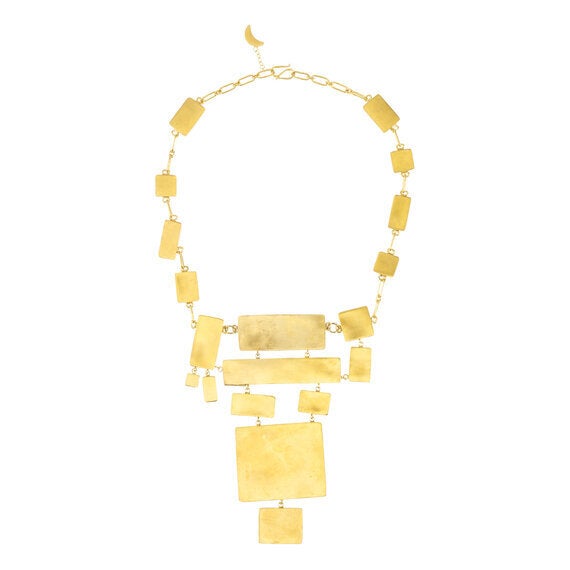 Today Small's work tells stories of humanity, lives worlds apart and inner strength; that "beautiful moment" when a Bolivian gold mine finally became Fairtrade certified and the belly-clutching laughter from artisans in a warzone. They're stories you could listen to for hours yet she remains apologetic. "Thank-you so much for your patience," she concludes. "I've wittered on, I'm just so enthusiastic about it all and it's really nice to have someone to tell. I'm so lucky."
Frankly when you have the passion, altruism and originality of Pippa Small, luck doesn't come into it.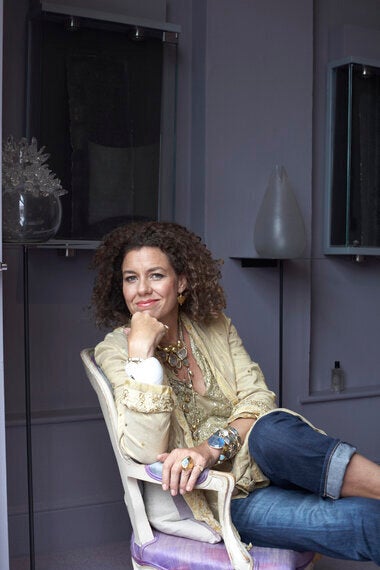 The Pippa Small Autumn/ Winter 2016 collection is now on sale.
Images courtesy of Pippa Small.