When you reach the final stage of writing a book, the very last thing you need to hear is that 'somebody' has written a very decent book on the same subject... after a very long walk on an Outer Hebridean beach, where I exhausted my chagrin by pulling dulse from storm-wrecked tangle, as it glistened in the late autumn sun; I mustered up the courage to order Sally McKenna's Extreme Greens, Understanding Seaweed.
It is a stunning book. The food and marine algae (species ID) photography is breathtaking and the recipes are oceans beyond sushi. Sally is a forager, and a lady who creates recipes, which tempt my taste buds. I have long laid claim to the invention of a cordial made from rhubarb (which is, of course, pure hubris; much in the same vein that Richard Mabey notes a simple blackberry junket, which Dorothy Hartley had previously penned in 1934) but I digress.. In The Forager's Kitchen I mix rhubarb with sweet cicely to make a smoothie and in her book, Sally adds sugar kelp and ginger to rhubarb for cordial. Her inclusion of seaweed in the recipes is very subtle, as any seasoned, seaweed cook will already understand. Seaweed hasn't just been added to justify adapting a recipe to a 'seaweed book'; nor does she use seaweeds,which don't work well in the kitchen.This book cudgels a challenge for the inquisitive but novice, marine algae cook and there is plenty for the more advanced phycologist too.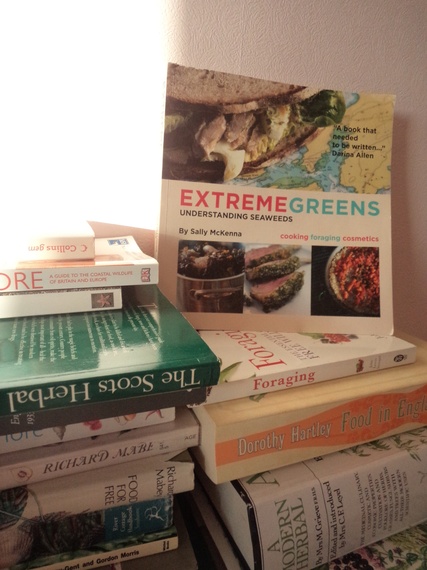 Sally's book begins with some seaweed chat relating to identification, relevance of the moon and tides, harvesting, drying and storing. It's a comprehensive introduction.
The recipe section of the book is extensive and there is beautiful photography for those cooks, who need to know exactly what the finished dish 'should' look like. There are also sections on cosmetics, foraging and even making sea salt from scratch, which rather unsurprisingly, Sally and I do in much the same way.
I've already asked if I can 'borrow' her seaweed oven recipe for my book. Sally is a real kindred spirit and I have not only enjoyed reading but learnt from, her book. I purchased my book direct from John and Sally Mckennas' Guides ' website, where you will also find out about all the best places to eat, shop and stay in Ireland.
I recommend buying this book, especially if you live near the coast. Darina Allen said of it, "A book that needed to be written." Indeed it did, but I am praying hard that one day, there is a small corner for another, albeit rather similar book on your bookshelf too .