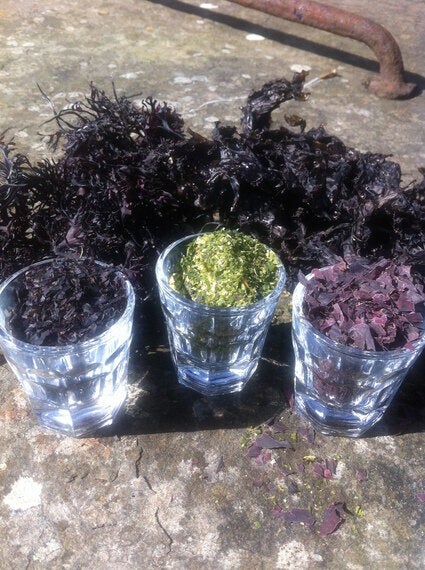 Dried Laver, Sea Lettuce and Dulse
Stir Up Sunday fell on a day when I was on the mainland in my Angus kitchen. As usual I'd left most of the pudding bowls across in the kitchen on the Isle, so in a waste not want not fashion, I packed the excess pudding mix into a container. It travelled with me over the sea to The Uists via Skye (in the opposite route to that travelled by Flora Macdonald and Bonnie Prince Charlie). On reaching my kitchen on South Uist I added a little more finely ground Ascophyllum nodosum or Knotted wrack for good measure and steamed the pudding for a couple of hours. Ascophyllum nodosum rolls of my tongue nowadays, in a Harry Potter kind of way. I'm indebted to my kids and J K Rowling for that stroke of Latin Confidence but that said seaweed, botanical names may be subject to change. Seaweed is like this - we have much to learn. Dried and sprinkled seaweed is however, an excellent Christmas spice
One thing that I have in abundance in my Island kitchen is dried seaweed.I probably chose an olive brown seaweed jar (Ascophyllum nodosum) in a Christmassy, warm spice frame of mind. Most seaweed species mellow when cooked. The knotted wrack which was harvested on the neighbouring Isle of Lewis, is very finely ground and so texture possibly influenced my choice too - Doctor Seaweed kindly sent me a sample pack to trial in Christmas recipes.
One of the most colourful recipes in Seaweed in the Kitchen lends itself to Christmas. This ruby red and flecked emerald green dessert is much, much lighter than the traditional steamed pud or mince pie and can be made in advance. It's refreshing and has the merest hint of the sea, adding seaweed to ice-cream or sorbet softens the weed's flavour. Seaweed and ice-cream is a well tested partnership - carrageen is used as a stabiliser in commercial ice-creams. I chose sea lettuce for its emerald sparkle but any of the Ulva spp. will sprinkle and sparkle green. The Ulva spp. can bully but when baked or churned in an ice-cream machine the flavour is really very hard to place. On the Outer Hebridean Isle, where buying fresh pomegranates or juice can be tricky, I often substitute with frozen raspberry juice. Cranberry juice works in this sorbet too.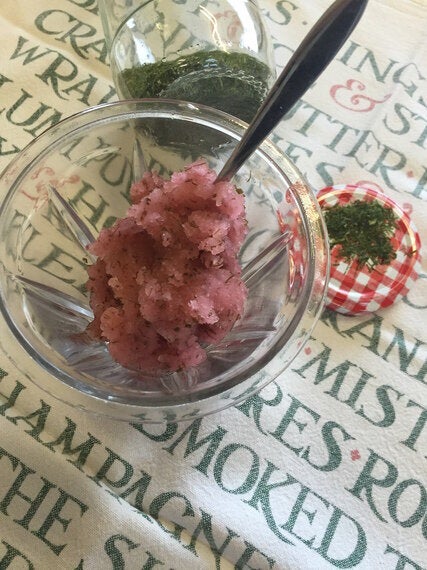 Pomegranate and Sea Lettuce Sorbet.
Tablespoon dried ground sea lettuce
100g pomegranate seeds (optional)
Put the sea lettuce, caster sugar and water in a pan over a low heat and cook until the sugar has dissolved. Boil briefly until you have thick syrup. Cool completely.
Add the pomegranate juice to the cooled sea lettuce sugar syrup and mix well. Pour into an ice-cream machine* and churn until frozen.
Serve the ruby and emerald jewelled sorbet scattered with fresh pomegranate seeds.
*Alternatively pop the ice-cream into a freezer safe container and freeze until slushy. Return the mixture to the bowl beat well (or whiz in a food processor) and return to the freezer. Repeat this process until you can't see any icy shreds and freeze until frozen.
Related