One of my favourite ingredients to forage on Uist is the invasive Rosa rugosa be it the spring leaves, summer petals or autumnal hip. We have a Rosa rugosa boundary garden hedge so I've absolute no excuse to complain about inclement weather or foraging and time wasting. In my freezer there are bags of Barbie pink rose petals, which will release summer scents and flavour to winter puddings and cakes. Three cheers for the invasive. Of course the petals have long passed but save the idea for next summer and get going on those big fat hips. Move quickly because the birds are keen on the hips too and, to be fair, we need a little bird distribution to share this bush around.
The hips may be used to make rosehip syrup, jam, tea, vodka or gin. Rosehip jelly isn't labour intensive because the long slow drip through jelly bag removes the hairs and seeds. The Ministry of Food encouraged folk to make rosehip syrup in the war years because it is a rich source of Vitamins A and B, as well as C. Blitzing the hips in a food processor makes light work of chopping the hips.
I suggest popping the rosehips in the freezer before making vodka but when I gave this recipe to a friend, I was asked why. I didn't have an answer. I think that I started doing this because I'd been told that sloe gin is best when it is made with sloes that have been frosted (bletted). Frozen hips are certainly easier to cut in half.
If you are time stretched just try this tea for starters. It only needs a handful of berries and minutes later you'll have a wonderful orange liquid. I find that I don't need to sweeten it. The more hips you add (this goes for the alcoholic recipe too), the better the colour and vitamin content. I don't think that I dare suggest that the booze is good for you but its taste is difficult to place - delicious is one word for it.
Put the hips into a small pan and cover with the water. Use a potato masher to gently crush the hip and bring to the boil. Cover and simmer over a very low heat for 20 minutes. Strain the orange liquid through a fine sieve and pour into a mug. Stir well and sweeten to taste - rose syrup works well. I often drink this tea cold but you'll need to stir it well to redistribute the hips' nutrients, which have a habit of sinking to the bottom of the cup.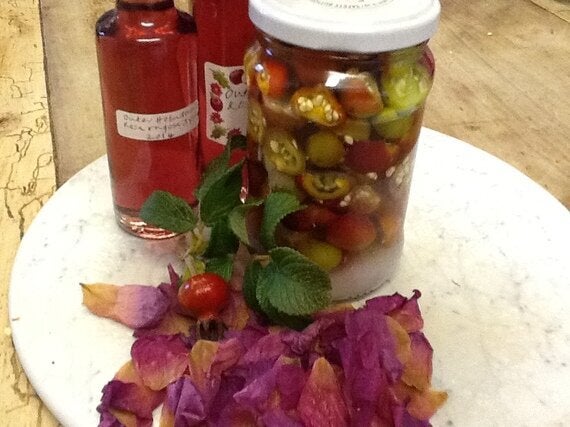 Rosehip Gin (If you prefer Vodka) for 450g jar
140g Rosehips, washed, topped, tailed and halved
Two thirds fill a sterile jam jar with rosehips and top it up with granulated sugar.
Fill the jar with gin or vodka and then put a lid on the jar. Store in a dark, cool cupboard and shake the jar well on occasional passing. The gin will change colour. Leave the hips to steep in the gin until you like the flavour (wait at least 3-4 weeks) and then strain the rosehip gin through muslin into a sterile bottle. This can be a hip-flask special, served as a digestif or drizzled over ice cream or even added to trifle.
Related