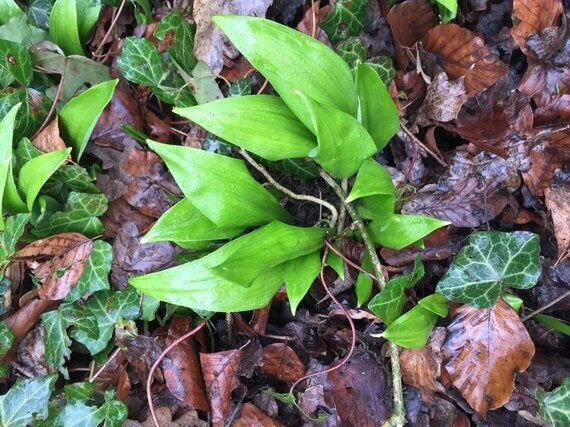 We don't have many trees on the Isle of South Uist. It's a wind issue. On Mothering Sunday however, I was in woods on the mainland and picked wild garlic with my eldest son. We didn't find any sweet smelling violets but celandines and primroses were brightening up grassy ditch banks; spring is here. Foragers can have a lean time of it over the cold winter months but as the days lengthen, and we hear the distinctive song of the skylark as it hoovers in flight, the forager can fill his or her basket with buds and wild spring greens. The March wind may blow but wild garlic works as well in a dumpling as a sushi style wrap. You'll find ramsons (wild garlic), which you'll probably smell before you see, in woods or on banks near water. It frequently borders the drives of grand houses. Wild garlic was planted here to avoid stinking out the kitchen garden. Bruise a lily of the valley style leaf to release a strong scent of garlic, and then use scissors to cut to your culinary need. Harvest enough for your own use, no more, and don't tug out any roots. Jack by the Hedge adds a hint of garlic flavour too. It is less pungent and for maximum flavour, cook it as late as you dare or better still use the leaves raw.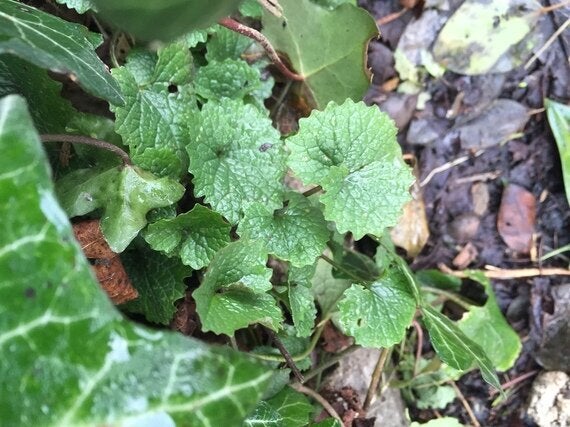 New growth Jack by the Hedge (Garlic Mustard)
Back on my Outer Hebridean Isle, both sea spaghetti and pepper dulse are coming into season; seaweeds are seasonal too. If you are landlocked, you can buy sea spaghetti (fresh) in a supermarket and pepper dulse is available dried. The later, sometimes called the truffle of the sea, is expensive. It dries to a paltry amount and is fiendishly tricky to pick. Therein lies the tale of its hefty price tag. Pepper dulse is a strong, garlicky flavoured red seaweed that is worth getting to know. Learn to identify it and then, you can pick (and dry) your own. Less is more. It hangs about on rocks and its pretty, small fern like fronds can be pressed, herbarium style on craft card too. Garlic mushrooms is a tried and tested recipe and so, adding a handful of fresh pepper dulse when sautéing mushrooms in butter, is to my mind, common sense. If you live closer to woods than the sea, chiffonade (roll and shred) some washed and dried ramson (wild garlic) leaves and add these to the mushroom pan. From a wood or the sea, either way a garlic, spicy zing is free.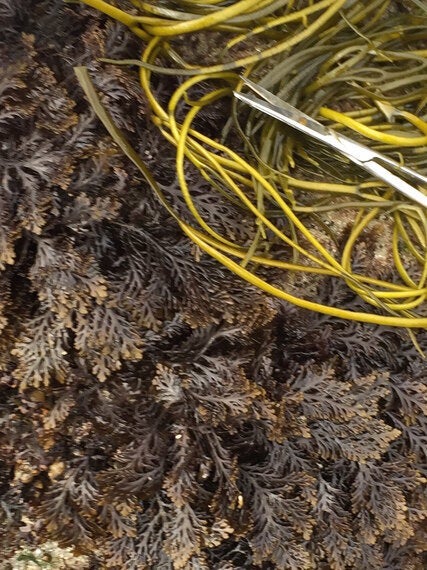 Pepper Dulse and Sea Spaghetti
In spite of having written Seaweed in The Kitchen I'm still experimenting with seaweed. There's a lot to learn with over ten thousand species worldwide and six hundred and fifty around the UK. With age, sea spaghetti lengthens and thickens. When foraging this seaweed cut it well above its small, button holdfast, to ensure its continued growth. Like many seaweeds, it is a kitchen chameleon. This one turns from yellow-brown to emerald green when thrown in boiling water. Indeed, if your kitchen is a tad on the warm side, the process begins during preparation at the kitchen sink. Later in the year steam or simmer sea spaghetti for 10-15 minutes (or longer if you're not a fan of al dente) but yesterday, I cooked the the thin sea spaghetti fronds as I would fresh noodles. If you have to feed conventional folk you can err on the cautious side and mix the sea spaghetti with wheat pasta. The colour contrast is impressive.
Related