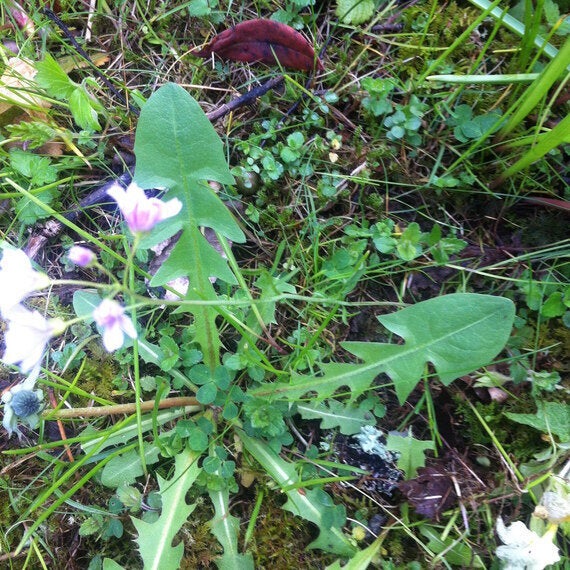 Lady's Smock and Dandelion growing together and delicious, when combined in a salad
As the spring leaves push through fading blossom, it's hard not to feel sad, if you are a fan of scented prettiness but the foraging cook knows that some young leaves and buds are appetising. Bramble buds taste of almonds and some are enthusiastic over youthful gooseberry leaves (wild or garden). Country folk refer to juvenile Hawthorn leaves as bread and cheese and munch on them gaily as free, grazing fodder. I have to say until this year, I wasn't enthusiastic. Perhaps the leaves of my previous samplings were past their sell by date. Salad bowls can also be livened up with the addition of spring hedgerow potherbs such as wild garlic and hedgerow garlic mustard.
Hawthorn or May blossom traditionally gets a bad press so I possibly extended the idea to its leaves, and left the May tree well alone until it fruited autumn haws. The superstitious will not bring May blossom into the house but its distinctive scent is tangled with fecundity and to my mind its timely white splendour, heralds rebirth. Ne'er cast a clout til May be out i.e. don't put your winter clothes away, possibly has more bearing on the hawthorn blossom than the month of May per se.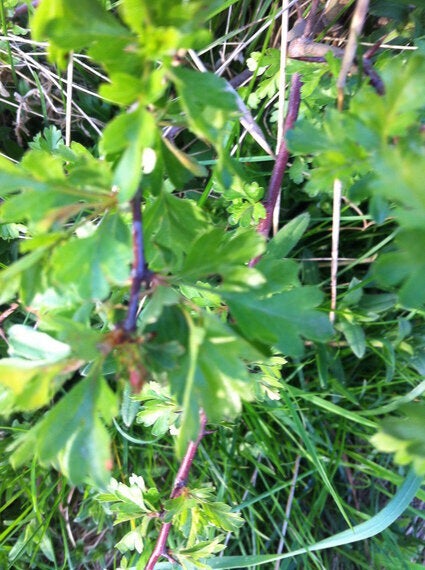 This year however, I've upgraded hawthorn leaves to join the spring term class of nature's free deliciousness. It may have been a glisten of light spring rain on a hawthorn leaf that tempted me but the bread and cheese leaves mixed with shredded sorrel, dandelion leaves (think endive), garlic mustard and peppery Lady's Smock leaves and flowers are a salad bowl hit.
Sorrel is now a fashionable restaurant ingredient but its sour leaves were a forerunner of the lemon, which most cooks will have in their kitchen. Pick sorrel before it grows too high and shakes its rusty, red seedy head amongst meadowland buttercups. Sorrel is about from February and even earlier, in a mild winter. It toughens with age. Lady's Smock is also known as Cuckoo Flower because its flowers bloom as the cuckoo arrives. On Uist it appears in our cattle grid at a time when a cuckoo lives on Loch an Eilean (The Island on the Loch), behind our house. We are fortunate. Lady's Smock likes to find damp ground - Coco our dog often sneaks a drink from our cattle grid. Both the thin elongated leaves and flowers of Cuckoo flower are edible, its taste is not unlike watercress but hotter. When Lady's Smock flowers are soaked in gin, it will turn the gin pink and add a hot spicy twist. It has the same effect on rice vinegar and is excellent in salad dressings.
Hedgerow Spring Salad (wash ingredients before use)
4 handfuls of young hawthorn leaves
Handful young dandelion leaves
2 small sorrel leaves, shreded (to taste)
6 hedgerow garlic leaves, roughly torn
Small handful Lady's Smock leaves (to taste)
1 Lady's Smock flower, segmented
Arrange the washed and dried leaves in a bowl. Add minimal olive oil, a sprinkle of sugar and a good pinch of salt. The sorrel replaces any need for vinegar or lemon.
Related