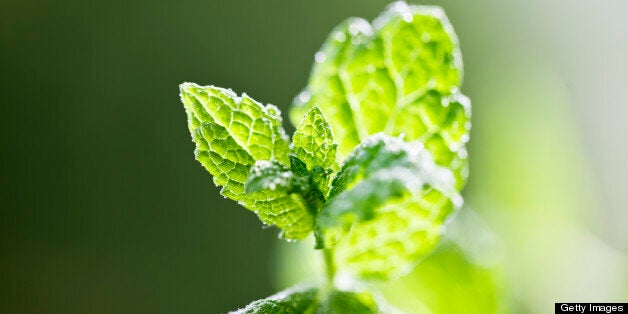 There are many varieties of mint, some of which are hybrids of garden escapees, and they all seem keen to intermarry. When we camped on the Shiant Isles in The Hebrides, the boys would run barefoot to pick mint from the burn. Attracted by its smell, the boys foraged swiftly, filled my teapot and gave their teenage feet a refreshing bath too. Water mint grows by streams and on damp, boggy land.The more tender leaves are at the tip of the stems. Don't 'tug' at mint, even when there is an abundant supply. Pull the leaves off gently or cut the flowers and stems with scissors. Many insects particularly the bee, are attracted to, and create pollen from, the clusters of purple scented mint flowers, which have a slightly bitter flavour. The flowers can be used to make a pretty pink sugar, but leave some for the bees too.
Harvest mint responsibly from April to October, and use it in vinegar, cordial, syrup, ice-cream or sorbet, sugar, or more traditionally, in mint sauce and jelly.
There is well-documented Roman use of mint for table decoration and bathing, as well as cooking. Culpepper's Herbal gave almost 40 ways in which mint could help with ailments: I like the idea of heating rose petals and mint leaves and applying them topically, to enable sleep and rest. Richard Mabey also cites anecdotal slumber stories, from folk who dried mint for medicinal reasons during the Second World War. "When we had peppermint drying, my mother and I went to sleep in our chairs". A nightly cup of mint tea seems a natural progression for the insomniac. In season, simply add a sprig or two of water mint to a cup of boiling water, or dry mint leaves in a dehydrator, and store in an airtight jar for use out of season.
Halloumi is a Cypriot cheese, which in my opinion benefits from marinating and lemon and mint work well together.
Lemon and Mint Halloumi Salad, serves 4
Juice and zest well scrubbed lemon
2 tsps finely shreded mint
4 ripe tomatoes, washed and diced
2 tbsps Extra Virgin olive oil
Freshly ground black pepper
1. Mix the lemon juice, zest and mint together in a shallow dish. Cut the halloumi into 8 slices and put the slices into the marinade. Cover and leave for as long as possible to allow the flavours to infuse.
2. Cook the broad beans as per instruction and drain well. Rinse in cold water to refresh and drain to remove excess water.
3. Mix the drained beans with the diced tomatoes and leave in a colander to drain.
4. Meanwhile, heat a griddle plate or grill until very hot and then cook the halloumi slices on both sides until brown.
5. Put the broad beans and tomatoes into a bowl and pour over the remaining marinade and dressing ingredients. Lightly mix together and season to taste.
Serve the halloumi warm on the broad bean and tomato salad with plenty of crusty bread. You may prefer to dice the cooked halloumi for a buffet style salad