Yemen has been decimated by a yearlong, bitter, ongoing civil war. Despite its proximity to many better known Middle Eastern countries (it shares a long border with Saudi Arabia) it fails to gain the same level of international recognition that the fighting in Syria and Iraq have attracted. A lack of profile sadly does not mean a lack of problems and as the war trundles on, attempts to distribute aid are severely hampered by fighting, damaged ports, closed airports, blocked humanitarian corridors and a country-wide lack of fuel. The figures speak for themselves and behind every one of these statistics is a human tragedy:
21.2million people are in need of humanitarian assistance - including 9.9million children - making Yemen the country with the highest number of people in humanitarian need in the world right now
14.4million citizens are food insecure and the country is close to famine, and 7.6m facing severe food shortages, 1.3m children are suffering acute malnutrition
Over 5,700 people have been killed since March, including more than 630 children
3.4million children are out of school - this will have a long-term impact not only on their futures, but also the development of the whole country.
40% of the population are under 15, a whole generation of children vulnerable both to war and to forces who would seek to radicalise them. Hundreds of youths are joining extremist organisations out of desperation just to feed their families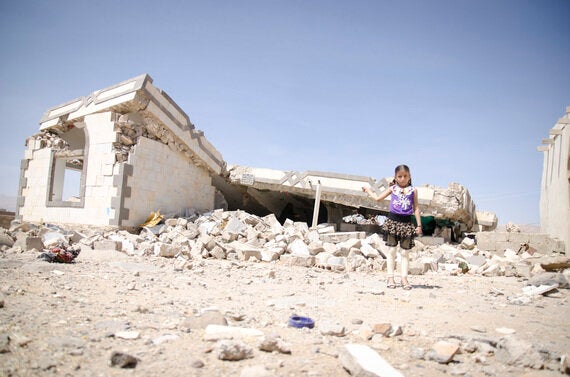 Rajaa* 7, was playing in the garden when a missile hit her house. Her mother, sister and brother died. (Photo: Muhammad Awadh/Save the Children)
It is no exaggeration to say that the situation is one of the worst on the planet. The United Nations and the NGO Action on Armed Conflict concluded that in the first seven months of 2015 more civilians died and were injured by explosive weapons than in any other country in the world. One area of particular vulnerability is the city of Taiz. As troops fight for control of the city, 300,000 internally displaced people are living under a "virtual state of siege" according to Stephen O'Brien, the UN Under-Secretary-General for Humanitarian Affairs and Emergency Relief. Their health system is crippled; medical supplies are rarely available except at hugely inflated prices on the black market. There is a chronic lack of safe water and sanitation. Some humanitarian access to the city's desperate inhabitants is possible, but severely restricted.
To add to the misery, economic activity is grinding to a halt: I have heard evidence from those with family still living in Yemen that over 70% of private businesses have closed down or been physically destroyed by the conflict and a similar percentage of private sector workers have lost their jobs. Banks have been shutting down. One man told me that before the war, businesses like his had a choice of 15 different banks; now he only has one, and even that is at risk of closing shortly. This highlights the need for Aid in the short term, but ultimately a political solution is essential to revitalise the economy to provide food and livelihoods for the Yemeni population on a sustainable basis.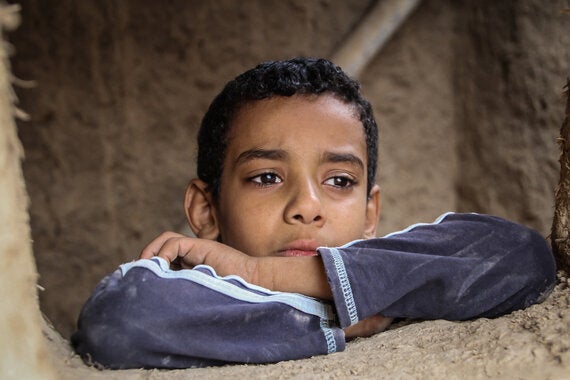 Hazim* 10, is displaced with his family from Sa'ada where it was too dangerous to remain (Photo: Mark Kaye/Save the Children)
I have the privilege of sitting on the International Development Select Committee, which monitors how UK Aid is spent. We have recently launched an inquiry into the crisis in Yemen and hearing of the heartrending suffering of the people there has led me to appeal directly to you, the reader, on behalf of the young girls and boys of Yemen. Unlike many of today's other much troubled areas of the world, which we see on our screens daily, much of the world's mainstream and social media seem to be passing by those suffering in Yemen.
If this article has moved you to have a heart for the children of Yemen, spread the message by emailing this article to a friend, or sharing it on social media. If you would like to give financially you can donate to Save the Children's Yemen appeal; their life-saving programmes have reached more than 379,000 people since March, including more than 211,800 children. Finally if you have first-hand evidence on Yemen, please make a written submission to the International Development Committee, you can do so here.
Fiona Bruce is MP for Congleton and Chairman of the Conservative Human Rights Commission
Popular in the Community