London is in the midst of a gentrification war. A war that's main battle is currently taking place in Brixton, in South London.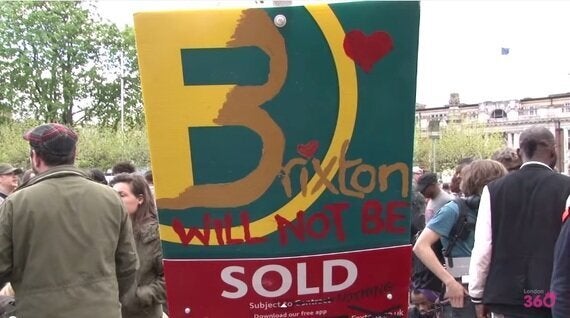 This conflict came to a head on Saturday 25th April, when over a thousand protesters gathered in the famous district. All representing slightly different organisations, generations and identities, but united by a common cause - reclaiming Brixton.
Having grown up near Brixton, I was eager to talk to people, to hear their stories, and try and understand their reasons for protesting. So, I travelled down to Windrush Square at 11am, in time to see the first few protesters arrive with their homemade placards and observe the dozens turn to hundreds, and then to thousands as local residents arrived along with the sun.
The crowd ranged from local residents, who had lived in the area for decades, to people from other parts of the city, who wanted to show solidarity for a place that they believed is just one case-study that is reflected across the capital.
"I've lived here since before the riots (of 1981), when it was in a state of absolute deprivation and neglect," one long term resident explained to me:
"I stayed here through the riots, I then stayed through the regeneration after the riots, which was so different from the regeneration that is happening now because it included the local community, it was about the people that lived here, It wasn't just about regenerating the buildings and the culture. Then, in the mid-90's, when drugs hit and it was a really frightening time, regeneration happened again. But again, the local businesses and communities benefitted from the work of the local government. So change in the area has always happened, but right now the change isn't about the people, it's about money."
A young man who had travelled to Brixton from Tottenham, in North London, told me: "We need to act now! Otherwise Central London is going to become a cultural desert and we are all going to lose out."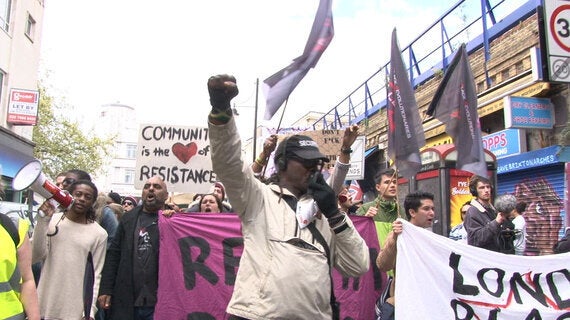 The majority of the early action took place along the vibrant Atlantic Road and its surrounding streets. This is the site of the famous Brixton arches, which house an eclectic mix of independent, often family-owned shops. The arches have been a central focus of objections, as the traders, many who have owned their shops for decades, face imminent eviction so that the space can be renovated. At present, it is thought that rents will become much higher post-renovation, making it impossible for these business owners to return. I wanted to find out how this change would affect these individuals.
One shopkeeper that has been particularly vocal is Ray Murphy, owner of Budget Carpets, a business that has occupied the arches for 25 years:
"Look where our loyalties got us! It's all about money. About trying to find a tenant here that's going to pay tip-top money, and whether that's us, or a MNC, they don't really care," he exclaimed in response to my query.
A similar story came from Liangliang Ma, who's owned a cafe in Brixton station for 15 years:
"We are a family-run business, me and my husband, we both work here. We have 2 young children to look after, if we lose this shop, we will lose all of our income. How will we survive in this country?"
And Mohammed Shafiq, who's occupied S+S Textiles for 10 years:
"It's such an uncertain future, I've invested so much time and money in my business, but also we've become a part of the community. This all came as a total shock, totally out of the blue, without any consultation, without any prior warning at all."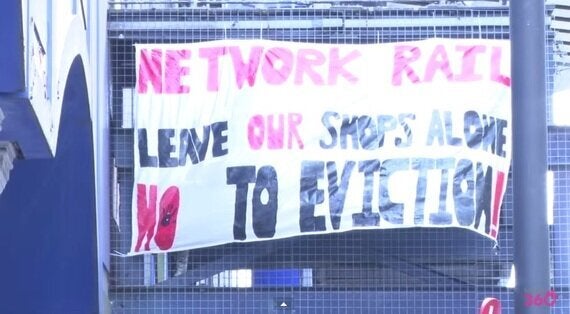 But as with every conflict, there are two sides to the story. I also spoke to Juan Rios, a Ham Carver in Brindisa Food Rooms, a newly established, more 'gentrified' inhabitant of the arches, who told me of the catch-22 he feels the evictions present:
"I can relate to the shop owners fears, because I grew up around here and I have seen both the area and type of person change. But at the same time, some change is progress, and I don't want to go back to how it was before, because it was really dangerous and if the owners of the arches feel that more profit can be made from them, then so be it."
I also spoke to Network Rail, who told me:
"The arches are in desperate need of some basic TLC. We have just started a series of meetings and conversations with our tenants, and the wider neighbourhood, to better understand how the company can help make the site better. The refurbished arches will have a fair rent, set at, or below, the market rate of the area."
Now Brixton is no stranger to protest. In fact, residents speaking out have sparked many of the changes throughout the districts history. But whilst these protests retained some age-old methods, such as marching with placards, and human chains, it also featured modern, revised ways of challenging, such as graffiti artists, and spoken word poetry.
Rapper, Potent Whisper, who has created a spoken word piece 'Our Brixton'' to reflect both his own, and the wider communities' feelings about the changes happening to the area, explained:
"Seeing people that you know, being thrown out from their homes, their communities, and their lives, essentially having their lives ruined, can only make a person feel one way; angry. And, in some ways, also quite powerless, like we don't have a voice."
Speaking of the shopkeepers, he continued:
"These are traders, they're not experienced in launching huge campaigns. This is a big thing for a small group of people that have never had to do this before, to have to oppose such big institutions as Network Rail. But the whole community is standing behind them, and this protest is a good example of where that solidarity can take us."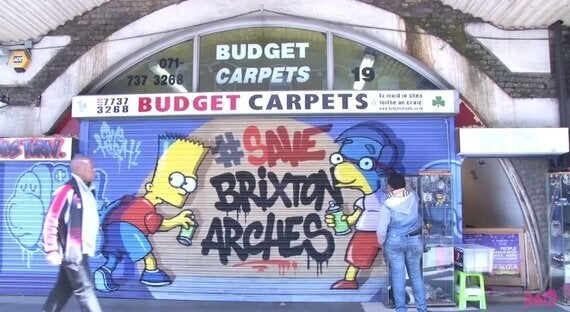 Graffiti artist, PINS who, along with other artists, has used the shutters of shops throughout Brixton to create murals with messages of support for the shopkeepers, agrees:
"We must all speak up, and stand up for what we believe in. That's what I aim to do with the art, what others aim to do by marching and others through signing petitions. We're just all standing up for our rights."
The shop owners quietly closed their graffiti-clad shutters at 12pm and began to link arms. By 12.30pm, this human chain had spiralled around the entire circumference of the arches. Simultaneously a group of marching protesters - who had been journeying across Brixton, from estates where tenants had been evicted, to the main high-street that has dramatically changed in recent years - marched past. Hundreds of voices could be heard chanting in unison, with placards and fists in the air. The determination in their footsteps echoed their purpose. Yet all the while they remained peaceful.
The various groups culminated in Windrush Square, an iconic place that has featured in many of Brixton's historical moments. Here local people connected, through music, poetry and speeches, they discussed the changes they wanted to see. The atmosphere was electric, there was a sense of frustration and disappointment, but most of all there was a sense of hope.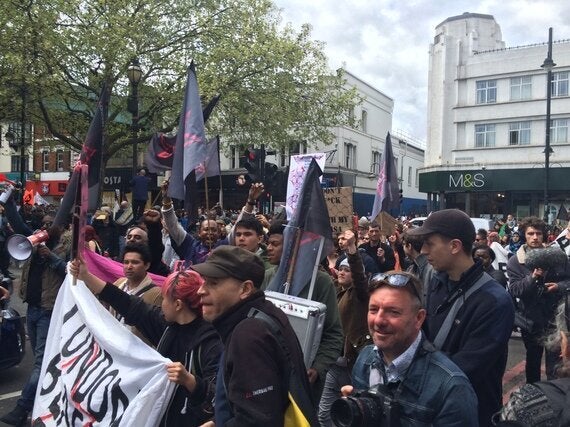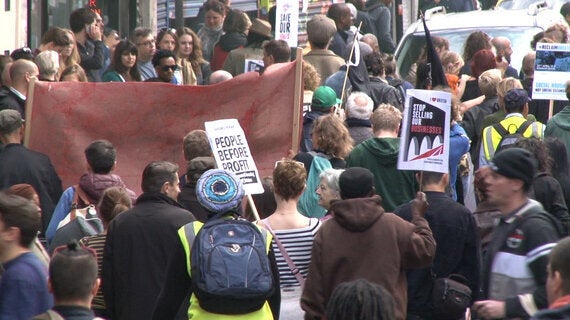 Five hours into the protest, an event happened that has come overshadow the entire day. A window in Foxtons Estate Agents, seen by locals as symbolic of the gentrification, was smashed.
Immediately the atmosphere of the area changed. The large police presence, that had thus far been fairly inactive, was mobilised. Traffic was stopped. And the general sense of progress was replaced with a feeling of hostility, a fear of escalation.
Unfortunately, this violent event has come to dominate the narrative of the protests. Indeed, the broken window is the image that was recorded most on people's phones and made the headlines in most of the major news agencies. Ultimately, this has meant that the thousands of faces and stories behind the peaceful protests have been forgotten in favour of the destructive few.
Despite its unplanned end, Reclaim Brixton, the organisation behind the protests, has told me that they are very pleased with the protests having provided a platform for so many people to be heard.