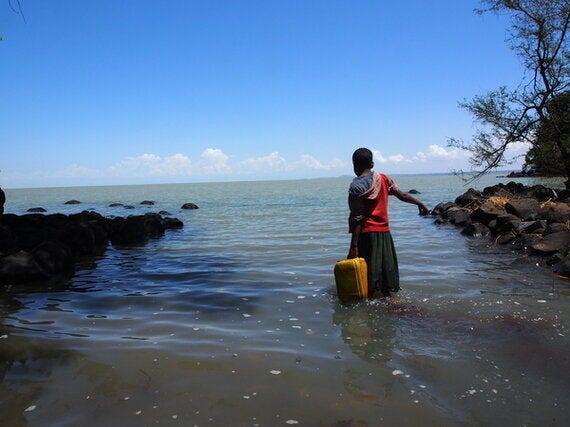 Polluted Lake Tana has been a main source of water for villagers in Yiganda, Ethiopia. WaterAid/ Behailu Shiferaw
Traces of cocaine in our tap water, screamed recent newspaper headlines in the UK. It's alarming, despite reassurances that these are miniscule amounts that pose no risk.
But imagine the headlines were about deadly pathogens like E. coli or cholera, and that even these miniscule amounts could harm adults and kill children.
This is very real for more than 748 million people in the world without access to improved water - that is, water that comes from a pipe or a borehole or a protected dug well, where runoff from human and animal faeces cannot contaminate it. The number of people without consistently, reliably safe water is even higher.
However, the biggest threat to drinking water in the developing world is something no one wants to talk about: the 2.5 billion people who do not have a toilet to relieve themselves in, and the 1 billion of those who still have to defecate in bushes, fields, at roadsides and by railway tracks.
To deliver safe water, we need to start talking about toilets, and defecation.
It's not an easy thing to discuss. We use euphemisms - we do a number 2, drop a deuce, do a dukie, have a bowel movement, drop a load, take a dump. We use baby language - we poo - or we use coarse language to cover our embarrassment - we take a crap, have a shit.
But addressing open defecation can help alleviate many other aspects of extreme poverty. Safe drinking water, a decent place to relieve yourself and a place to wash hands properly keeps you healthier. That means fewer burdens on health centres, and reduced costs in caring for sick adults and children. Healthy people can carry on earning a living and children don't miss school.
Ending open defecation means even more to women and girls who are at risk of attack when they seek privacy in a bush or field. They also need a safe and hygienic place to care for themselves during their monthly period, as a matter of health and dignity.
Clean water, good sanitation and good hygiene mean healthier pregnancies and healthier babies, by reducing the risk of infection. It's hard to give birth to a healthy baby if you are ill from drinking filthy water or if the midwife can't wash her hands and keep the area clean during delivery.
We know that 1,400 children die every day because they don't have safe water, sanitation and hygiene. These are preventable deaths that don't need a mass vaccination campaign or a fancy new drug. We just need political will and action.
That's why this week, WaterAid welcomes a new call to action to break the silence on open defecation. Championed by the UN Deputy Secretary General Jan Eliasson, this drive to secure basic toilets for everyone is also at the heart of WaterAid's work.
Our programme work this year has included working with remote northern Ethiopian communities on a gravity-flow scheme, which will bring water through pipes into reservoirs, cattle-troughs and community taps. Just as important are our complementary projects to build latrines and raise awareness about the benefits of hand washing. The latrines will keep away the flies that congregate on open faeces then land on children's faces, causing horrible diseases like blinding trachoma. And they will limit the waterborne diseases that cause so many deaths each year.
A safe water source will change people's lives. A place to go to the toilet will give people better health and dignity. And that isn't so hard to talk about.