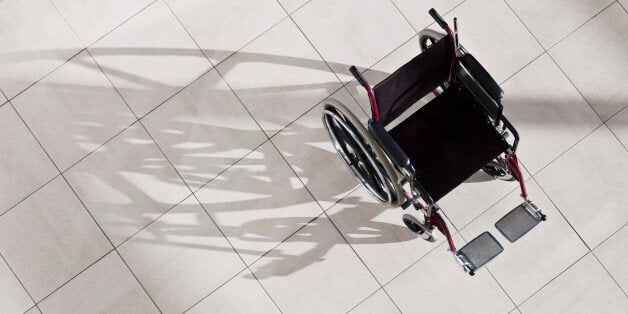 Why are disabled people becoming political activists?
For me, this General Election is very personal. As a disabled woman who can't claim a pension until I'm 66, I live in fear of my next DWP re-assessment. Too many people I know have lost benefits and are forced to rely on food banks.
So I've got involved with other disabled people to educate others about how this election result could change our lives for the better.
Cripthevote started in the US in February 2016 during the run-up to the last presidential campaign. It is a online movement, which is not affiliated to any political party. Cripthevote works by activating and engaging disabled people on issues that affect them. It encourages individual and collective action in the face of inequality, ableism, and discrimination.
The US campaign was - and is - high profile and has incentivised many disabled people to get involved in politics and vote for candidates whose views would best serve disabled people. Although the presidential election is over cripthevote is continuing to campaign for disability rights. Activists are now looking to move into other forms of political participation.
This month Cripthevote launched in the UK. Started by some campaigners from DPAC (Disabled People Against Cuts), it has its own blog, and is on Twitter, Facebook and Instagram.
DPAC have organised or been involved in all the Direct Action protests against Austerity Cuts in the UK since 2010. Their visibility for those of us who are unable to be involved so publicly for whatever reason, has highlighted the inequalities faced by disabled people.
I'm proud to be part of #CripTheVoteUK. As my friend Dennis Queen said; "Disabled people are quite literally voting for our lives. We need ALL voters to know this is an emergency for thousands of disabled people and help us fight back."
You can read more about the campaign here.
But why am and so many other disabled people I know determined to make our voices heard? What has been happening that is so important for disabled people to become election agitators?
During the last year Social Care funding in the UK has fallen in real terms by 14% the equivalent of £65 for each person receiving care. Yet more people are needing care services. When I moved from North London to south London my own care package of 31 hours per week was stopped and 15 months later I'm still trying to get it re-instated. My local authority have now accepted I need care, but have failed to re-assess me or accept information from my GP and consultants.
Both the United Nations and the UK's Equality and Human Rights Commission, have condemned the UK government for many abuses against disabled people. These mainly relate to the way sanctions are used by the DWP to penalise people for small infractions of the job hunting contract are forced to sign if declared 'Fit to Work'. One man was sanctioned because he missed an appointment because he was with his wife as she gave birth to their stillborn child . A diabetic person was sanctioned and because they were unable to buy food they were sent to hospital by their GP.
Some claimants have committed suicide as a result of being sanctioned. Callum's List [http://calumslist.org] has over 60 names on its memorial list. Thousands more unnamed.
As I've been writing this post, I've been contacted by someone with multiple health problems, who is terrified about her reassessment. Sue's Psychiatrist and medical consultants have discharged her as she is not "In Crisis' or not in need of urgent treatment. Yet, she remains unwell and struggles to leave her home. With only her GP to rely on to support her claim, understandably she fears loosing the money she needs to survive.
According to the UK government's own figures 10,000 disabled people have died in the last 7 years (since 2010) within 6 weeks of being declared 'Fit For Work'​. They actually ignored warnings from their own research about the impact of the new regime would have. Only recently Theresa May said she would not rule out further cuts.
Disabled people are angry, frustrated and frightened for their futures. This is why we are becoming political. People who have never been involved in politics before are being enabled by this campaign.
There are two strands to our activism. The first is to make people aware of the issues that blight the lives of disabled people like me.
The second is to get a message out to our families and friends. If everyone we know actually voted against the cruel policies currently in place, there could be a change of government. Over 25% of those eligible to vote in the last General Election didn't bother to do so. Those votes would make a huge difference and could, quite literally, be saving the lives of hundreds if not thousands of disabled people.