The Sri Lankan military is advertising a newly constructed hotel in the heart of the killing fields in the north of the island, where tens of thousands of minority Tamils were killed in 2009. The holiday resort, called Lagoon's Edge, caters for Sinhala war tourists who want to see the last bastion of the defeated Tamil Tiger rebels.
Billed as a once in a lifetime experience, one Sinhala language newspaper, Mawbima, boasted to readers that Lagoon's Edge is constructed entirely of teak, has a dance floor for parties and is situated in a "place were thousands of war heroes, terrorists and others died". The paper touted this as an opportunity to spend the night beside the lagoon where the Tamil Tiger rebel leader Vellupillai Prabhakaran died, all for a price equivalent to $100.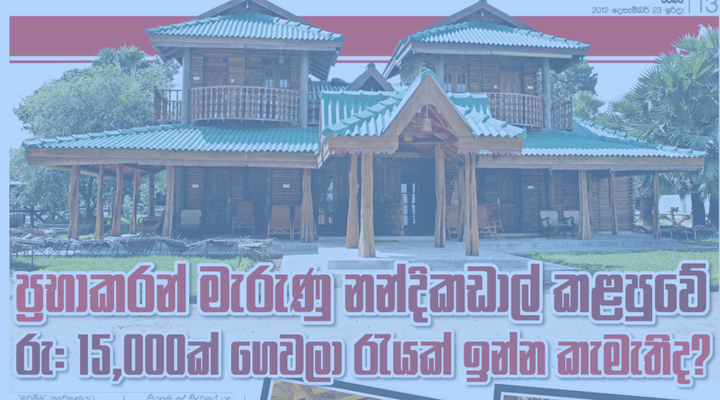 Right in the heart of what was rebel territory, the hotel overlooks the stretch of water that became the frontline during the final bloody months of the conflict, in which it's now estimated by the United Nations 40,000 or possibly 70,000 civilians died in a few months. Tamil survivors describe wading through the neck-high water, passing floating corpses and dodging bullets. Several children and injured or elderly people drowned in the water in the struggle to escape. On the far side of the lagoon from the hotel built by the army, lies the sandy spit of land, which is considered Sri Lanka's killing fields.
This is fourteen square kilometres of territory into which hundreds of thousands of people were crammed in haphazard makeshift encampments and then pounded by heavy artillery and bombed by supersonic jets belonging to the same military now offering sightseeing trips.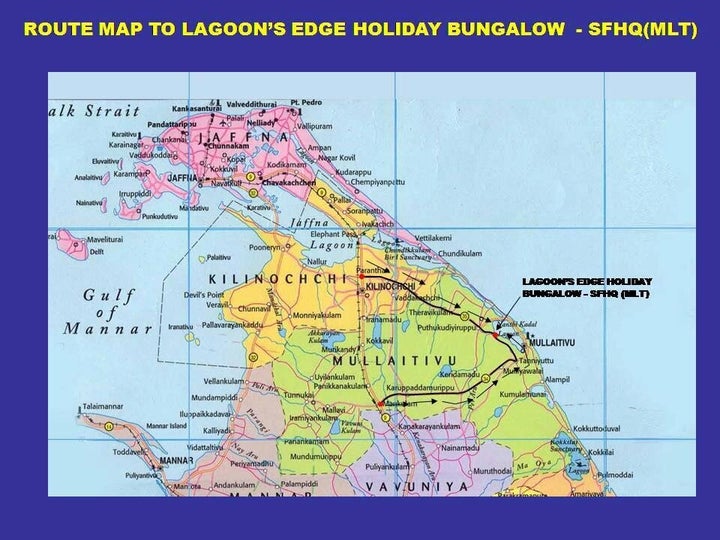 Opened by the Sri Lankan President, Mahinda Rajapaksa, and his brother the defence secretary, the tourist hotel is part of a triumphalist approach to what's viewed as purely a terrorist problem. The victors deny the Sri Lankan military committed war crimes and crimes against humanity as alleged by a UN report. And nearly four years on they have shown no desire to address the root causes of decades of ethnic violence and discrimination.
As if to underline this, photographs of the hotel's opening ceremony show traditional Kandyan drummers performing - part of Sinhala culture - but totally alien to this exclusively Tamil part of the island.
And this luxury teak hotel for tourists from the south of the island to view the spoils of victory must be little comfort to local people who shelter in flimsy tents. According to an article in Time Magazine in May 2012 the UN estimated 100,000 houses were destroyed in the final phase of the war but only 16,000 had been rebuilt.
An International Crisis Group report this year said most Tamils returning home after the war live "in makeshift and inadequate shelters and many struggle to afford food, with few jobs or economic opportunities and little or no savings. Few schools and medical centres have been rebuilt'.
Related