For me, the British Summertime is all about its music festivals. I will be taking you through a tour of the very best things going on in and around London with my first belated entry about the mother of all festivals, Glastonbury. And with one of the greatest acts of all time headlining and a very decent forecast, it doesn't get much better. Thanks to the music day job, we were lucky enough to grab some hospitality tickets which meant we were residing in a small but spacious area up in the hills past the John Peel stage. It really isn't total luxury, but the showers, cleanish loos and access to phone chargers made all the difference. It does, however, come with a pretty hefty price tag and you don't want to miss out on all the real glory and grit of the festival. I planted an extra sleeping bag at my friends' pit on Pennard Hill, so I had the best of both worlds.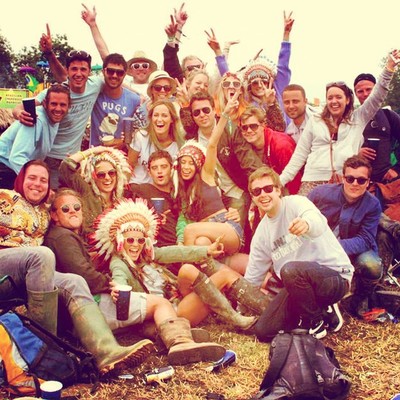 The Glastonbury dream team
Rule number one when packing for a festival is to take the bare minimum. A rule I often forget. Thanks to its a star-studded list of attendees, Glastonbury is often mistaken for a muddy catwalk and so packing light is tricky. One thing I do advise is to steer clear of expensive get-up. The high street stores have upped their game recently with Topshop, River Island and H&M leading the way. ASOS also have an amazing range of clothes and I picked up a nice collection of sunglasses for £12 a pair. Make sure they have a decent UV factor though. There's no point looking through overpriced tinted plastic. If you do like to spend a little more, Mink Pink have brought out a great range of vintage-inspired festival wear, and Bill + Mar (who are a favourite of Rita Ora's) have some stunning cosmic prints in attention-grabbing colours.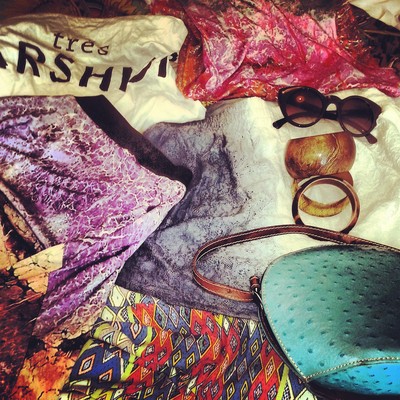 A selection of Mink Pink outfits, Bill + Mar printed jumper and tunic , H&M bracelets, ASOS Sunglasses and Turquoise shoulder bag from a market in Cortona, Italy.
Music is of course the main incentive for Glastonbury, but it isn't the be all and end all. One of my other passions/obsessions is food and there is so much good food at Glastonbury if you know where to find it. Every morning when I crawled out of my tent (usually still fully clothed inc. leather jacket), I dragged myself down to the William Green area to refuel. This was where you could find my favourite food stall designed for Raclette lover's, Le Rac Shack. Ok, it's not your typical breakfast but their combination of melted cheese with potatoes, bacon and baked beans was unreal.
Make sure you plan out your festival schedule. It sounds geeky, but It is impossible to see every act you want to see at the festival and you don't want to be left disappointed. Glastonbury likes to keep it's crowd spread across its 1,000 acres so they will put your favorite acts on at the same time and they won't be near to each other.
On Friday I watched Mercury Award winners Alt-J on The Other Stage. Last year when saw them at Somerset House I fell in love, sadly this set-up didn't work for me. The Foals brought it back, but after a couple of songs we had to head to Sonic stage for Disclosure. They were incredible. For their last few tracks they were joined by two of the best singer-songwriters of the moment, Jessie Ware and Sam Smith. Following an epic finale of "Latch" we headed it was back to the Pyramid to watch the Arctic Monkeys dominate the stage. We also saw a bit of Portishead who I do love, but I felt an imaginary noose around my neck tighten as I listened to the haunting wails of "Roads".
Thanks to a little erm... 'hiccup' with a friend on Saturday I only managed to catch a few acts. Highlights included New Yorker duo, MS MR and then the much-hyped Californian sisters, Haim. Their infectious collection of hits had the whole of The Park stage going. Their perfectly executed harmonies and Dash Hutton's phenomenal drum solo took the show to the next level. Thanks to my 'hiccup' of a friend this is where the party paused for me and I was off to save the day...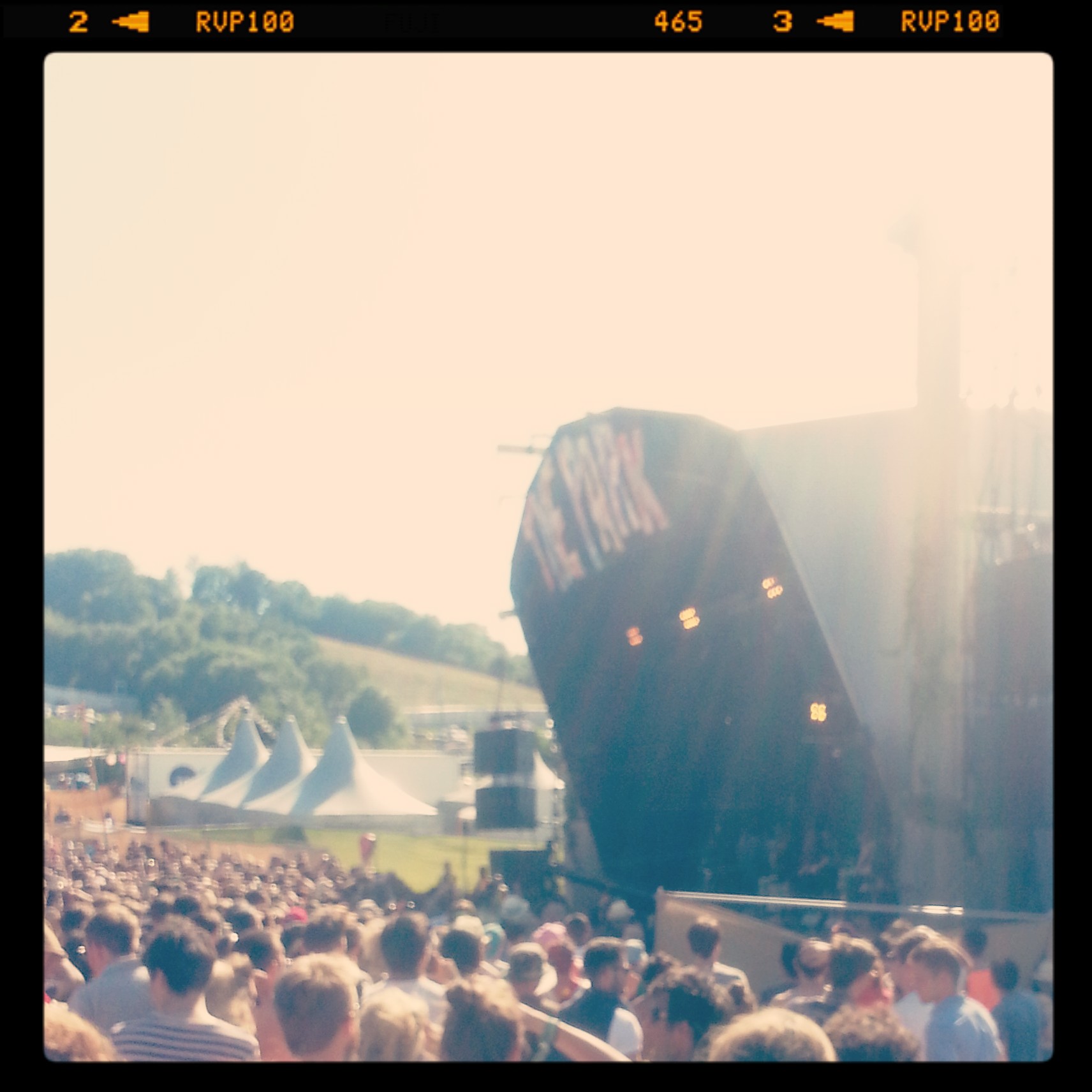 Watching Haim at the Park Stage
A few hours *sigh* I hastily made my way over to the Rolling Stones only fifteen minutes before it kicked off. I was livid. I had missed a LOT of bands I wanted to see including Primal Scream. And, as you can imagine, I was also miles away from the Pyramid stage by this point. Thankfully, when the Stones opened I with "Jumpin Jack Flash" my anger was exchanged for an overwhelming excitement. The atmosphere was incomparable and it will live to be one of my best moments of all time.
Sunday came too quickly, but my wellies still remained wonderfully underused. I spent the early afternoon hours in the Dance Village prancing between Totally Enormous Extinct Dinosaurs DJ Set and another brilliant DJ set by Disclosure. For the remainder of the afternoon we went to the John Peel stage for Jessie Ware's sensational performance which included one of my absolute highlights, her performance of "Wildest Moments". Then James Blake took to the stage. For me, it was the performance of the weekend. "Retrograde" was nothing short of breath-taking.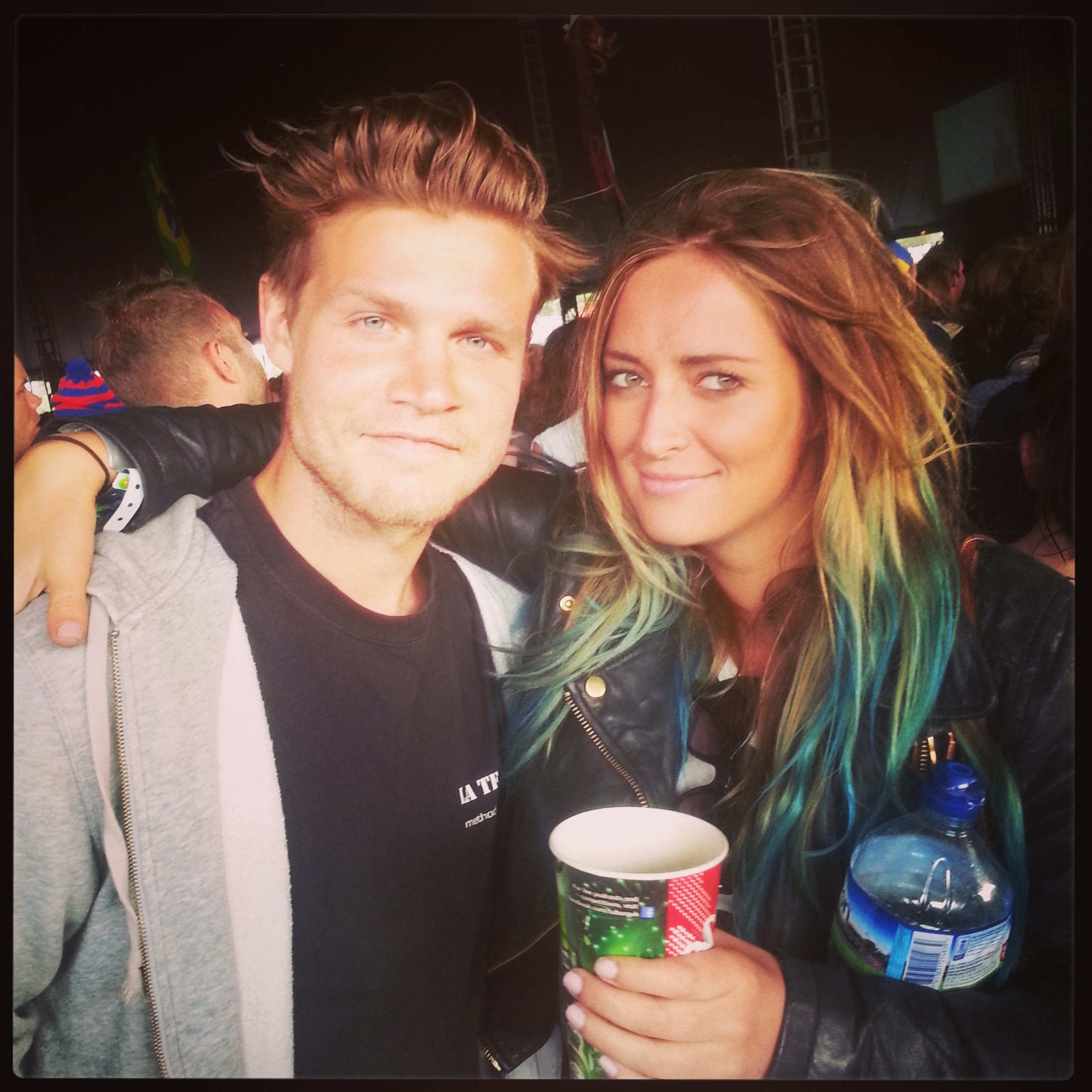 Me and 'Hiccup' at a very packed John Peel stage
Thanks to the perks of hospitality, we managed to see both of Sunday's headliners and we began at the Pyramid with Mumford and Sons. In all honesty I wasn't initially THAT excited to see them, but I was overcome by an indescribable feeling in the air. The whole crowd were going for it, jigging their little hearts out to their folkish delights. It was so good that I booked tickets to see them again the following week. We then headed across to the Other Stage at the sacrifice of their epic finale "With A Little Help From My Friends", but The XX are worth it. They filled me with dark, melancholic joy. The band completed their set with a spine-tingling version of "Angels" and then we headed to Shangri La Hell until the sun came up. I really, really didn't want to go home. It then took a painful seven hour journey to get there.
P.s. 'Hiccup' has now kindly sorted my Latitude tickets so all is forgiven. Pretty much.
Check out my Glastonbury playlist here: http://spoti.fi/11ZZJL6
Francesca Newman-Young is a freelance writer and Music Industry professional based in London. After receiving a BA Hons in English Literature and Language at the University of Leeds, she spent her post-graduate year fighting off other interns at a number of Conde Nast and Nat Mags publications writing about Music, Travel, Technology and Fashion.
She has spent the last few years making a name for herself in the in that most ruthless of industries, Music, while also occasionally appearing on the tellybox.