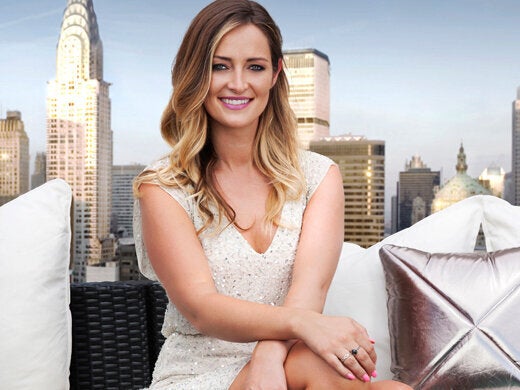 I may have left New York, but I was still keeping tabs on my Chelsea pals and especially on my roomie, Binky. Alex made the right decision leaving New York, and with the support of her sister, AL, Alex will soon be a faded memory.
We all like it when the underdog wins and it looks like Spencer's been defeated in the battle for Billie. He may have scored the initial first date, but it was Stevie who sealed the deal with the first kiss. Spencer then managed to nab a second date and pulled out all the stops; champagne, caviar and some cheesy French chat. This time he bagged a kiss and it left Billie unsure which of our Chelsea boys to choose. Carson's solution? In the wise words of my personal oracle, Cher, "If you wanna know if he loves you so, it's in his kiss", and Stefan (Stevie's NYC alias) cut the mustard. Don't ring those wedding bells yet though. The teaser for next week's episode suggests there's a Stephanie Pratt shaped spanner in the works. Don't worry, Billie, I also believe in love after love.
Our American lady stole the affection of all our boys, but how are the American lads doing? Alik seems to be winning over the affection of Louise. He has his own successful leather business, he's funny and charming albeit with a touch of eau de camembert. On the other hand his friend Jules, who is courting Rosie, is just full on stinky bishop. He takes Rosie on a date and when she talks about going cupcake shopping with her Mum he calls it "hilarious". Hmm. He later describes himself as a "lesbian trapped in a man's body", "emotional", "sensitive" and a great catch as he doesn't "objectifiy" women. There's also another teeny, tiny thing he's failed to mention. Oh, he's polyamorous. He lives with his beautiful model girlfriend of three years, but he's seeing a few other ladies and they all have each other's phone numbers. Oo-er. When the cat is let out the bag Rosie goes to town on him. Her main point was that he wasn't truthful from the get-go. Fair enough, but Jules claims it's hard to be honest as the polyamorous community are "misunderstood". Then he clears it up any confusion by branding himself an "ethical slut". Nicely clarified. I suppose there is something to be said for being polyamorous. It's better than cheating, right? It's just definitely not Rosie's cup of chai.
Next week's episode suggests that Alik and Louise are continuing their romance and I'm really excited for them. The only issue is with holiday romances is that they usually come to a pretty speedy and messy end. The teaser also shows that Spencer is not ready to back down on the battle for Billie, and with Stephanie returning on the scene will she change her mind and revert back to our bad boy? I can't wait for it all to unravel on Sunday.