Well last night got heated! Not one, not two, but three people crying (and I'm not a pretty crier). So why did I stay in Sam's bed that night? I didn't think it was a problem as I thought Sam and I were good enough friends and I didn't know about Tiff. In hindsight, it wasn't the best idea. Time machine anyone?
When Lucy called me to meet her and Tiff I thought they already knew the nitty gritty details. I was shocked to learn that Lucy and Tiff heard that Sam says I'm "obsessed" and "makes me out to be a freak". It was something he then denied to me, but Lucy is usually honest and had no reason to lie. It was horrible seeing Tiff so hurt. She clearly has developed feelings for Sam. Luckily, she has Lucy as a sister. I think Lucy acts beautifully protective, but she also allows Tiff to make her own decisions moving forward with Sam. Let's hope Sam proves his worth to her. With Lucy and honorary sister Steph at her side, I wouldn't want to be him if he doesn't...
Without thinking, I dropped Binky in it. I was focusing more on the Sam and Tiff situation and let it slip. Hopefully we will rebuild our friendship, but you will see how that goes over the coming weeks.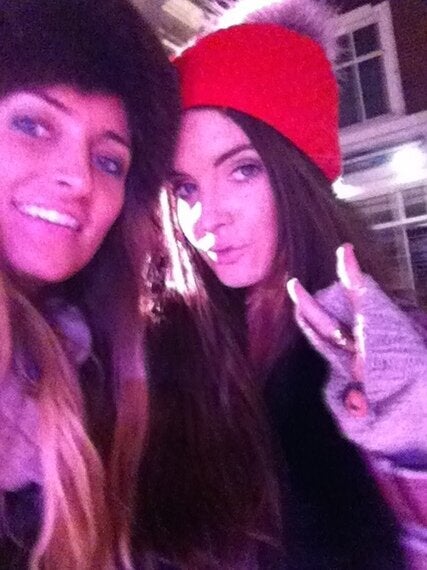 Ice Skating at the Bluebird last year
Jamie's trip to France was cheese, wine and a large slab of boeuf. Louise is still unhappy with Alik and Andy's bromance and Rosie has somehow got caught up in it too. The circumstance is a little strange, but Alik's right that he has the right to be friends with Andy. Hopefully it won't affect his relationship with Louise. It doesn't look like Andy and Rosie are going to be friends any time soon though.
Next week we see the return of Spencer and a new lady, Lauren Hutton. She's very pretty, and by the looks of the trailer she is no wallflower. Will she be the one to tame him? You'll have to wait and see. Either way, next week's episode won't be drama free.
The best way to distract yourself from the stress and drama? Plan a festive party! Olivia and I have some of the best, simple recipes to get your party started with a bang. I've also picked some of my favourite outfits from the highstreet in my latest episode of High Street Edit for Pose.
Popular in the Community