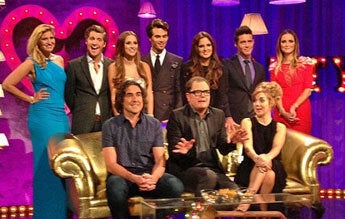 If I was Andy, I think I would've picked a location to meet Spencer with less weapons close to hand, but there was no physical attack. Instead, Spencer shot Andy down with claims that Louise hadn't been totally honest with Andy. How kind of Spencer to be looking after his new friend's best interest. Hmm. Andy's response to Louise? Wishing he could hit the 'delete' button. Ouch.
Monday was also the first time I saw Alex and Binky's country escape. I love Janey Felstead. Hilarious. The apple definitely doesn't fall far from the tree, that's for sure.
Remember how I said not to trust Jamie for relationship advice? Yeah, I'm not sure he's the best wingman on a double date either. "Who's the best kisser out of Lucy and Binky" - I mean really, really!?
Then there was the awkward and very reluctant confrontation from Binky to Lucy. I think the fight was bound to happen at some stage. I don't think Lucy meant any harm when she said she shouldn't have picked Spencer over Alex. I think it was actually her way of saying how good Alex and Binky are together. That said, I think it was good that Binky hit the nail on the head to dispel any insecurity.
The episode also saw Rosie launched her beautiful 'dreamy' jewellery collaboration with designer Laura Gravestock. I love the collection, particularly her midi rings and the 'dreamy' earrings.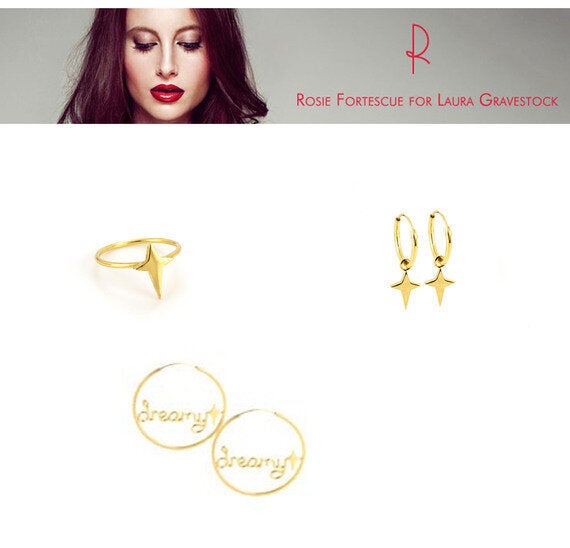 Unfortunately the event quickly went downhill when Phoebe arrived. Sadly, most of us have a catty side just waiting to hiss and scratch its way out, and that's exactly what happened when she arrived. I was fed up of being civil and diplomatic, and instead foolishly opted for an immature school-girl approach. It made everyone uncomfortable. Looking back on it, I'm not sure my reaction was totally deserved, but I was really hurt by her behaviour in the past.
Last thing I have to comment on was that chair push. Oh, poor Andrea! Andrea is an old friend of mine and an absolutely wonderful person. Louise saw red and obviously didn't know what was going on between Andy and Andrea. Awkward.
My outfit from the tea party was a Felder and Felder cosmic print dress. It is so flattering and looks amazing dressed up or down. My outfit from the jazz club - blink and you might miss it - was a Paul and Joe sister dress with a cat printed on it (how apt.)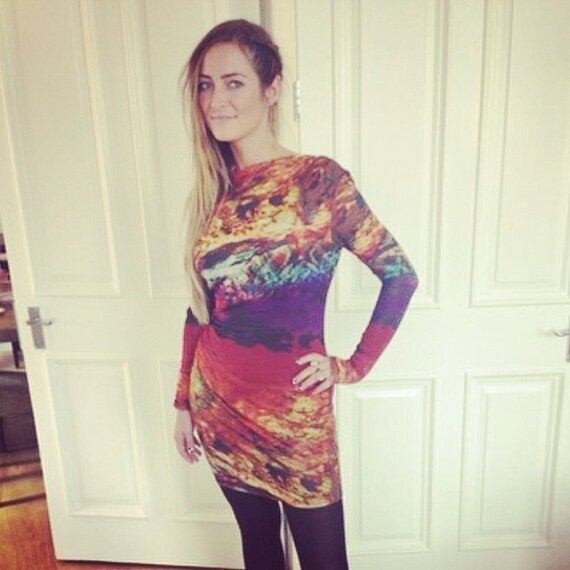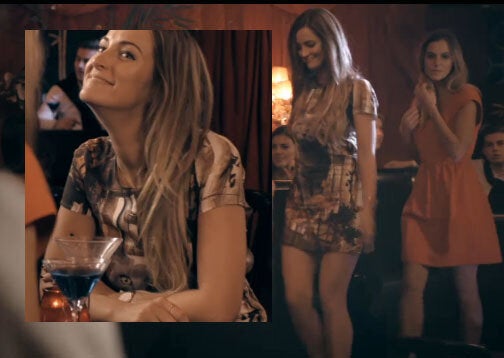 Like the cat who got the cream
Being the sister of a make-up artist I pick up a few Golden Rules and these were the products I wore from the episode:
Shu Umera UV base in Beige. Having a base, means that your make-up will last so much longer. This one comes out as a mousse. It's easy to apply and has a great finish.
Chanel Vitalumiere in Beige. Hands down the best foundation. It's like silk on your skin and adds a gorgeous glow.
Chanel liquid eyeliner. If you have a bit of a tremor (like me). This is a great eyeliner as it's easy to control for a defined fine line.
Nars Bronzer in Laguna. I have used this for years. It's not too dark and gives your skin a golden glow.
Mac Lipstick in Shy Girl. This is the lipstick I wear the most. It's moisturising, glossy and a great colour.
As it's starting to get chilly, I'm also taking a lot more pride in my beauty regimen.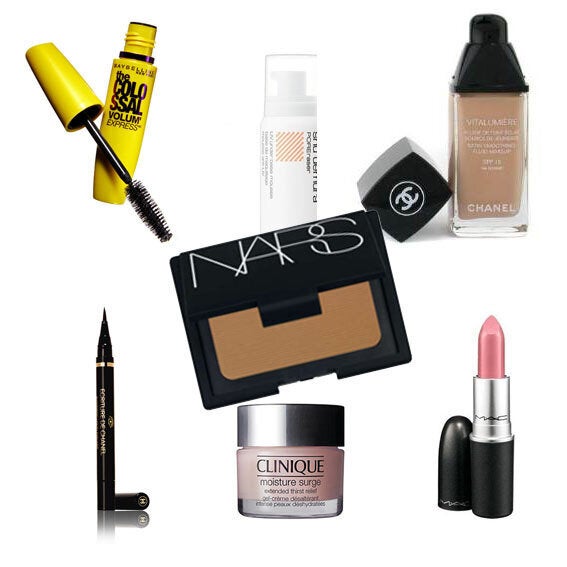 I highly recommend Clinique's Moisture Surge products. I've been using their overnight cream once a week and their cream underneath my make-up daily. Their lip-balm is also phenomenally good. Drinking plenty of water to balance all those morning latte's is a good idea too.
In other news, last week our Fabulous Magazine shoot went out. I really enjoyed the shoot and was lucky enough to wear some stunning Amen dresses paired with some cool River Island accessories.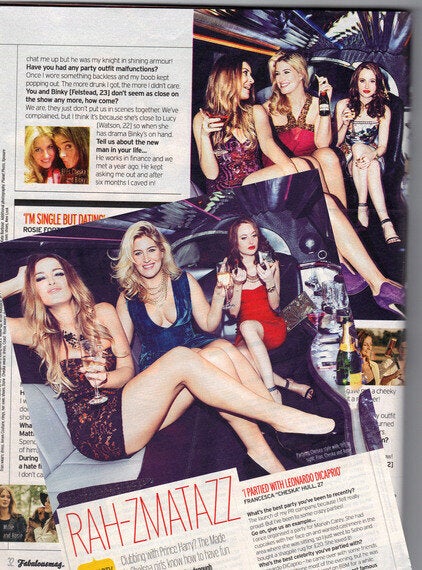 This week we also filmed Alan Carr's chatty man. It was the first talk show I've ever been a guest on. I was pretty nervous, so drank my shot of tequila very quickly! I was lucky enough to meet the uber talented Sheridan Smith who's soon to be coming on a night out in Chelsea with Cheska and I. Bastille were also there to perform. They are very funny and genuine guys. At one point the Made In Chelsea team were rushed back from the Green Room to the Studio and I somehow missed the doorway and walked into the door frame. In front of all of them. Smooth. Hoping they didn't see (they definitely did). The boys performed their incredible new single 'Of The Night'. If only you could've seen Cheska, Sheridan and I dancing and singing along in the corner. Actually, probably best that you didn't. The other guest was comedian Micky Flanagan. I saw him at the O2 recently and was in stitches. True comic genius and an absolutely lovely guy. I'm feeling very gratious and lucky at the moment. What a week!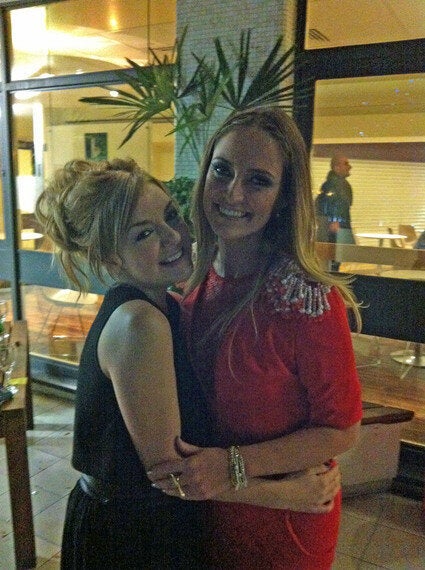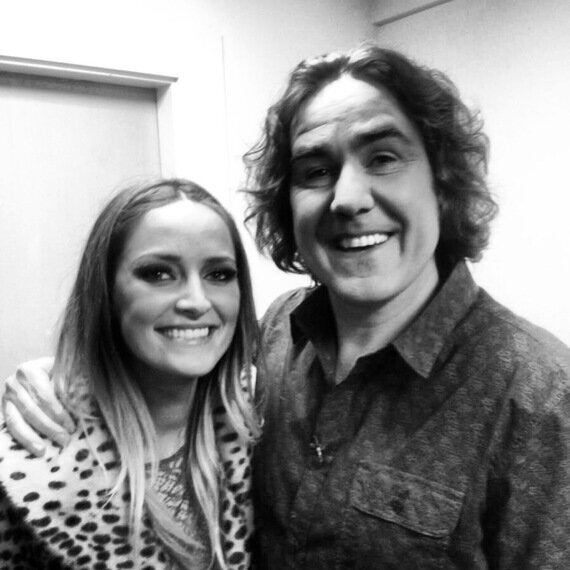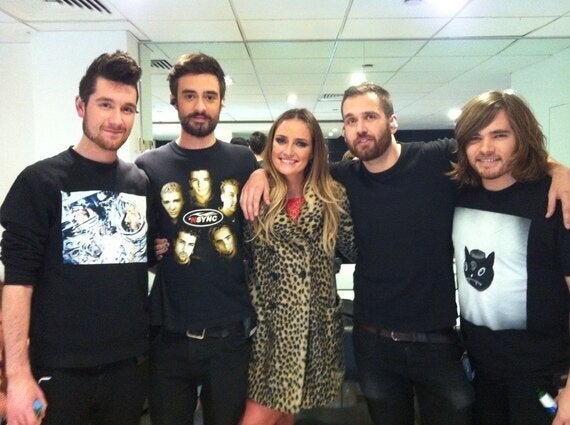 My outfit from the show was Judy Wu, Shoes by Pretty Little Thing and earrings/rings by Daisy Knights and silver & gold charm bracelets by Chlobo.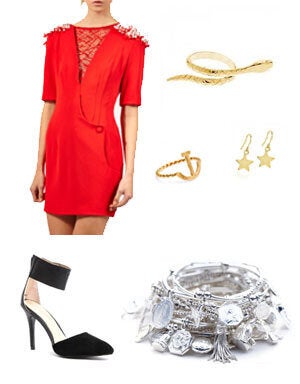 Related