I was excited to read an article on the Huffington Post, as part of the Reclaim Campaign, about American artist Cara Marie Piazza recently. The article was talking in particular about her project of recycling organic scraps to dye naturally on fabrics. It's great that natural dyeing is getting some mainstream exposure. I have been talking about this since I founded my own quarterly publication, No Serial Number Magazine, over one and a half years ago.
A couple of years ago, when I attended an eco printing workshop by good friend and artist, Michela Pasini, I was left amazed by the results that could be obtained by only using natural materials. Her workshop was even more special to me because Michela is the type of person who hates waste so at the end of the four-day workshop, she loaded the water that was left from the workshops in her car to reuse for her next project. I thought that was pretty impressive.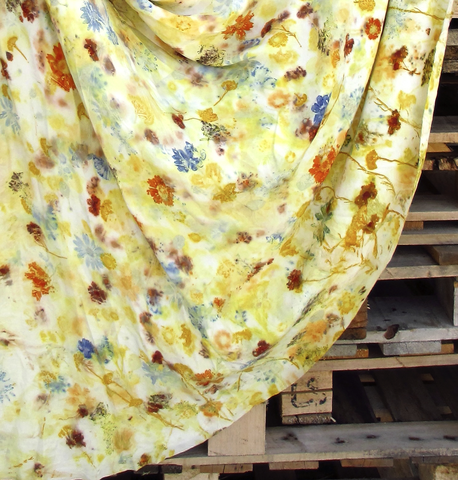 Photo Credit Michela Pasini
Since then, I have been on this fascinating journey to learn more and more about the natural dyeing and eco-printing processes and especially the values that lie behind these techniques. What I did at the time was going online and researching as many eco artists and artisans on social media as I could find. Of course, an obligatory step was to find out more about one of the main exponents of the eco-printing world, Australian artist India Flint, and so I got in touch with her for an interview. During the interview, India explained to me how this technique came to dominate her work because it gives 'such beautiful results using so few resources'. When I asked her about the future of eco-printing, India replied that it "has great potential both for personal work and even on an industrial scale, using for example waste products from the cut flower industry". For anyone who knows India's work, she also is an avid upcycler: she would rather transform an old piece of cloth than throw it in the bin!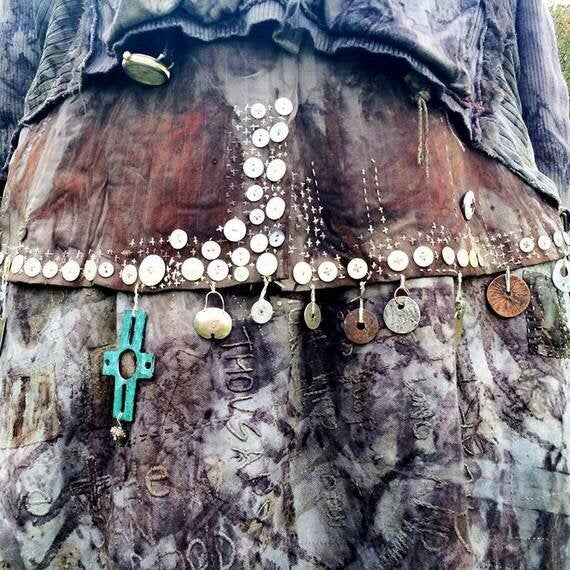 India Flint's apron - Photo Credit Justine Aldersey-Williams
Eco-printing and natural dyeing have since become one of my main interests when deciding what to feature in my magazine. I have met so many different textile artists and designer that I am not only spoilt for choice but also often overwhelmed by the amount of different ways independent artists incorporate sustainability in their work. Most recently, one of the eco print artists I met through social media, textile artist Rita Summers of Gone Rustic Studio & Gallery, also reached the mainstream when her eco dyeing on silk chiffon was used by designer and maker Rudolf Stefan Ramseyer (aka Rudolf Couture) to design a dress for Miss Universe Australia.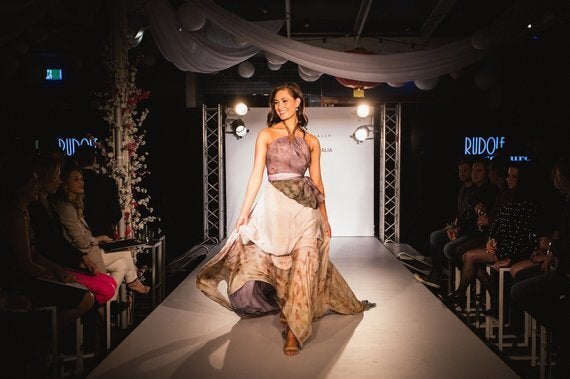 Designed and made by Rudolf Couture - Photo Credit Jarred Seng
Lately, I was lucky to learn about the fabulous work of textile artist Caroline Nixon. Caroline was kind enough to let me borrow some items from her collection for a photo-shoot. She uses eco-printing and natural dyeing combined with the shibori technique to create the most beautiful designs. She usually upcycles and dyes the clothes and textiles that she finds in charity shops to make jackets, coats, dresses, t-shirts, shirts, and scarves.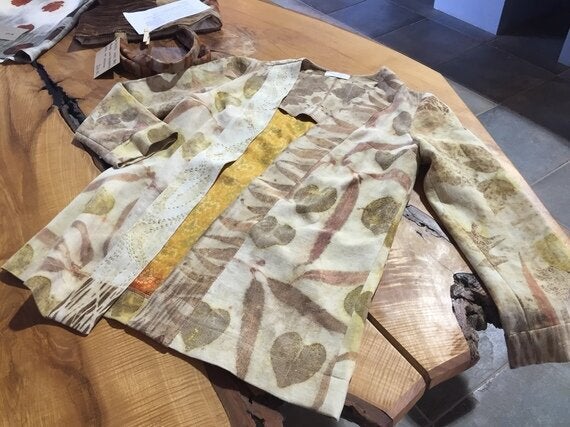 Caroline Nixon's work - Photo Credit No Serial Number Magazine
I am currently working on drawing up the results of a survey I did with 150 eco-printers in which I try to find out what kind of materials these artists use, where they learned the techniques and how sustainable their practice really is. I'll share a snapshot of these results here on this blog in the near future.
Related