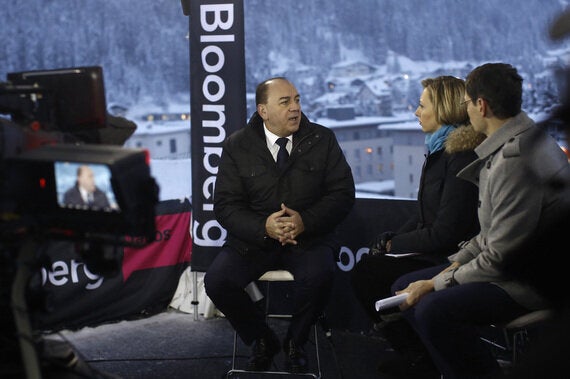 I've covered Davos for a decade and never before have I walked onto the set to such a swarm of breaking news: oil hit a new low, terrorists murdered 20 Pakistani university students and global stocks are on the brink of a bear market. There's an anxiety in this freezing air; a general malaise that is pervasive and palpable.
The list of geopolitical problems is long (volatility in the markets, IS, Saudi Arabia and Iran), but it still feels like something else is coming. We just don't know what that something is.
Oil is a good place to start. The plunging oil price is far and away the dominant issue at Davos. My colleague Javier Blas points out that the somewhat optimistic "how low will it go" has evolved into "a lot lower for a lot longer." Oil expert and IHS Vice Chairman Daniel Yergin told us "the supercycle is over... that incredible boom the Chinese economy... we're back to 2003."
Take Thursday's ECB announcement. If the news is negative, there's little to no chance it could afford another bail out. Or China and its sagging GDP. The CCP's attempt to stave off losses for private equity investors sent a chill through global markets. UBS Chair Alex Weber took it one step further in our interview saying it's "not just China" other emerging markets also have "policy credibility issues."
Each year, WEF polls 750 experts on the "greatest risks" facing regions around the globe. For the first time ever, failure to deal with climate change topped the list, which ranged from weapons of mass destruction to migration flows to energy price shocks. As my colleague Mark Gilbert points out in his excellent Bloomberg View column: "there's plenty to be anxious about in the world at the moment, from terrorism to the ever-present threat of a pandemic. What's disturbing though, is how splintered the world's worries are on a regional basis."
Without leaving you with too bleak an outlook, it's worth pointing out that some in the market think a hard landing for China is overblown. These include Nobel laureate Joseph Stiglitz and Credit Suisse CEO Tidjane Thiam. Another bright spot: the EU is still together and its consumers are buying. People who feel richer spend more - even if their wages aren't growing. And that means, for now, inflation's at bay.
NOTE: Two panels worth watching: Where Is the Chinese Economy Heading? with five guests including IMF Managing Director Christine Lagarde and ICBC Chair Jiang Jianqing. The second Future-Proofing Global Finance with guests including Blackstone CEO Stephen Schwarzman and Bank of America CEO Brian Moynihan. We'll discuss the rise of technology in the markets and how best to shock-proof the system. Watch our Davos coverage live at bloomberg.com/live.