We need a new hashtag. We need a new campaign.
This was just one of the great ideas sparked by discussing women in technology - and the lack thereof - at a series of recent events I was fortunate enough to help moderate this month.
It was in fact Sarah Drinkwater, Google London's Head of Campus who came up with the new battle cry: let's generate excitement for STEM subjects, let's give it a new vibrant image with a kick-ass ad campaign, in the same way #ThisGirlCan has for sport.
Drinkwater joined a line-up of inspiring women in the technology sector at a panel hosted by Bloomberg at the Southbank Centre's Women of the World Festival earlier this month. Baroness Martha Lane Fox, co-founder of Lastminute.com and Anne-Marie Imafidon, founder of Stemettes - an organisation focused on getting female students interested in technology - also sat on the panel to help articulate why there aren't enough women in STEM subjects, why this is a problem, and what we can do to correct it.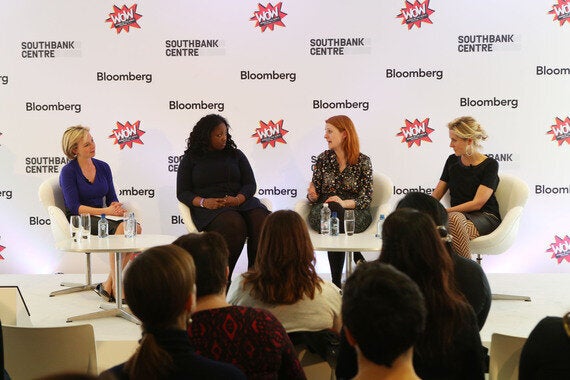 For Imafidon, it is a question of getting out there, inspiring young females with great role models. But it's also about making STEM a core part of the UK election agenda. In fact, she called for an annual STEM literacy test for policy makers to prove our politicians not only talk the talk about improving our digital skills, but also walk the walk.
Lane Fox was particularly passionate - declaring us in "absolute crisis". She pointed out the internet has been - and continues to be - 90% created by men, creating a world where products are not designed with half the population intuitively in mind. The example she used was Apple's HealthKit app. When it launched last year, it could track almost anything...except a woman's menstrual cycle. Lane Fox asked how the omission could have gone unnoticed by its design team, answering: "Because the team didn't have a single female developer on it."
What about the controversial question of quotas? Lane Fox thought, yes, they could be useful to get more women into tech roles but fellow panelist Imafidon disagreed. Instead, she called for a more "subtle" approach and highlighted the need for more forward-thinking men willing to shine a light on the imbalance. She used Larry Hirst, former Chairman of IBM EMEA as an example. He asked all managers hiring to their teams to get in touch with him directly if - out of all their new hires - not one was female, just to explain why. Not an attractive prospect for any manager, I'm sure.
One area of clear consensus was women can no longer just talk to other women about tech's gender imbalance. We need men to join the discussion to move it forward to action. And so to the next panel where a male voice did add to the debate.
That voice belonged to the aforementioned Larry Hirst, who spoke at the Advancing Women in Technology event hosted by EveryWoman this week. It was here I moderated a discussion on the benefits of mentors to ensure technology companies reflect our diverse society a little more realistically. Everyone should seek out mentors - advisers, who can challenge and support you, said Hirst. Be bold, go out and seek advice from those you admire and that backing will never stop - he too still meets with his mentors, one now aged in his nineties!
Hirst had clearly done a good job providing sage advice himself, as he had been invited to take part in the panel by Melissa Di Donato, Area Vice President EMEA and APAC at cloud computing company Salesforce.com, who said she had depended upon his guidance to help navigate her career in technology. But we should not limit ourselves to one key mentor and so Di Sonato had also invited another adviser - this time Salesforce.com, Chief Adoption Officer, Polly Sumner to join her on stage as well as her own mentee Francesca Bowen, Director of Strategic Communications at socially responsible start-up Paloma & Angostura.
All participants had great insights in to the benefits of both having and being a mentor. But they were clear it is not a relationship you should take lightly. Bowen comes to meetings with Di Donato with a list of questions. She sets the agenda so key questions are asked and necessary advice given. And it might not always be advice you want to hear. As Sumner described, some of the most rewarding times are when you've challenged a mentee - forced them to ask harder questions of themselves and, in so doing, steered their career along a different course.
So the advice was clear for all those women working in tech already: go out and network. Acknowledge where you are dissatisfied in your career, where it is you need advice - whether it be work-life balance, whether it be on how to get a promotion - and find the person who can help you in that situation. Nurture that relationship for the long term and then go out and inspire others yourself. Inspire young women to build tech companies for the future that represent the society in which we live. Because #ThisGirlCanDoTech.
Related