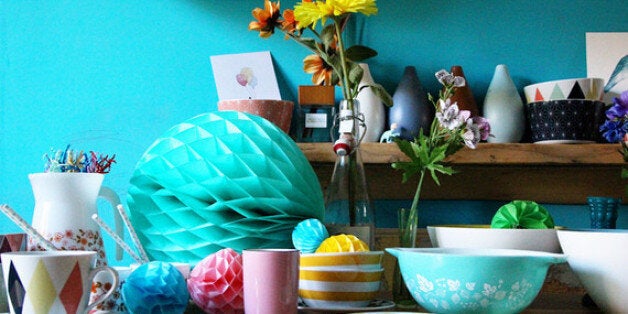 Every bank holiday my neighbours and I, in our cul-de-sac, always throw a street party. Each of us will bring a dish and a bottle and set up chairs in the street. What often happens, however, is that half an hour into our party the heavens open and it begins to rain. That being the case it's always handy to have an indoor space as a back-up.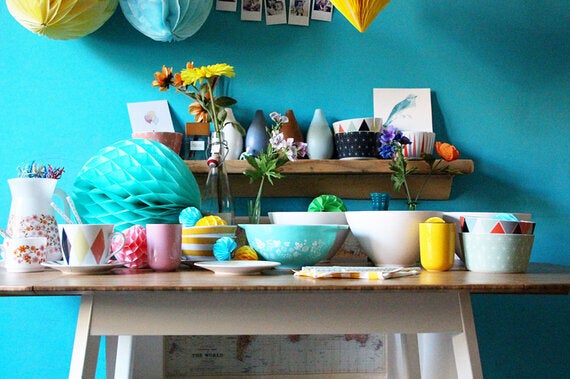 My two year old son and I quite regularly throw tea parties in our living room so this is just entertaining on a larger scale. I love using mix match kitchenware in lots of bold and bright colours, and there is something so very cheery about cake served on non-matching plates.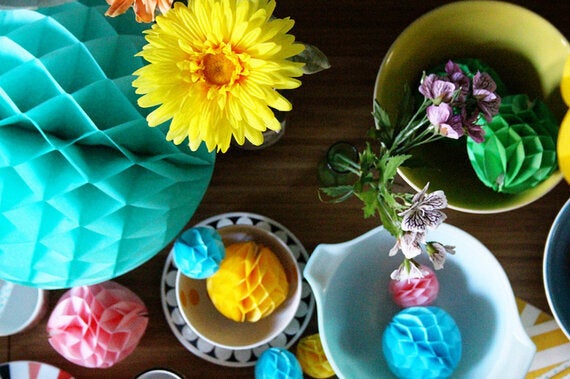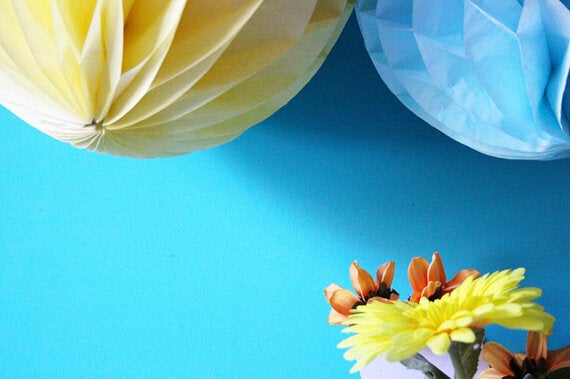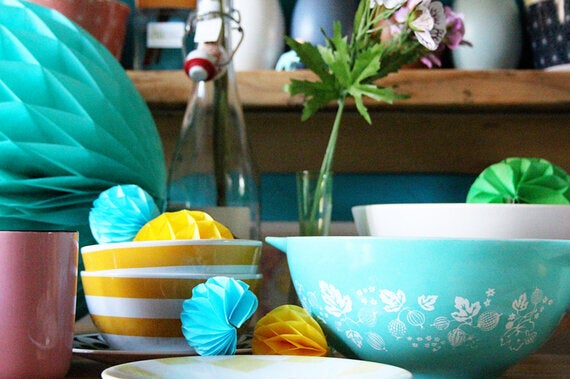 My top tips to get the home ready for Bank Holiday entertaining have to be:
Flowers are always a great idea when entertaining but I often cheat with fake flowers so that they can be dotted around the house all the time, lots of them look so real these days and I hate seeing a wilted flower!
Go big with decorations, I love these simple paper balls hangings and I really think they make the space.
By adding small touches like colourful straws and napkins it can really tie in a theme especially when the rest of the items are mix-match and colourful also.
When entraining in our home we like to throw cushions and blankets on the floor to create a more relaxed space and leave the dining table as a buffet type area.
It's also a good tip to try and take as many unnecessary items out of the room you are entertaining in; we often clear a shelf of books to make room for people to place their drinks.
With entertaining over the Bank Holiday weekend I tend to keep it to day time hours which helps in terms of lighting. However, if you are planning an evening get-together then fairy lights and dim lighting is perfect for a cosy casual. There's nothing worse than a glaring bright light at a cocktail party or dinner.
The most important thing I feel about entertaining at home is to just be relaxed! Make sure you're not stuck in the kitchen, keep things easy and fun so you are able to relax and enjoy yourself too!
Find more party ideas on my blog