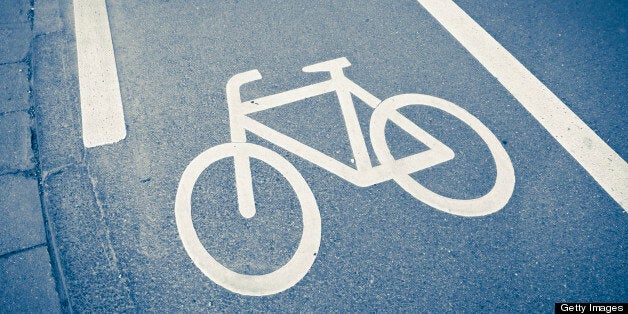 Nearly a quarter of all vehicles in London's morning rush hour are now bicycles according to Transport for London but despite the increased popularity of cycling, the sport has long suffered from a lack of female participation; according to British Cycling, of those people who cycle in England once a week, only 27% are women but this number is rising, and the number of female bicycle commuters has increased by 40% since 2008.
The barriers to women accessing cycling are numerous and complicated, with safety and cycle-friendliness often being cited as major concerns. It's no coincidence that in the top five cycle-friendly nations in Europe, the number of bike trips made by women is around or above 50%.
Women can often feel intimidated by the bicycle industry and the lack of products designed for the diversity of women's tastes. Whilst you can find a huge amount of blogs by all sorts of female bike enthusiasts - vintage "cycle chic", off-road adventurers, triathletes, fixie buffs, why is it that so many items on sale for women in bike shops are pink, purple or floral? It is important for women to have a bike that fits them well, but do we really need floral patterns? Will floral patterns help you beat last year's triathlon time? I didn't think so.
When I bought my first road bike the only one in my price range was black with bright pink stripes along it. "I guess you could cover up the pink stripes with a black marker pen?" was the helpful suggestion of the sales assistant. So I did. Whilst I like the stylish touch this has given it, it would have been nice if there had been "gender-neutral" options available for me to buy. Then there were the pink cycle shoes which were the only ones I could get at short notice for less than £100 (yes, bike gear is expensive). I've only worn them once, at a horrific 100 mile cycle event in which I experienced the painful awkwardness of being one of the only females in a pit stop of 50-odd lycra-clad men talking about isotonic gels whilst I stood alone eating my Kit Kat in my pink shoes.
Triathlons and a lot of major sporting events typically have only 36% female participation, wouldn't it be nice if the women taking part weren't forced to wear pink (unless you want to obviously) to make them stand out even more?
I'm not saying all cyclists should start dressing like men, but it would be fantastic to see as many jersey designs, bicycles, races and cycle groups available to women as are to men. Britons now spend more than £1.5 billion a year on bicycles; if women currently make up 27% of all cyclists and their participation is growing, it's time for bicycle manufacturers to adapt and embrace this new generation of female bike riders and see them not as one homogeneous group but as bicycle consumers who all enjoy the sport in different ways. If you look hard enough you can find companies offering women's bicycles and kit to cater for all kinds of cyclists, but you won't find these in your high street bike shop.
British Cycling claims they are on track to achieve their ambitious vision of 1 million more women cycling by 2020. Their strategy has involved introducing female-friendly races, and encouraging women to take part in personal challenge rides known as "sportives". Despite these efforts, earlier this year the Stockton Sportive in partnership with British Cycling produced this promotional advert which reads: "Sarah's shopping in Stockton with the girls. I'm signed up for Stockton's Sportive. That's Saturday sorted." It was later withdrawn by Stockton council after accusations of sexism: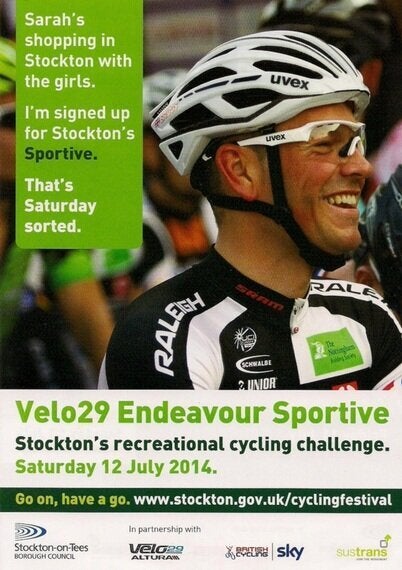 This advert projects an image of cycling we're used to seeing, a white male in expensive-looking cycling gear. Not a great way to encourage wider participation in the sport.
As perfectly illustrated by in this Wiggle "Perfect Day" advert, women are all too often shown as accessories in cycling. The most famous cycling race in the world, the Tour de France, does not allow women to participate in the full 23 days of the Tour. Therefore the only time we ever see women appearing on the podium is as podium girls or "Tour Hostesses" as they are formally known, their role is to present prizes and kisses to the male winners, a job which hundreds of women apply for each year. Tour Hostesses are not allowed to interact with the cyclists apart from the kiss on the cheek, but if you're lucky you may get your bum pinched by Peter Sagan, as happened in last year's Tour.
Don't get me wrong there are some brilliant female role models in cycling, great resources available to female cyclists, inspiring blogs, wonderful fashionable and practical items specifically for women, but you often have to search for them and it can feel like an overwhelming amount of information. All this can be intimidating for someone wanting to take up cycling for the first time.
It would be great if we could remove these barriers and if the bicycle industry would take into account that shrinking and pinking it isn't a suitable strategy if you want to increase women's uptake in cycling.