Awards Season is a divisive time in the film industry. At a time of celebration and congratulation on the outstanding achievements by leading filmmakers, there will always be discussion of those whose work has been overlooked, controversy over voting strategies, and debates of whether it all means anything at all anyway.
This Sunday the Oscars takes place: the most glamorous and widely watched of them all. And while the winners' names will remain snug inside their golden envelopes for a few more days, one fact is certain: most of them will be men. With no women nominated for Best Director, Best Editor, Best Cinematography or Best Original Score, you can be certain this is no wild stab in the dark.
"All awards suffer from a lack of representation of all types, across all the areas of filmmaking. I genuinely believe the real value of awards is for recognising the work of short filmmakers and debut directors in helping to secure future funding for their films."
However, if women aren't getting recognition for their work, where does that leave the question posed by Gloria Steinem in documentary, Miss Representation - "if you can't see it, you can't be it"?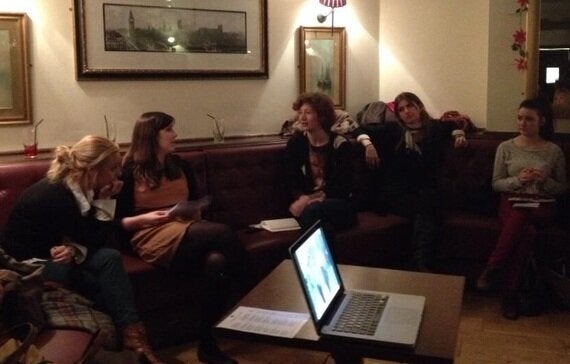 l-r Rachel Hirons, Nia Childs, Gabriella Apicella
So for fun, to make a point, and just because we could, UnderWire Festival and Euroscript joined forces this week to announce some winners of our own. We asked Nia Childs of Women in Film and Television, and Rachel Hirons, writer of the movie Powder Room to join us with their thoughts, and we revealed our own list of nominees and winners, asking people to vote with #WomenTakeoverOscars
Euroscript nurtures screenwriting talent, and is committed to improving the standard of screenplays reaching production. UnderWire, now in its 5th year, recognises the work of women filmmakers in any genre of short film, rewarding achievements in Directing, Producing, Writing, Editing, Cinematography, Sound Design and Composing. Drawing up a list of nominees along UnderWire's own categories demonstrated fairly quickly that, while in a couple of areas, most notably Sound Design and Composing, things are extremely depressing for equality, elsewhere fantastic work by women has most certainly been overlooked.
If a film has been overlooked by awards organisers, it will undoubtedly be overlooked by a cinema-going public, and yet among the list below are some exceptional achievements, omitted from the major awards shortlists, which deserve consideration.
As has been experienced directly by Rachel Hirons with her debut feature Powder Room, whilst every step of filmmaking requires a passionate struggle, even once it has been completed there comes the ultimate challenge of finding an audience. Strong reviews, excellent casting and a searing script are no guarantees. In the competitive world of distribution, with assumptions that only women will watch films about women, a film's success can have as much to do with the marketing budget as it does with quality. Thankfully, Rachel remains both philosophical and inspirational:
"There are a million things you can't do anything about, but if you look hard enough there are a million things you can. Even if that is simply acting headstrong and promoting yourself way beyond what you're comfortable with: pain, embarrassment and everything that goes with it is temporary. Film lasts forever."
We also announced a winner for the XX Award, which is unique to UnderWire and recognises interesting onscreen representations of women. The past year has been exceptional in that regard - though it will be better when it no longer draws comment, and the point does not need to be made that the skills of women should be acknowledged.
#WomenTakeoverOscars nominations. Winners in bold
Clio Barnard, The Selfish Giant
Haifaa Al-Mansour, Wadjda
Jeanie Finlay, The Great Hip Hop Hoax
Clio Barnard & Tracey O'Riordan, The Selfish Giant
Signe Byrge Sorensen & Anne Kohncke (with Michael Uwemedimo), The Act of Killing
Sara Woodhatch (with Richard Linklater), Before Midnight
Alison Owen (with Philip Steuer and Ian Collie), Saving Mr Banks
Tracey Seaward & Gabrielle Tana (with Steve Coogan), Philomena
Rachel Hirons, Powder Room
Clio Barnard, The Selfish Giant
Haifaa Al-Mansour, Wadjda
Amy Jump, A Field in England
Kelly Marcel, Saving Mr Banks
Thelma Schoonmaker, The Wolf of Wall Street
Alisa Lepselter, Blue Jasmine
Rachel Morrison, Fruitvale Station
Reed Morana, Kill Your Darlings
Natasha Braier, Chinese Puzzle
Lora Hirschberg, Enough Said
Gwendolyn Yates Whittle, Oblivion
Laura Rossi, Song for Marion (aka Unfinished Song)
Deborah Lurie, Safe Haven
XX Award (for representation of female characters)
Blue is the Warmest Colour
The Hunger Games: Catching Fire
Popular in the Community