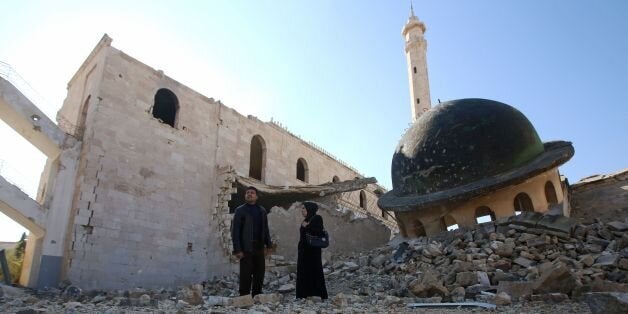 "Assad gave people in Aleppo only two choices. Either to go back to his control, or to die by bombing. We will not be back again to Assad's control. Death will be a favour for us, the best choice for people who are living here. And this is what Assad wants."
--Abdulkafi, teacher in eastern Aleppo
When Tamerlane besieged and took Aleppo in 1400, legend has it that he had a pyramid of 20,000 skulls of his victims erected outside the city, as testimony to his vengeance. No doubt Bashar Assad would have approved of such savagery. The world is right now bearing witness to the attempted annihilation of eastern Aleppo.
Aleppo has been in the news for months, but the brutal reality of this humanitarian catastrophe has never been as bad as this. Simply put, the Assad regime and its backers are trying to turn eastern Aleppo into a coffin.
Over the past week, Aleppo went from terrible to even worse. An area of up to 250,000 civilians has been and is being relentlessly bombarded by the Assad regime like never before. Every hospital has been bombed out of service. There are barely any medical supplies left. Official food stocks have run out. Fuel is running out as temperatures plummet into winter. Water supplies are low.
Death is everywhere. Hundreds of people die every day. Some are hit by barrel bombs; others die from injuries that, with proper medical supplies, would have been treatable. The exact numbers are impossible to calculate.
Wissam, also a teacher in eastern Aleppo, told me: "The most painful thing now we are going through is not being able to even tell you the number of casualties every day. When death becomes this heavy, no one can even record the numbers. People are sometimes even killed in the graveyard; they go to bury their children, and they get killed there."
There are no functioning hospitals in eastern Aleppo, leaving nearly a quarter-of-a-million people suffering injuries with no proper medical facility to go to and less than 30 doctors surviving to treat the wounded. Besieged eastern Aleppo has not been reached by UN aid since the beginning of July. Those who have survived barrel bombings, injuries, or regime arrests will soon risk dying of starvation.
"We lack everything. We lack medicines, drugs, anaesthesia, food for the patients or for the doctors, oil to produce electricity, baby milk. We lack anything and everything," Dr. Abdulkhalek, the last ophthalmologist in eastern Aleppo, told me.
The choices the people in Aleppo are forced to make are inhumane. Does a family stay in an area taken over by the regime and no longer face barrel bombs, but risk the chance of being arrested, questioned, detained, tortured, or forcibly displaced because of 'connections 'to the revolution?
Turning this awful situation around matters to us all. The Assad regime and its friends aren't only assaulting a city; they're assaulting the rules-based international system, upon which all states rely.
This is why the UK is calling for the following three steps: an immediate ceasefire to allow refuge from bombs and to let aid in; agreement by Russia and the regime to the UN's four-point humanitarian plan to get aid in and let people out; and establishment of safe passages to allow civilians who want to leave to get out.
Yes, there is a UN Plan. The UK supports it. So do the opposition armed groups and activists of East Aleppo. But the regime has said nothing; the Russians have equivocated. The regime could agree at the stroke of pen, but will keep bombing. The Russians could use the UN Security Council to force the regime to change course, but will keep vetoing anyone else's attempt to do just that.
Russia will obfuscate and draw parallels with Mosul. There is no parallel. What we see in Aleppo is not the liberation of a city by a legitimate government. This is the attempted extermination of a civilian population by a government long gone rogue.
There are parallels to Aleppo, just not in Mosul. The regime and its partners terrorise the rest of Syria. In the Damascus suburbs, for example, the regime and allies are carrying out the same despicable 'surrender-or-starve' tactics, using siege and bombardment to force surrender deals. This happened in Khan Al-Sheh, south of Damascus, just last week.
The bottom line is that the Assad regime doesn't act alone. It now relies utterly on Russia and Iran to support it. Russia mainly provides the air power. Iran provides its own troops and imported militias. Assad on his own could not do what he does to Syrians every day.
And so the message is clear to both Russia and Iran. Stop your proxy as he murders his people, and let international humanitarian law prevail.
And the message to the people of Aleppo and those besieged elsewhere around the country: the UK and its partners will continue to do everything in our power to bring you the humanitarian help you so desperately need.
No, we will not break international law. But we ask Assad's backers to uphold it and force him to toe the line.
Related