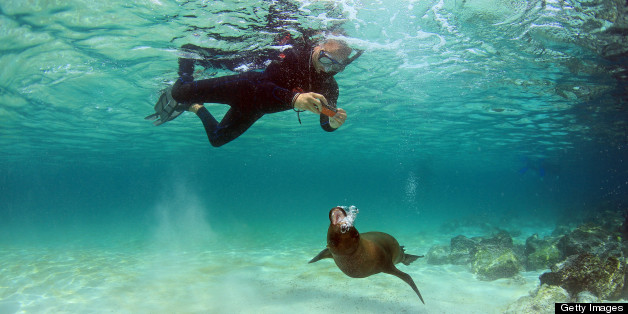 Getty Images
It's only male sea lions at Nausicaá in Boulogne sur Mer. It's a deliberate decision by France's 'Centre National de la Mer', wanting to keep things harmonious in the impressive enclosure housing the five boisterous mammals that are now calling this aquarium and education centre their home.
Sea lions are notoriously territorial - mature male sea lions will normally command a large harem of females. Once young male sea lions reach breeding age they are forced to leave the colony.
I got the feeling that the sea lions at Nausicaá have a pretty sweet deal. All the fish they can eat, and an admiring public - ooh-ing and ah-ing at their every move.
But the staff at Nausicaá are deliberately avoiding turning the sea lions into a circus act.
Feeding time is entertaining to watch but it mimics what would be required of the sea lions
in the wild. The sea lions are becoming used to human interaction, but this is also making it easier to perform health and dental checks and avoids the needs for any tranquilization.
I could sit and watch the sea lions for hours.
Nausicaá is one of Boulogne's best-known attractions, but there's a lot more to the Boulonnais region if you fancy spending a few days on the French coast.
Most people drive here - it's two hours from London (via the P&O ferry); two hours from Paris; and two hours from Brussels.
Nearby Wimmereux is worth a visit. Wimereux is particularly good if you're into anything to do with wind - sailing, kite-surfing, sail-boarding - there's an excellent lessons and hire set-up here and a range of accommodation options. The Hotel L'Atlantic has a good reputation, but there's also a number of camping grounds surrounding Wimereaux if that takes your fancy.
If you've got any sort of interest in military history then you'll love the Boulonnais region - occupied by the German army during WWII, Boulogne's coastal position has made it a site of strategic importance throughout the ages. Particularly apparent is the focus that Napoleon placed on the area as his potential launching point for an invasion of England - the region is awash with forts and battlements from the Napoleonic era and each year in July there is a re-enactment festival known as The Boulogne Camp.
In the heart of Boulogne sur Mer (surrounding the impressive domed cathedral) is the old fortified city. Again Napoleon used this as a base, but this has been a fortified site for around 2,000 years. The walls still stand proudly today and the protected city within provides a unique glimpse into medieval life.
As I left Boulogne preparations were under way for the Fete la Mer - a massive festival that takes place every two years around the French national day on 14th July. This is a community founded on fishing, and the sea continues to play a pivotal role in everyone's day-to-day, most people having family or friends on one of the 150 boats of the fishing fleet that calls this harbor home.
Each morning you can buy the best of the day's catch from the small family-run stalls that operate quayside, next to the moored fishing boats.
The Boulonnais region is a great place to catch the best of a summer's mini-break on the French coast.
Fast Facts
Planning your trip:
Getting there:
Accommodation:
I stayed at the Opal Inn - a solid three hotel, modern, efficient, and good value.