Six months ago, The Financial Times launched fastFT, a new subscriber product that aimed to break market-moving financial and political stories as quickly as possible, 24 hours a day. I recently spoke with Rob Grimshaw and Megan Murphy, FT.com's Managing Director and the Chief Correspondent of fastFT respectively, who shed some light on the innovations specific to this new product, and an unexpected cost of pursuing a mobile-first strategy.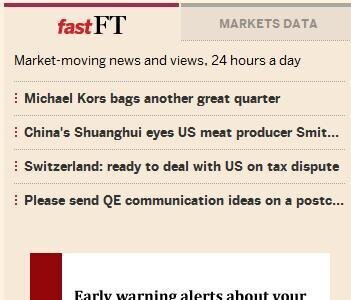 Grimshaw pointed out that
fast
FT is new for The Financial Times in a number of ways, both technical and editorial. He highlighted
fast
FT's unique editorial structure, which does away with sub-editing and picture-editing to empower correspondents to write and publish news as quickly as possible. This editorial structure also led to technical innovation, with a new CMS that streamlines the writing and editing process down to a single screen, thus eliminating the requirement of proofing by editors on other machines.
Kristina Eriksson, the FT's Head of Communications for EMEA, told me that the new style of journalism produced by fastFT's correspondents is doing a good job of engaging subscribers. According to Eriksson, one third of subscribers that visit fastFT are staying for longer than 10 minutes at a time. It's also attracting "a lot of interest from advertisers", she said.
Murphy, who previously worked for Bloomberg, mentioned in a fastFT presentation at a press event in London last week that she's not afraid to compete with Reuters and Bloomberg in the breaking news space. The product was crafted for mobile and tablet consumption first, she explained, a strategy that was justified by the fact that roughly 60% of the FT's subscriber traffic now comes from mobile devices.
I spoke with Grimshaw a year ago about the FT's paywall and the twin revolutions of making paid content portable in the physical sense by bringing it to mobile devices, and portable in the virtual sense by allowing readers to bring it into their existing social spheres online. FastFT seems a clear effort to provide subscribers new premium content with a major emphasis on physical portability. Interestingly, Grimshaw revealed to me that this strategy came at an unlikely cost. He explained that for the front-end of fastFT, he and his team were forced to decide between publishing to mobile in just the way they wanted, or getting the content indexed by Google. So, at least for this initial build of fastFT, SEO was sacrificed to prioritise mobile delivery. There's much talk of going "mobile first" in the news industry these days, this is the most fully committed example of a truly "mobile-first-and-foremost" strategy I've come across.
The Financial Times made media headlines in 2011 when it launched an HTML5 app, opting to gather data directly on their consumers and avoid the hefty 30% cut Apple requires for native apps doing business inside its virtual gated community. The choice to launch fastFT as an HTML5 app falls in line with that original strategy of avoiding the mobile gatekeepers and keeping full control of their subscriber data, however it does mean that these products built for mobile consumption cannot benefit from certain "native only" features.
One of the most powerful techniques for publishers to increase mobile content consumption is the use of push alerts for breaking news. In fact, Urban Airship, which provides a push notification solution to app developers, said that "people who opt in to an app's push notifications open that app five times more often than those who don't receive push notifications". For a product that so clearly prioritises mobile delivery of breaking news content, it would seem a very natural fit for fastFT to employ push notifications. However, Eriksson told me there aren't currently plans for push since fastFT is "not native".
So, while The Financial Times has prioritised mobile delivery of content in the case of fastFT, it had to sacrifice SEO to do so. On the other hand, the FT's overall strategy of maintaining direct relationships with consumers comes at the cost of useful content delivery techniques like push alerts for some mobile products. In both these cases, however, the FT has chosen not to fall in line with the gatekeepers of powerful delivery channels (Google for search and Apple for the App Store), but instead put its own strategic priorities first.